Ben Balser, master FCP X and Motion trainer, shows how to burn timecode into your videos for web uploading using Apple's Compressor.
Etre capable de créer des préréglages personnalisés dans Compressor, et de les enregistrer sous forme de gouttelettes, ou mieux encore, de les utiliser comme mesure destinations en fcpx, ou directement in Motion, permet une application très pratique d'avoir autour.
Projet mis en place
Ill lancement compresseur, et Je ne vais pas importer quoi que ce soit, puisque Im seulement de créer un préréglage de réglage personnalisé. Une fois dans Compressor, si elles ne coûtent pas déjà ouvert, Ill besoin d'utiliser de commande 5 pour ouvrir les Paramètres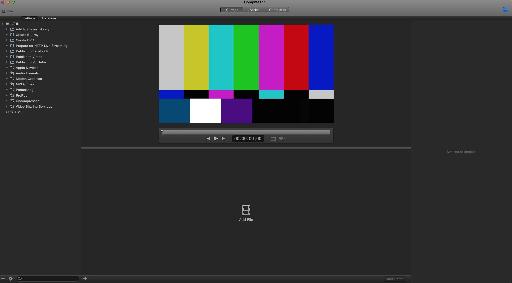 Le préréglage de base
Pour créer ma base prédéfinie, à partir de laquelle Ill personnaliser mon produit final, en passant à la liste intégré de mise presets, dans le groupe partage vidéo Services, Ill Dupliquer le preset HD 720p. Quand je fais cela, la copie se retrouve dans la section personnalisée du volet Paramètres.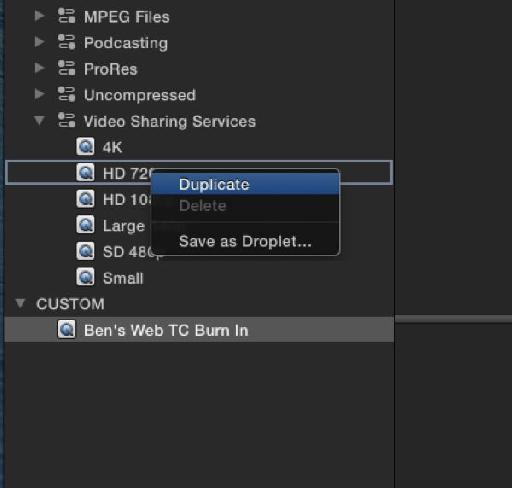 La personnalisation Preset
Dans la section Général inspecteurs, Ill modifier la description de 720p24 H.264 pour examen web avec timecode brûler po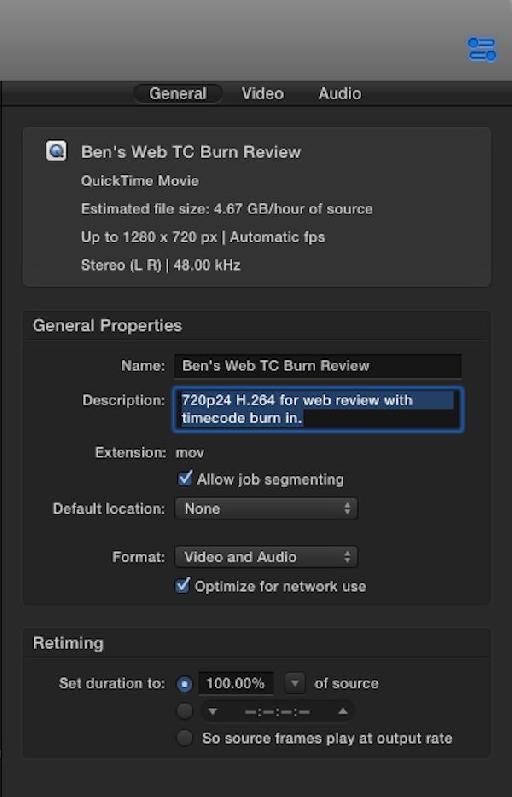 Dans la section Vidéo, Ill définir la taille du cadre de 1280x720 Manuel, et la vitesse de défilement de 24 images par seconde, puis s'éteint Ajouter des informations d'ouverture propre.
En bas dans la section Qualité, Ill régler le filtre de redimensionnement et de resynchronisation de la qualité à la fois pour le meilleur, et de permettre Adaptive détails.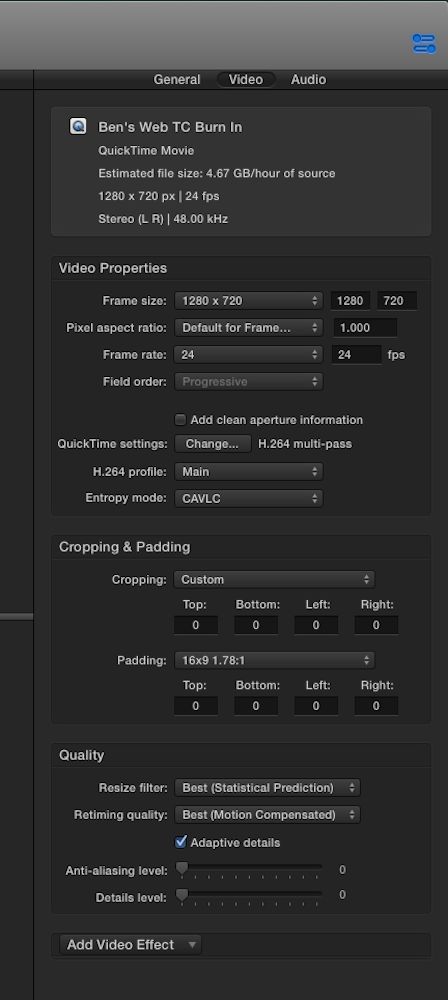 Puis retour à des paramètres QuickTime, et cliquez sur le bouton Modifier. Dans la fenêtre des paramètres QuickTime, Ill mis Motion et Data Rate fois sur Automatique, consultez Réorganisation du cadre. Dans la section Compressor ensemble Ill qualité à juste un poil en dessous de moyenne, et de codage pour coder plus vite. Ces paramètres se m'a toujours une très bonne qualité d'image avec une taille de fichier décent.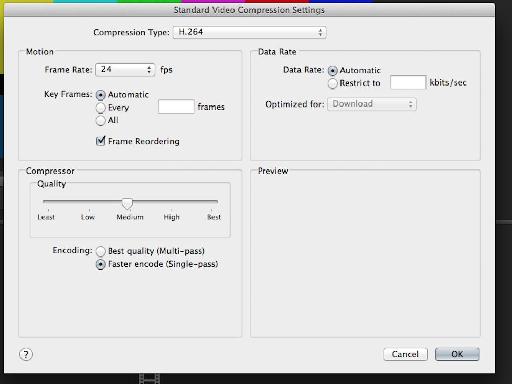 Le TC brûler dans
Dans la section de la vidéo de l'inspecteur, au fond, Ill cliquez sur le bouton Ajouter un effet vidéo, et dans le menu choisissez Timecode générateur, et utiliser les paramètres suivants: Position en bas à droite-Titre sûr, Alpha à 0,60 Label de TCR ( laisser un espace à la fin), la couleur du texte en rouge, et la police pour Ariel gras 18.
Laissant le timecode de début à 00:00:00:00 décochée, compresseur sera un lecteur, à l'aide du code temporel du fichier vidéo source. Avec le vérifier, compresseur sera un générateur, la création de timecode à partir de zéro à partir de zéro.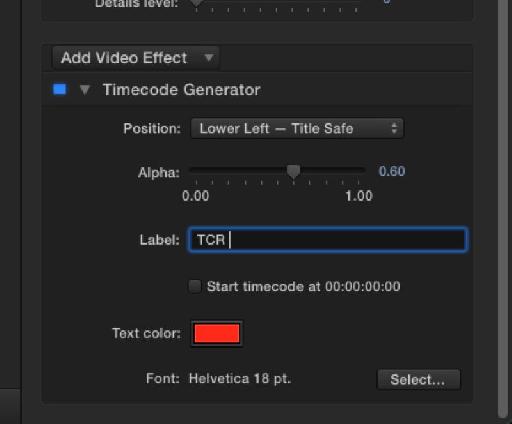 Utilisation de préréglages personnalisés
J'ai maintenant cette mise en place pour une utilisation à l'intérieur de compresseur. Je peux faire un clic droit et en faire une gouttelette, où je peux glisser-déposer des fichiers sur l'icône dans le Finder. Je peux créer une destination personnalisée compresseur Mise en fcpx, ou en mouvement, via le menu Partager, Exporter via Compressor Cadre, et a choisi de la liste.

Conclusion
C'est en fait assez facile à mettre en place, et extrêmement simple à utiliser dans une variété d'endroits à travers le flux de post-production. J'espère que cela vous montre comment vraiment il est facile à apprendre et à utiliser Compressor, et comment flexible, il peut apporter sa sœur applications fcpx et Motion. Profitez-en et utiliser Compressor pour faire après le travail plus facile et plus rapide.