Ben Balser, master FCP X and Motion trainer, shows how to burn timecode into your videos for web uploading using Apple's Compressor.
Essere in grado di creare preset personalizzati in Compressor, e salvarli come Goccioline, o meglio ancora, li usano come Meta personalizzati in fcpx, o direttamente in Motion, lo rende un app davvero utile avere intorno.
Progetto Set Up
Ill lancio del compressore, e mi dispiacerebbe importare nulla, poiché Im solo la creazione di un predefinito impostazione personalizzata. Una volta in Compressor, se arent già aperto, Ill bisogno di usare Command-5 per aprire le Impostazioni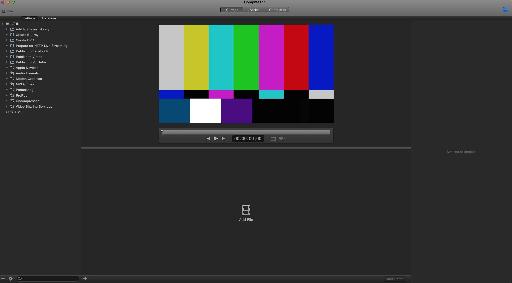 Il Preset Base
Per creare la mia base di preselezione, da cui Ill personalizzare il prodotto finale, andando alla lista Built-In di impostare preset, nel gruppo Servizi di video, Ill Duplica il preset HD 720p. Quando faccio questo, la copia finisce nella sezione personalizzata del riquadro Impostazioni.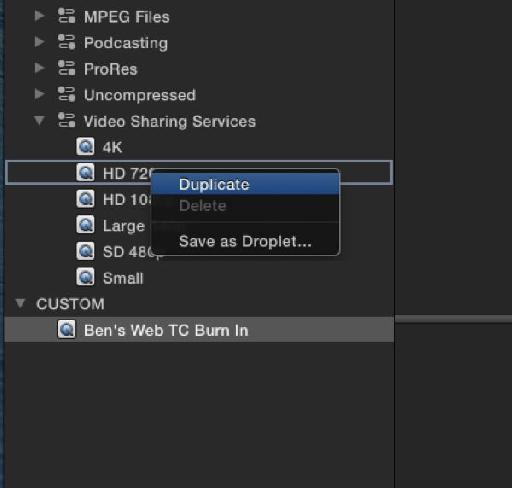 La personalizzazione Preset
Nella ispettori sezione Generale, Ill modificare la descrizione per 720p24 H.264 per la revisione web con timecode bruciare dentro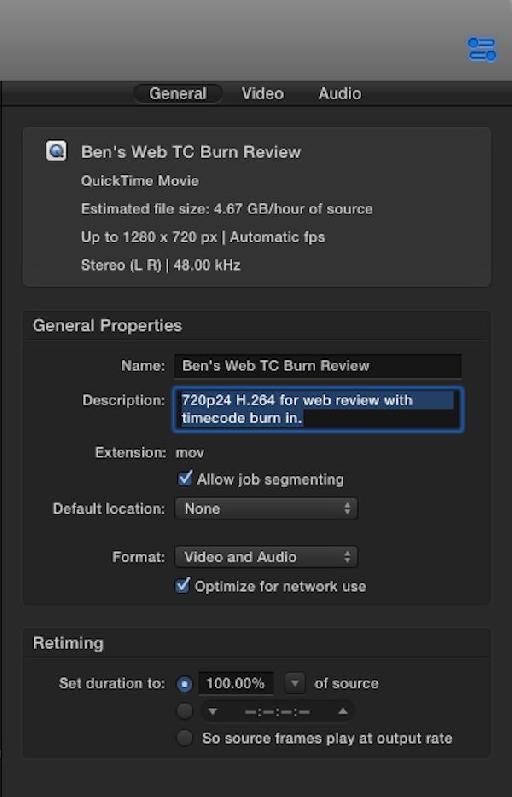 Nella sezione Video, Ill impostato Telaio a 1280x720 manuali, e il frame rate di 24fps, quindi spegnere Aggiungi informazioni diaframma pulito.
Giù in basso nella sezione Qualità , Ill impostare il filtro di ridimensionamento e Retiming qualità sia per Best, e attivare Adaptive Dettagli.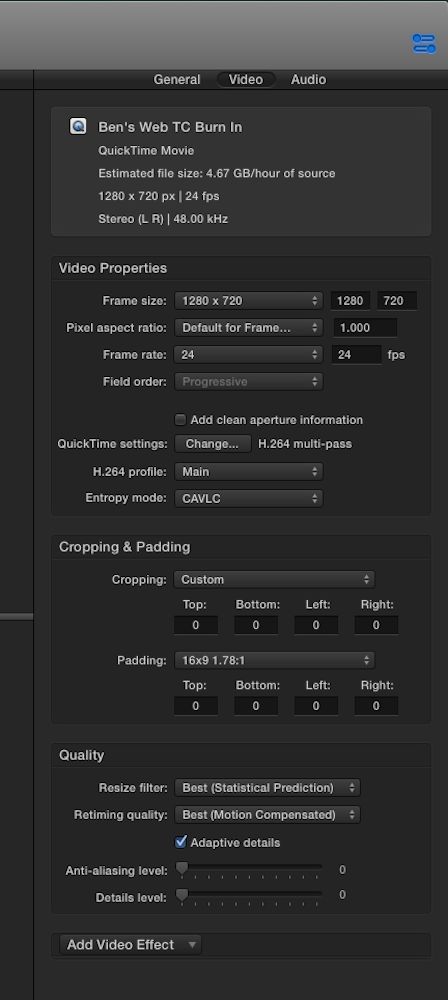 Poi di nuovo fino alle impostazioni QuickTime, e fare clic sul pulsante Modifica. Nella finestra delle impostazioni di QuickTime, Ill set Motion e Data Rate sia automatica, e controllare Telaio Riordino. Nella qualità Compressor set Ill ad appena un pelo sotto Medium, e codifica per codificare più veloce. Queste impostazioni mi ha sempre ottenere una buona qualità d'immagine con un file di dimensioni decenti.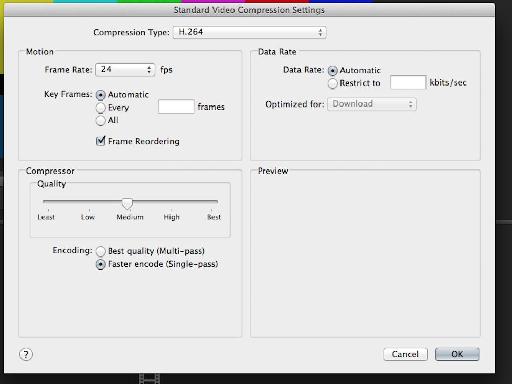 Il TC bruciare
Nella sezione Video del commissario, in fondo, Ill fare clic sul pulsante Aggiungi effetto video, e dal menu scegliere Timecode Generator, e utilizzare le seguenti impostazioni: Posizione in basso a destra-Titolo sicuro, Alpha a 0,60, etichetta di TCR ( lasciare uno spazio alla fine), il colore del testo di rosso, e il carattere di Ariel grassetto 18.
Lasciando il timecode Inizia 00:00:00:00 incontrollato, compressore sarà un lettore, utilizzando il codice di tempo del file video sorgente. Con esso controllato, compressore sarà un generatore, creando timecode da zero a partire da zero.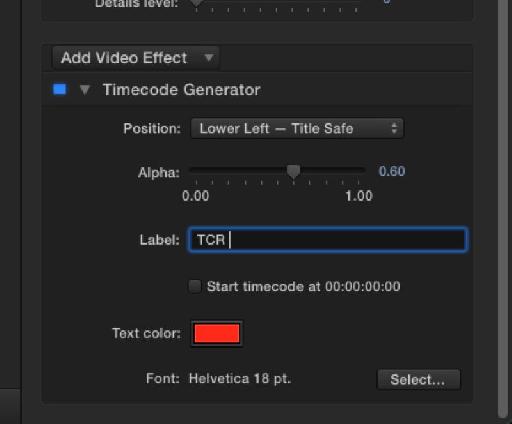 Preimpostazioni personalizzate d'uso
Ora ho questo set up per l'utilizzo all'interno di Compressor. Posso fare clic destro e renderlo un Droplet, dove posso drag-and-drop dei file sull'icona nel Finder. Posso creare una destinazione Impostazione personalizzata Compressor in fcpx, o in Motion, tramite il menu Condividi, Esporta Utilizzando compressore Ambito, e scelto dalla lista.

Conclusione
Questo è in realtà abbastanza facile da configurare, ed estremamente semplice da utilizzare in una varietà di luoghi attraverso il flusso di lavoro di post-produzione. Spero che questo vi mostra come in realtà sia facile da imparare e da usare Compressor, e come flessibile che possa fare la sua sorella apps fcpx e Motion. Godere e utilizzare Compressor per rendere il lavoro di post più semplice e veloce.