Ben Balser, master FCP X and Motion trainer, shows how to burn timecode into your videos for web uploading using Apple's Compressor.
압축기에서 사용자 ì§€ì • ì'¬ì "ì" 만ë"¤ê³ , 아직 방울, 또는 더 나은로 ì €ìž¥, FCPX에서 사용자 ì§€ì • 여행지로 사용, 또는 직ì ' 모션에서 í•  수있는, 그것의 주위에 ê°€ì§€ê³ ìžˆëŠ" ì •ë§ 편리한 앱합니다.
í""ë¡œì íŠ¸ ì"¤ì •
임은 사용자 ì •ì˜ ì"¤ì • ì'¬ì " ì"¤ì •ì" 생성하기 때문에 병이 시작 압축기, 나는 아무것도 ê°€ì ¸ 실 거예요. 이미 ì—´ë ¤ìžˆëŠ" 하는건 아니 ê² ì£  경우 일단 압축기, 아픈 ì"¤ì •ì" 엽니 ëª…ë ¹-5를 ì'¬ìš©í•  필요가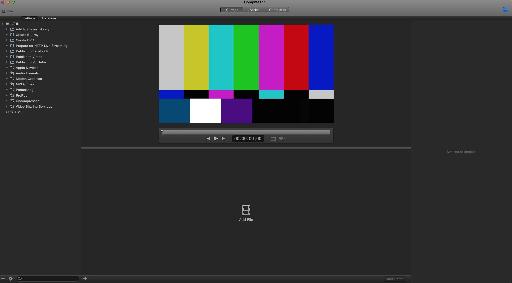 ì'¬ì " 자료
악은 ì•… 중복 HD 720p의 ì'¬ì " ì"¤ì •, 비디오 ê³µìœ  서비스 그룹에서 프리셋을 ì"¤ì •í•˜ëŠ" 내장리스트에 ê°€ê³ , ë'´ 최종 ì œí'ˆì" 사용자 ì •ì˜ë˜ëŠ", ë'´ ì'¬ì " 기반을 만들 수 있습니다. 나는이 작업을 수행 í•  ë•Œ, 사본은 ì"¤ì • 창의 사용자 ì§€ì • 섹션에서 끝납니다.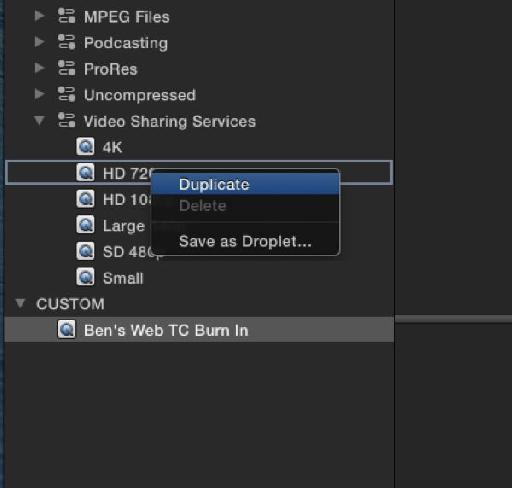 ì'¬ì " ì"¤ì • 사용자 ì§€ì •
타임 코드가 새겨지와 사찰 일반 섹션에서 아픈 웹 ê²€í†  720p24의 H.264에 대한 설명을 변경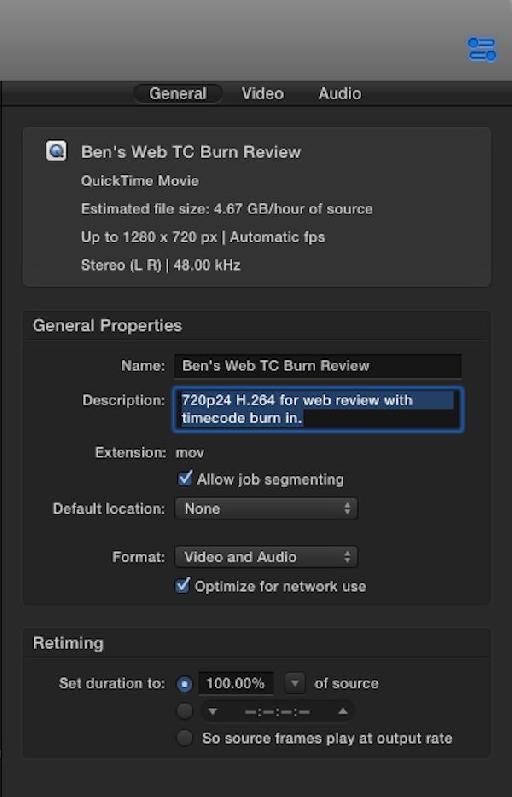 비디오 섹션에서 아픈 수동 1280X720ë¡œ í""ë ˆìž" 크기를 ì"¤ì •í•˜ê³ ,이 24fps의 í""ë ˆìž" 속도, 다음 깨끗한 조리개 ì •ë³´ë¥¼ 추가 í•´ì œí•©ë‹ˆë‹¤.
품질 섹션의 맨 아래에 아래로, 아픈 ë² ìŠ¤íŠ¸ì— 크기 ì¡°ì • 필터와 리 타이밍 품질을 ì"¤ì •í•˜ê³ , ì ì' 세부 사항을 가능하게합니다.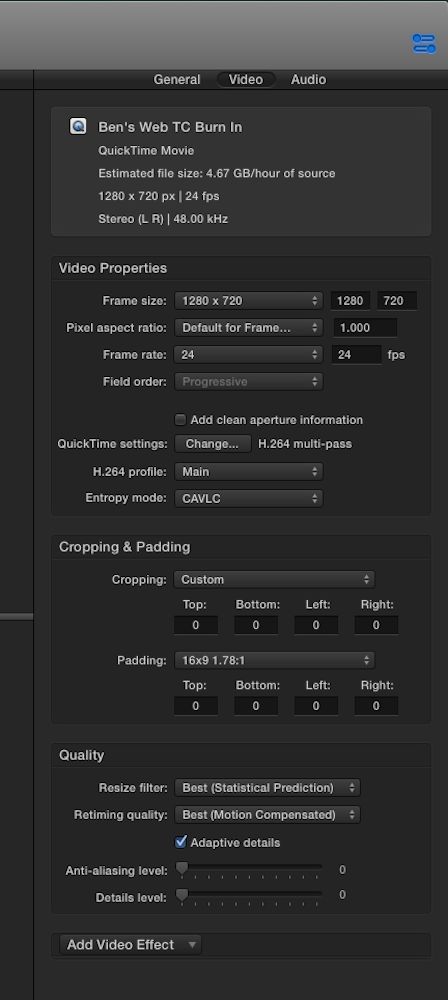 그런 다음 다시 퀵타임 ì"¤ì •ê¹Œì§€í•˜ê³ ëŠ" 변경 버튼을 클릭합니다. 퀵타임 ì"¤ì • 창에서, 악은 자동으로 동ìž'í•˜ê³  데이터 속도를 모두 ì"¤ì •í•˜ê³ , í""ë ˆìž" 순서 변경을 확인합니다. ì»´í""ë ˆì"œ 섹션 아픈 세트 품질의 ë¹ ë¥¸ 인코딩에 그냥 중간 아래 머리, 및 인코딩에. 이 ì"¤ì •ì€ 항상 괜찮은 파일 크기 나에게 아주 좋은 이미지 품질을 얻을.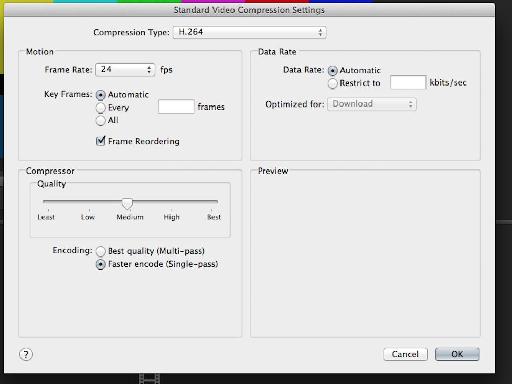 TC는 굽다
관리자의 비디오 섹션에서, 아래에, 악은 비디오 효과 추가 버튼을 í´ë¦­í•˜ê³  메뉴에서 타임 코드 생성기를 ì" íƒí•˜ê³ , 다음과 같은 ì"¤ì •ì" 사용합니다 (TCR에, 0.60 ë ˆì´ë¸" 오른쪽 아래 ì œëª© 안ì ", 알파의 위치를 ) 끝 부분에 ê³µê°"ì"ë'ê³ , 텍스트 빨간색으로 색상, 아리엘 굵은 18 글꼴.
확인되지 않은 00:00:00:00에서 시작 타임 코드를 ë– ë'˜, 압축기는 소스 비디오 파일의 타임 코드를 사용하여, 리더가 ë  것입니다. 이 ì" 택으로, 압축기는 0부터 시작 처음부터 타임 코드를 생성, 생성 ë  것입니다.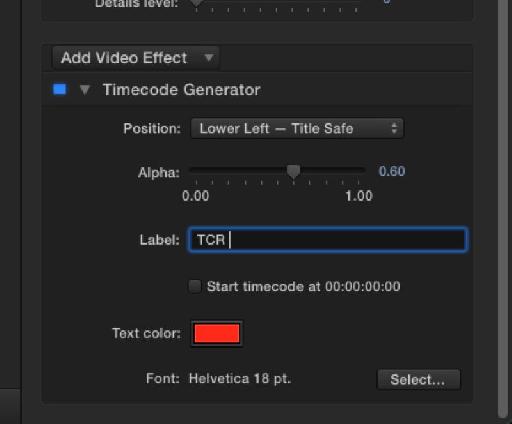 사용자 ì •ì˜ ì'¬ì " ì"¤ì • 사용
나는 지금이 압축기의 내부 사용하기 위해 ì"¤ì •í–ˆìŠµë‹ˆë‹¤. 나는 그것을 마우스 오른쪽 버튼으로 í´ë¦­í•˜ê³  그것을 ë'´ê°€ Finder에서 아이콘에 파일 앤 드롭 드래그 í•  수있는 물방울을 만들 수 있습니다. 나는 ê³µìœ  메뉴, 수출 압축기 ì"¤ì •ì" 사용을 통해, 사용자 ì •ì˜ 압축기 ì"¤ì • FCPX에있는 ëª©ì ì§€ 또는 모션에서를 ìž'ì"±í•˜ê³  목록에서 ì" íƒí•  수 있습니다.

ê²°ë¡ 
이것은 ì‹¤ì œë¡œ 포스트 프로덕션 워크 플로우 아웃을 통해 다양한 장소에서 사용하도록 ì"¤ì • 아주 쉽게, 매우 간단합니다. 나는 압축기를 ë°°ìš°ê³  사용하는 방법을 ì •ë§ 쉽게이 방법을 보여줍니다 희망, ê·¸ë¦¬ê³  자매가 FCPX 모션을 ì• í"Œ 리케이션을 만들 수있는 방법을 ìœ ì—°. 즐겨 ì‰½ê³  ë¹ ë¥´ê²Œ 후 작업을하기 위해 압축기를 사용합니다.