Ben Balser, master FCP X and Motion trainer, shows how to burn timecode into your videos for web uploading using Apple's Compressor.
Ser capaz de criar predefinições personalizadas no Compressor, e salvá-los como gotas, ou melhor ainda, usá-los como destinos personalizados em Fcpx, ou diretamente em Movimento, faz com que seja um aplicativo muito útil para ter ao redor.
Projeto Configurar
Ill lançamento Compressor, e eu não vou importar qualquer coisa, desde Im apenas criando uma predefinição configuração personalizada. Uma vez no Compressor, se eles já Arent aberto, eu vou precisar usar Command-5 para abrir as Configurações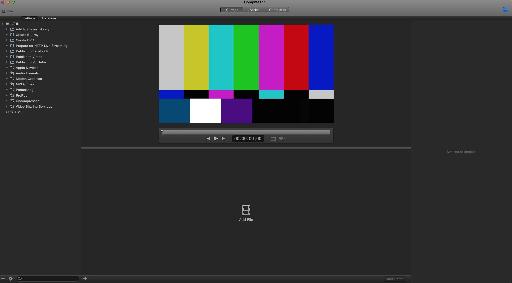 A Base de Dados de preset
Para criar a minha base de pré-definido, a partir do qual eu vou personalizar o meu produto final, indo para a lista interna de definir presets, no grupo Serviços de compartilhamento de vídeos, Ill Duplicar o preset HD 720p. Quando eu fizer isso, a cópia termina na seção personalizada do painel de configurações.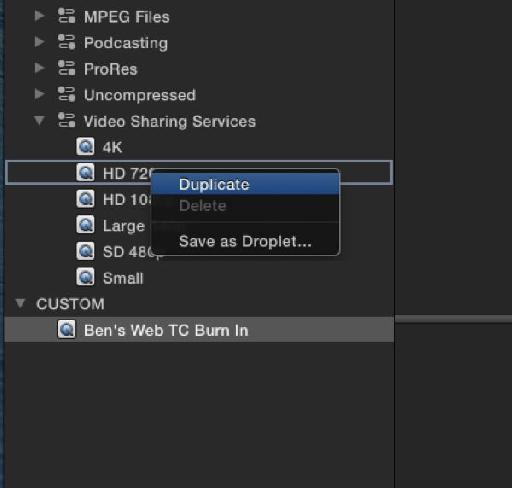 A personalização predefinida
No Inspetores seção Geral, Ill alterar a descrição para 720p24 H.264 para revisão web com timecode queimar dentro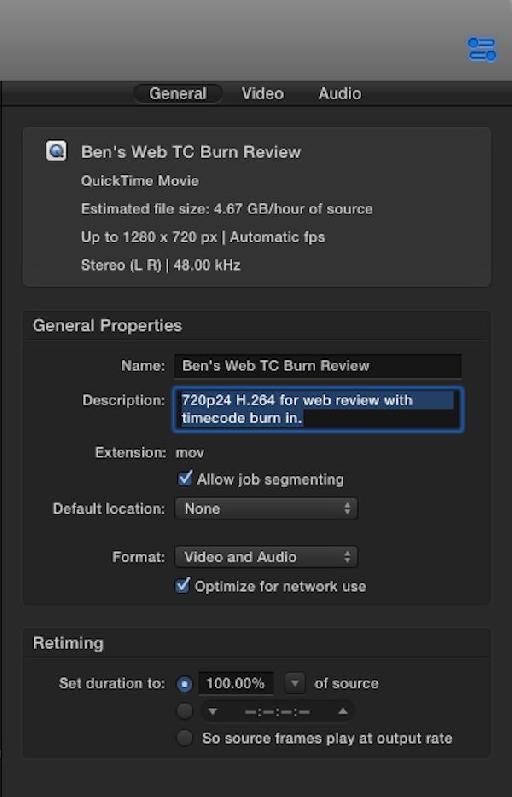 Na seção Vídeo, Ill definir o tamanho do quadro de 1280x720 manuais, ea taxa de quadros de 24fps, em seguida, desligue Adicionar informação abertura limpo.
Lá no fundo na seção Qualidade, Ill definir o Filtro Resize e Retiming Qualidade tanto para melhor, e permitir Adaptive detalhes.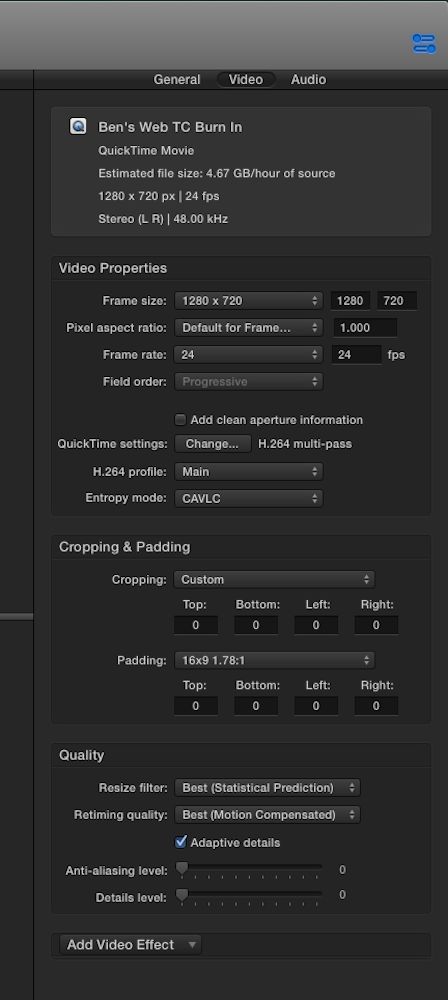 Em seguida, volta-se para as configurações do QuickTime, e clique no botão Alterar. Na janela de configurações do QuickTime, vou definir Motion e Taxa de dados tanto para Automático e verificar reordenação Frame. Na seção Qualidade Compressor conjunto Ill apenas um fio de cabelo abaixo Médio, e de codificação para codificar mais rápido. Essas configurações sempre me uma muito boa qualidade de imagem com um tamanho de arquivo decente.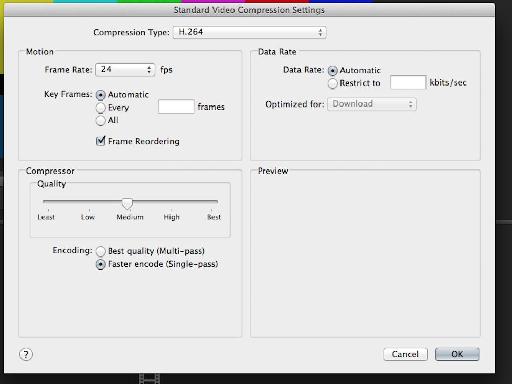 O TC Burn In
Na seção de vídeo do Inspetor, no fundo, eu vou clicar no botão adicionar efeitos de vídeo, ea partir do menu escolher Timecode Gerador, e use as seguintes configurações: Posição em Lower direito do Título seguro, Alpha de 0,60, Etiqueta para TCR ( deixar um espaço no final), a cor do texto para vermelho e fonte de Ariel negrito 18.
Deixando o timecode em Iniciar 00:00:00:00 desmarcada, Compressor será um leitor, usando o código de tempo do arquivo de vídeo de origem. Com ela marcada, Compressor será um gerador, criando timecode a partir do zero a partir de zero.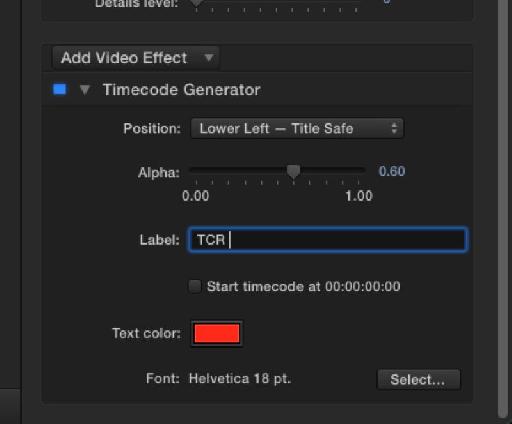 Predefinição personalizada Uso
Eu já esta configurado para uso dentro do Compressor. I pode clicar com o botão direito nele e torná-lo uma gota, onde pode arrastar e soltar arquivos para o ícone no Finder. Eu posso criar um destino Definição personalizada Compressor em Fcpx, ou in Motion, através do menu Share, Exportação Usando Compressor Setting, e escolheu-o na lista.

Conclusão
Isso é realmente muito fácil de configurar, e extremamente simples de usar, em uma variedade de lugares por todo o fluxo de trabalho de pós-produção. Espero que isso mostra como realmente é fácil de aprender e usar Compressor, e quão flexível pode fazer sua irmã aplicativos Fcpx e Motion. Aproveite e use Compressor para fazer pós trabalho mais fácil e mais rápido.