There are two primary ways to creatively edit Music and Video: edit music to fit to picture or edit the video to fit to a music track. In today's tutorial we'll take a look at how to do the later in
Es gibt grundsätzlich zwei Möglichkeiten, kreativ zu bearbeiten Musik und Video: Musik bearbeiten, um fit zu Bild bearbeiten oder das Video zu einem Musikstück passen. Im heutigen Tutorial werfen wir einen Blick darauf, wie die später in Final Cut zu tun. Dies kann besonders dann nützlich, wenn ein Musikvideo gemacht und vor allem, wenn Sie wollen Musik bearbeiten, um den Takt der Musik Track passen.

Wenn Sie jemals iMovie '09 verwendet oder beobachtete die iMovie '09: Core iMovie Tutorial Sie Beat-Marker entdeckt haben. Diese sind eine geniale Art und Weise, um schnell hinzuzufügen Marker auf eine Audiospur. Diese Marker ermöglichen dann iMovie importierten Clips zwischen diesen Taktmarken fit. Wie der Name schon sagt, sind Taktmarken entworfen, um auf Beats gelegt werden, so dass bei jedem Schlag Marker einen neuen Clip beginnt.
Allerdings, das ist in iMovie 09. In Final Cut auf den ersten Blick gibt es nicht eine einfache Möglichkeit, dies zu tun. Natürlich können Sie Marker a-viel hinzuzufügen ... aber es gibt nicht ein offensichtlicher Weg, um den Raum zwischen den Markierungen mit den ausgewählten Clip zu füllen ... oder gibt es?
Schritt 1 - Holen Sie sich Ihre Medien

Einfache erste Schritt: Erstellen Sie ein neues Projekt und importieren Sie Ihre Musik-Clips in den Browser. An dieser Stelle Ich mag in meinem Video-Clips und / oder Bilddateien zu bringen. Auch eine gute Idee, sparen Sie Projekt. Ziehen Sie Ihre Audio-Datei in der Sequenz auf Audio-Tracks A1 und A2.

Ein weiterer persönlicher Vorliebe ist es, die Audio-Wellenformen zeigen.
Schritt 2 - Slug it Out

Dies ist, wo diese Technik kommt es zu besitzen ist. Wir werden hinzufügen, was im Wesentlichen ein Dummy-Spur der Timeline werden, bearbeiten Sie sie im Takt und ersetzen diese Bearbeitungen mit eigenen Clips.
Klicken Sie auf die Generator-Taste in das Viewer-Fenster. Aus dem Drop-Down-Menü wählen Slug.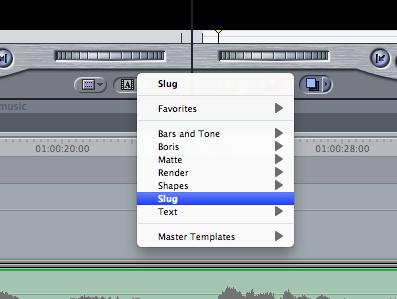 Sie werden bemerken, das Viewer-Fenster zeigt nun eine 2 Minuten schwarz-Clip in den Viewer. Bevor wir es ziehen in die Sequence sperren Audio A1 und A2-Tracks. (Klicken Sie auf das Vorhängeschloss neben den Gleisen).
Ziehen Sie den Betrachter Inhalt in der Sequenz.
Ändern Sie die slug Clip in der Sequenz auf die Länge der Audio-Clip übereinstimmen. Es ist eine gute Idee, die Ausrichtung an (N) drehen, um diese leichter zu tun.
Schritt 3 - A Good Editor ...

Jetzt haben wir alles schön Setup, es wäre eine tolle Idee, um Sie Musiktitel zu hören, sich mit ihr vertraut und bekommen ein Gefühl für die, wo Sie möchten, dass die Marker Ort / haben einen neuen Videoclip zu starten.
Als nächstes wählen Sie Extras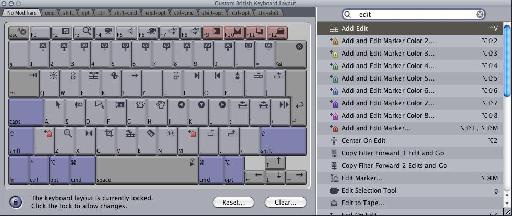 In das Suchfeld geben Sie bearbeiten. Wählen Sie 'Add Edit' aus der Liste und entweder merken die Verknüpfung oder eigene erstellen. Du wirst diese Verknüpfung zum Bearbeiten Punkte auf jedem Schlag (oder anderen musikalischen Wert, den Sie möchten) hinzufügen
Schritt 4 - Hinzufügen Punkte bearbeiten

Sobald Sie fertig sind, drücken Sie die Play-Taste und verwenden Sie die Tastenkombination für Add Bearbeiten auf jeden schlagen. Wenn Sie das Ende drücken K oder die Leertaste, um zu stoppen. An dieser Stelle werden Sie feststellen, dass die Schnittpunkte in der Slug Videoclip in die Timeline erstellt wurden. Es kann so etwas wie im Bild unten aussehen.

You may wish to zoom in and adjust the edit points in the slug video track to match with the transients / peaks in the audio waveform. You can use the roll tool to easily adjust the edit points to be on the beat/peak.
Schritt 5 - Ersetzen Slugs mit Clips

Nun, wir nutzen die slug Clips. Platzieren Sie die Abspielposition auf eine Schnecke Clip. Denken Sie daran, dass in Final Cut, wenn der Abspielkopf zwischen zwei Schnittpunkten oder auf einen Clip ruht, und fügen Sie einen Effekt oder eine Aktion ausführen, es diesen Clip angewendet werden, wenn nichts anderes gewählt wird.
Ziehen Sie einen Videoclip aus dem Browser in das Viewer. Suchen Sie den gewünschten Startpunkt für diesen Clip. Nun auf die Schaltfläche Ersetzen am unteren Rand des Canvas-Fenster klicken. (The Blue Square).
Ihre ausgewählten Clips ersetzt die slug Clip.
Repeat this replace process for each clip. By the end of the process you should have a conveniently created video edited to the beat of the music track!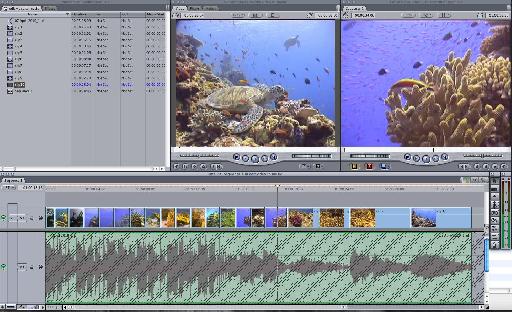 .
Interested in learning more about
Final Cut
? These
tutorials
will help you to become proficient whether you are just starting out or looking for advanced work flows. We'd love to hear your tricks, shortcuts & opinions. Let us know what you think by writing a comment below!