With hi res video taking up huge amounts of disk space, it's vital to know where Final Cut Pro is storing your precious files. Here, Iain Anderson explains how to control file locations.
Where should a non-linear editing application store its files? It's a question with many answers, depending on the NLE, the editor, and the situation, and because a lot of people don't quite understand how it all works, I'll keep it simple. Unsurprisingly, opinions on media management can sometimes be very strongly held, and I'll try to keep this entire article as neutral as possible. Keep doing what you're doing, I won't judge.
So why is this such a big deal? Let's take a step back and define the problem indirectly, by answering questions about graphic design.
What Does InDesign Do With Placed Graphics?
Adobe InDesign is the dominant page layout application today. Its approach to media management is worth a look before we talk about video, because the processes have some similarities. You take in a heap of data (photos, text), then arrange them on pages in an InDesign document (an .indd) and export a new file (likely a PDF) that combines them all together. In general, when you import text, the text becomes part of the InDesign file, and you no longer need the original document. But when you import an image, it doesn't copy that photo or that logo. Instead, it links to it, wherever it happens to be.
If an image has been updated, moved or renamed, or the drive it's located on is disconnected, you can't export your final PDF. To combat this, some designers will copy images to a specific location next to the document — perhaps a folder called "Links" — before importing them into InDesign. Other designers just locate and then relink any lost files as needed. But every designer, at some point, has received a layout that's missing images and/or fonts.
InDesign does include a feature to combat this issue: Packaging. Making a package creates a new .indd file alongside a new Links folder (containing all the images) and a new Document fonts folder (containing any fonts used) and a PDF. Zip that whole thing up and you've got something you can safely send to another designer.
Returning to FCP X, video editors can end up in a similar scenario. They're importing huge files that are needed at export time, and if anything gets lost, the export could fail.
What Does FCP X Do?
Final Cut Pro can work like InDesign (leaving the media files where they are) or it can copy media files to a managed location. Usually that location is inside the library, but managed media can also be stored outside the library. The main choice, to "Copy to library storage location" or to "Leave in Place" is in Preferences, and duplicated in the Import dialog sidebar. If you drag and drop rather than using Import, your last chosen preference is used.
To change a library's storage location, from Internal to some other folder, you select the Library, then look in the Inspector in the Info tab. Press Modify Settings, and you can change where files will be stored. Remember that if you're using "Leave in Place" then this setting doesn't matter much — FCP X only puts an alias, not the real media, in the library's storage location.
But "Leave Files In Place" Is Greyed Out?
If you're importing straight from an SD card, you must copy to the library's storage location. Leaving media on an SD card is not just risky (gone when you eject the card!) it's also slow, and FCP X won't let you do it. If you want to use the "leave in place" workflow, you must copy the files from a media card to a hard drive first, then import from there.
While that is an extra step, copying files to your hard drive first does allow for the footage to be "pre-organised" outside FCP X. Media files placed in separate folders (audio, scene 1, b-roll etc.) will be tagged with keywords automatically upon import. That saves you doing it in FCP X, and it's something an assistant or DIT can do without using FCP X at all.
So What Are The Pros And Cons Of Each Approach?
If you always copy your media inside the library, it'll get big, but it will be self-contained. A library is a package: it looks like a file, and can be copied like a file, but it's actually a folder. Because it's self-contained, it's very easy to back up: you can't lose your media.
If you keep your media outside the library, your library package will be "lean" — quite small. But you have to remember to move the media when you move or back up the library. If the media is in a different location to where FCP X was expecting to find it, you may have to relink the media. While this process often goes smoothly, it doesn't always. If you're using external media, the safest approach is to place all your media in a dedicated folder before you import it to Final Cut Pro. That folder should be named to match the library so you can keep it together, and a popular approach is to use a templated folder structure to keep every job organised in the same way.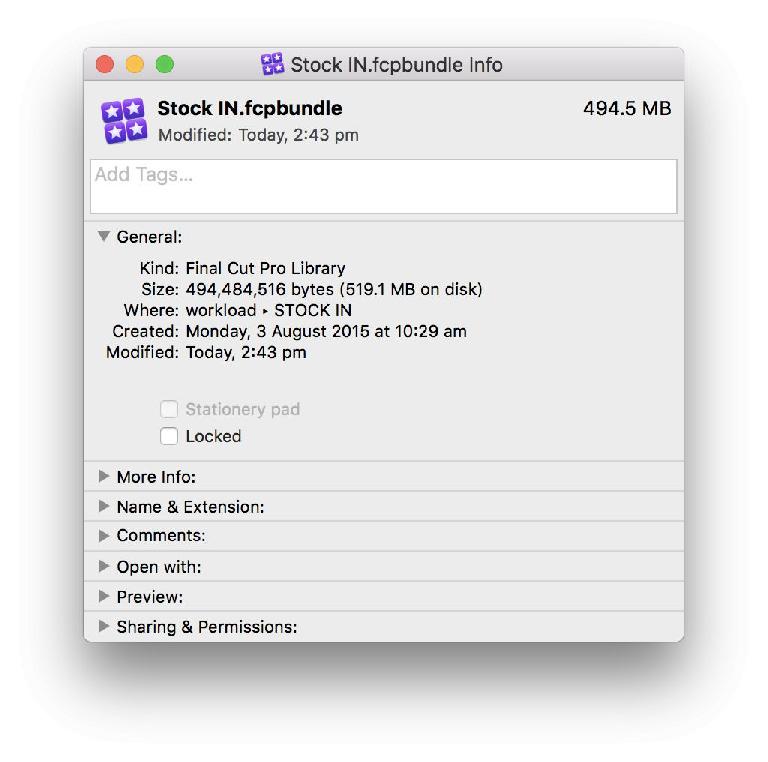 This library is small, because its media (50GB or so) is in an external folder — and both must be moved during backup or sharing
While more discipline is needed for the external media approach, it does allow for more advanced workflows — including collaboration, which you can read more about here https://macprovideo.com/article/final-cut/collaborative-video-editing-using-final-cut-pro-x. By keeping a library on a fast SSD and media on a separate drive, you can maximize speed. By keeping a library small, you're easily able to share entire libraries with other editors who have matched media. And you can use advanced collaboration workflows like PostLab — more on that later.
So, if you're not going to collaborate, if you finish a job yourself in FCP X and want to back the whole thing up in one hit, and if you never, ever want to see a "relink media" dialog, then go internal. If you're working in a team, or you want to embrace more advanced workflows, go external.
Can You Change Your Mind Later?
Yes! You can change your library's media location in the Inspector, to internal or an external folder. Then, you can gather all your media (or your Motion Templates) by using the Consolidate command, moving all the media in an event or the whole library to its current home.
Do You Need Anything Else Besides The Library And The Media?
While photos or audio that you use in a project will be copied to a library, there are a couple of important types of files that live outside the library. First is effects, transitions, generators and titles that you've installed on your Mac, which it's best to manually install on all Macs your library could be opened on. (Note: you can store motion templates within a library, but be aware that this can get messy and create duplicates.)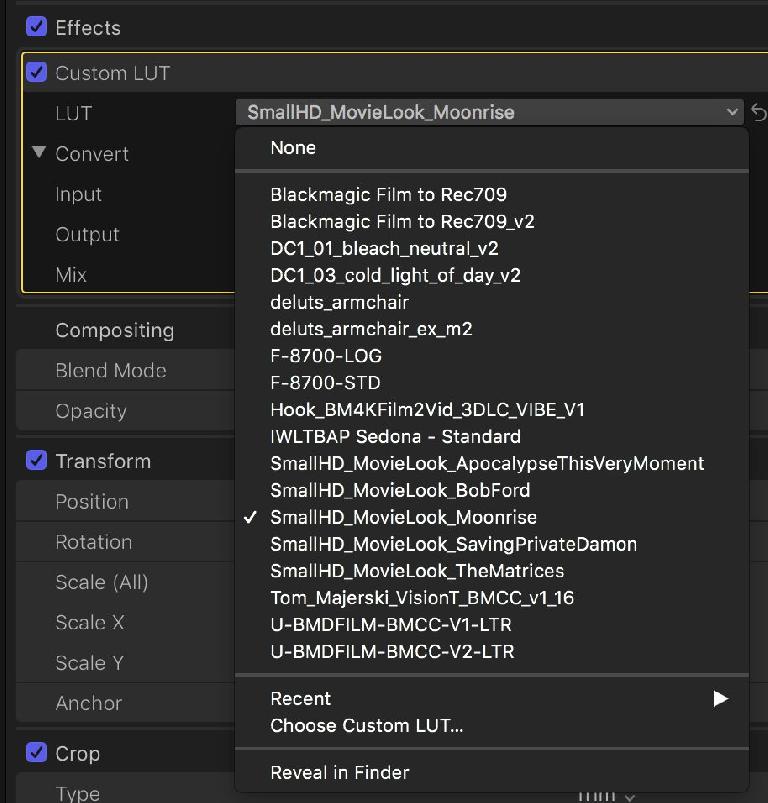 If you've loaded LUTs with this effect, make sure to share them separately, as they aren't in your library
Second is any LUTs you've loaded with the Custom LUT effect, because they won't be copied into your library at all. Manually share them, putting them in the same location on any other Macs.
Got it. So if I want to collaborate, I should use external media, and then what?
For a while now, collaboration has been done in a relatively simple way: share the media and the library, then sling libraries (or XML files) back and forth as needed. (This was discussed in an earlier article here on collaboration, and this method still works. https://macprovideo.com/article/final-cut/collaborative-video-editing-using-final-cut-pro-x)
Today, there's a smarter way: PostLab. This free (yes, free) app lets you upload an FCP X library to a server (which can be in the cloud, or on a private server) and then track which editors are working on which projects, maintain a version history, keep archives of older versions, and allow read-only access to less-trusted team members. There are future plans to automate proxy media creation, to let you skip the "sharing high resolution media" steps above, but it's very capable already.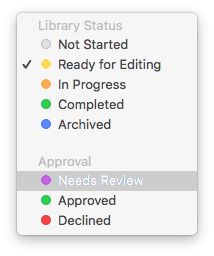 Marking the status of a current job is just one of many handy features
This is still under active development, but if you need to work with other editors, or it's getting too hard to manage progress manually, take a serious look. I've used this in person, collaborating across the planet in real time, and it's pretty magical.
Conclusion
Media management is pretty important, and hopefully this different way of looking at things makes it clearer. If you don't want to deal with relinking, there's no shame in internal managed media. If you want to be able to see your files in the Finder, you probably want to go external. Both are useful in their own ways, and you can change your mind easily. Once you've got a handle on what's happening, take a look at PostLab — it might just blow your mind. There's a revolution on the way.