One of the major areas of Final Cut Pro X to get some love in the recent 10.0.6 update was "Sharing". Iain Anderson explores what's changed, and how this will have a positive impact on your workflow.
Prior to Final Cut Pro X 10.0.6, the Share menu existed on its own and let you convert your project into one or many kinds of outputs, one at a time. You had to send an entire project (a huge issue for many editors) and you had to wait for the export to complete before you could continue. All that just changed with 10.0.6.

Choosing a range!
If you're working on a longer piece, exporting the entire project to gain approval for a minor, localized change was tedious. You could work around it by creating, opening and exporting Compound Clips, but such tedium is no longer necessary.
That's right: you no longer have to export the entire timeline, but can choose a range instead. Press R to select the Range Selection Tool, drag a range on the Project's timeline, then Share. Yes, it works just fine.

Just this bit, thanks!
Sharing has moved
But wait! The sharing options have all moved to the File menu, and are now found in a submenu there. While not all of the previous options are shown at first, it's easy to add them back. Also, while there's no shortcut for the old Export Media option, that option does remain the default. What good is having a default? Well, there's a command (Export Using Default Share Destination) that you can assign a shortcut to. I'd suggest Command-E if you're going to use one of these options frequently.

Setting up the default sharing shortcut.
The basic file export options
For me, exporting a full-resolution ProRes QuickTime movie remains a standard part of my archiving process. I generally prefer to send the full file out, watch it to make sure it's all good, then compress with another program to as many different formats as necessary. I also keep that full resolution ProRes file in my folio '" handy if a client requests a minor change and I've removed the source files.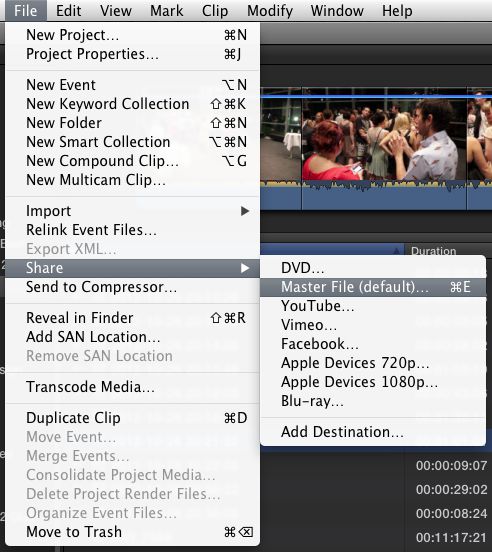 Here's the new Share menu.
That share option remains, and it's now called Master File. Choose it, and you'll see a window with an Info pane where you can add metadata: Description, Creator and Tags (essentially, keywords). At the top of this window, you can choose Settings for all the nitty gritty details. Chapter Markers can now be included (great) and all the older options such as codec choice and Roles are here too.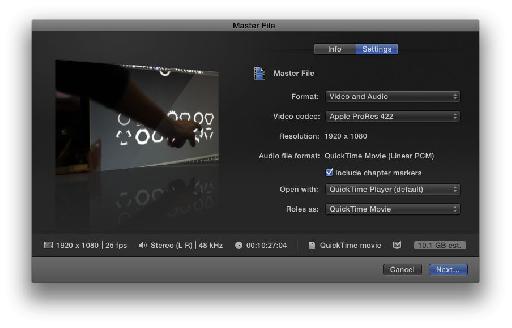 Sharing that Master File.
Sending that file on to another compression app
As with the last version of FCP X, you can send the full-resolution file automatically to another compression application. If you prefer Adobe Media Encoder, Episode or something else, just choose Other from the 'Open With' drop-down menu, then find your app.

Send the master for further work.
A multiplicity of H.264 export options
Most of the other options in the menu do much the same thing: they compress your movie to the H.264 codec at a suitable size. Apple Devices at 720p and 1080p do much the same thing as YouTube, Vimeo, Facebook and CNN iReport, except that those options also upload your file to a video sharing service. One exception: the Apple Devices presets now support Chapter Markers: just tick the box. Another nice touch is that a small icon of a screen with a tick on it, next to the estimated size near the bottom right of the window, will show a list of devices that can play this kind of file.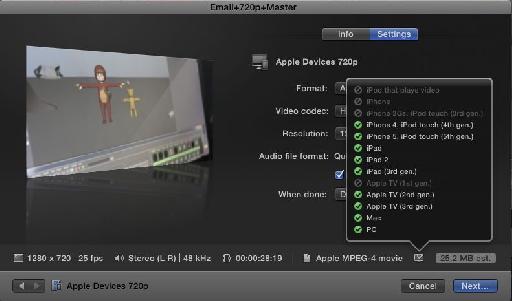 It's all H.264 right now.
Disc-based options
DVD and Blu-ray are much the same as before; they'll burn a disc, or an image you can burn to disc later. The new and much-missed feature is that Chapter Markers are now supported. All you need to do is use Chapter Markers in your Project timeline; there's nothing new to select.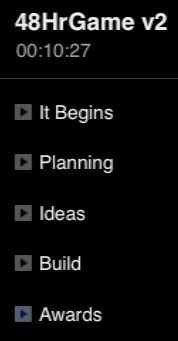 The resulting DVD menu looks like this.
Something else?
Head to Final Cut Pro > Preferences, and you'll see a whole new section: Destinations. Here's where you'll find a wider selection of export options than you'll have seen before. Choose Add Destination from the left-hand side, then you can choose a compression method on the right-hand side. Indeed, this is where CNN iReport is hiding. Double-click it to add it to the list on the left, then add your credentials if you plan to use it. To remove it from the list, press the minus button at the bottom of the list.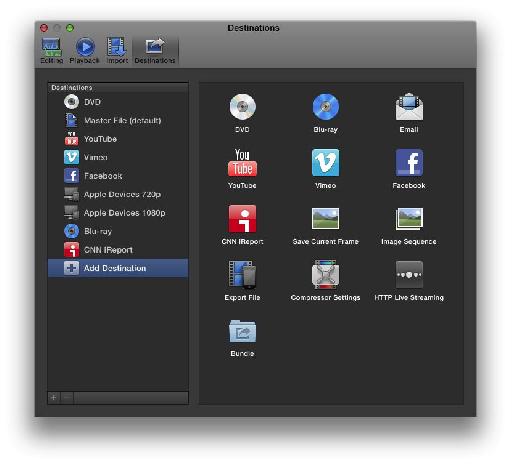 Many additional destinations on offer.
There are a couple more options here:
HTTP Live Streaming, should you need to export a collection of files for that purpose.

Image Sequence, if you need to share a collection of stills

Current Frame, to export the image you're currently looking at

Export File, to get a mix of different export options

Compressor Settings, to hook into any preset you've created in Compressor

Master File tricks
It's also worth taking a second glance at Master File. The Video Codec options here let you export directly to XDCAM, HDV or DVCPRO HD in addition to a variety of ProRes options and a quick H.264 export. If your workflow revolves around these camera-native formats (as at least some TV stations do) you'll likely be using the Master File option quite a bit.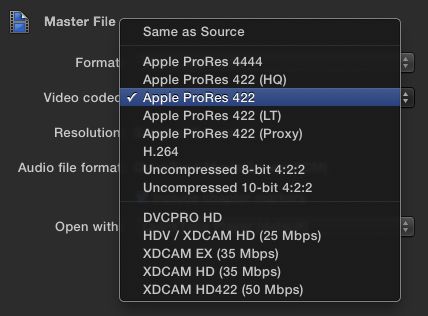 You have to go to Master File to access these codecs.
Bundles
We're not done yet. A novel export option here is the Bundle, which lets you export a number of compressed files at once. Double-click the Bundle option and you'll add it to the left-hand side. At this point, it's a folder with nothing in it. Dragging in compression settings (from the right-hand side or the left-hand side) will add them to the bundle. However, dragging from the left-hand side will move it there instead of copying it, so Option-drag to copy the Master File option if desired.
So, if you need to export a Master File, an Email version, and a 720p H.264 file, that's fine. Option-drag the Master File option from the left-hand side to the Bundle below. Also Option-drag the Apple Devices 720p option from the left-hand side, then click Add Destination and drag the Email option to the bundle as well.
Finally, select the Bundle, then click on the Bundle's name to rename it 'Email+720p+Master'. All the minor options remain changeable, so tweak if you wish. For bonus points, you can even make one of these Share options the default by right-clicking it.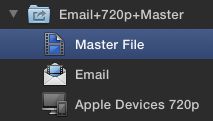 Three handy options, bundled together.
Finally, export them all
Choosing a bundle from the File > Share submenu will show a nearly-standard dialog, except that you can switch between the different export options using arrows at the bottom left of the window. When you eventually tire of all the options, a small dialog at the top of the screen will briefly flash past, and then it's simply a background process. You can keep working in Final Cut Pro, start on your next project, or simply have a cup of tea.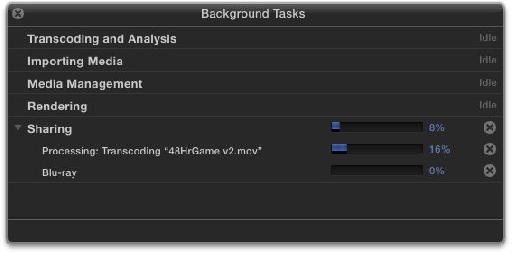 Exports happen one after the other.
Exporting to Compressor
By the by, this option still works, though it's moved to the File menu just below the other Share options. As before, you'll probably have an easier time if you set up a preset in Compressor, then just access the Compressor preset directly.
Conclusion
Exporting from FCP X has been shifted and tweaked quite a bit. Now that everything can happen in the background, parts of a timeline can be exported, and we have much more flexibility about how we export, it's simply much easier than it's ever been. With the other improvements in render speed, connected clip behavior, RED support, the new event viewer and improved audio editing (just to name a few) there's never been a better time to get into FCP X.