Are your Final Cut Pro X projects shuddering to a halt? Perhaps slowing down to a snail's pace? Iain Anderson is here to help you speed 'em up and get your projects purring again with these tips.
No matter how fast your Mac or how organized your habits, from time to time Final Cut Pro X can slow down '" just like FCP 7 could. Luckily, it's not hard to get FCP X back to tip-top operating condition. Here, we'll look at a few of the more common reasons for our favorite editor to bog down. First, though, quit FCP X if it's running.

Delete your preferences
An oldie but a goodie. From time to time, it seems that FCP X can suffer from corrupt preferences, and throwing them away is the quickest fix. These days, Apple hides your personal Library folder by default, but it's easy to show it. Hold the Option key down, then choose the Go menu in the Finder, and choose Library.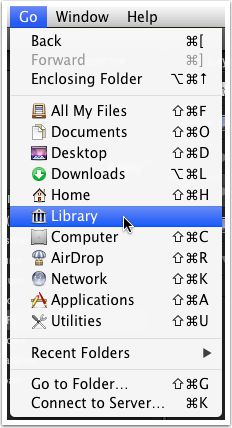 This is how you get there.
In the Finder window that opens, navigate to the Preferences folder, then scroll down a long way and send anything that begins with 'com.apple.FinalCut' to the Trash with a swift right-click. If FCP X is snappy after a relaunch, you're done!

And these are the files to delete.
Move older Events and Projects
As discussed in this article on Event Manager X, you can quite easily move unwanted events and projects to a Hidden folder. You could also move older projects to archival hard drives from within FCP X itself. Hiding projects in folders is also a fix that can work, at least if you keep the folders closed.

Keep your current projects active, but hide older projects and events.
However you do it, reducing the amount of events and projects that FCP X tries to load when it launches is an excellent idea.
Don't store media on your system drive
If you have an iMac with Fusion Drive, you'll probably have a speedy time editing, at least at first. However, once you fill up the drive a little, you may find that the system begins to stutter. This one has been tricky to track down, but I've certainly seen media on a top-spec Fusion Drive iMac pause during playback, and the cause seemed to be the drive itself. Standard recommendation for years has been to keep your media on a second drive, and that's still good practice. Of course, that external drive should be Thunderbolt, eSATA or USB 3 for best results.
Optimize (or not)
While it's not strictly necessary, if you're working with more exotic media or your Mac is aging, then optimizing your media can help speed you up. Right-click existing media and choose Transcode Media, then tick Optimize in the dialog that appears. You could use Proxy media instead, but that's only truly useful for large, complex workflows.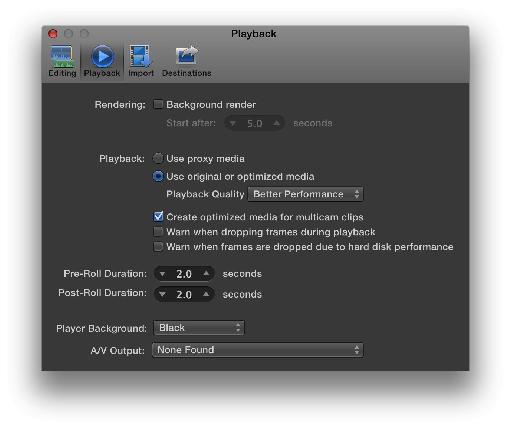 Control optimizing and check Playback Quality.Simple Preference Switches
This is an easy one if your playback is stuttering. Under Preferences > Playback, choose Better Performance for Playback Quality. You might also try switching Background Rendering off (if the constant rendering is causing any problems) or on (if playback is slow without it).
Avoid long generators
Generated backgrounds can certainly be useful, but they do take time to compute. If you're using very long generators, clicking towards the end of that generator can cause heavy beachballing.

This could be even worse with a series of stacked Titles above it.
The fix is easy: Option-drag the generator (alone) to the end of your project, then select it with the Range Selection tool. Share as a Master File, then re-import that movie into your current Event. Drag that new clip onto the existing generator, then Replace from Start. This way, you don't need to wait for anything to recompute '" it's just another movie.
Split complex projects
Some very complex projects might just be too big. In the Project Library, Right-click and Duplicate your project twice. Now, delete the first half of your edit in one copy and the second half in the other. Keep the original Project just in case.

One complex project becomes two simpler ones.
Conclusion
These are just a few ways you can speed up your editing; beachballs needn't get in your way. Still, if none of these help, upgrading your hardware (storage or CPU) could be the best way forward.