Are your Final Cut Pro X projects shuddering to a halt? Perhaps slowing down to a snail's pace? Iain Anderson is here to help you speed 'em up and get your projects purring again with these tips.
Egal wie schnell Sie Ihren Mac oder wie Sie Ihre Gewohnheiten organisiert, von Zeit zu Zeit Final Cut Pro X verlangsamen kann wie FCP 7 konnte. Zum Glück, es ist nicht schwer zu FCP X zurück zu tip-top Betriebszustand. Hier auch auf einige der häufigsten Gründe für unsere Lieblings-Editor zu versinken sehen. Zunächst jedoch beenden FCP X, wenn seine Lauf.

Löschen Sie Ihre Präferenzen
Ein Oldie, sondern ein Goodie. Von Zeit zu Zeit, so scheint es, dass FCP X kann von korrupten Präferenzen leiden, und werfen Sie sie weg ist die schnellste Lösung. In diesen Tagen, versteckt Apfel Ihre persönlichen Library-Ordner standardmäßig, aber seine leicht, es zu zeigen. Halten Sie die Wahltaste gedrückt, und wählen Sie dann die Go-Menü im Finder, und wählen Sie Library.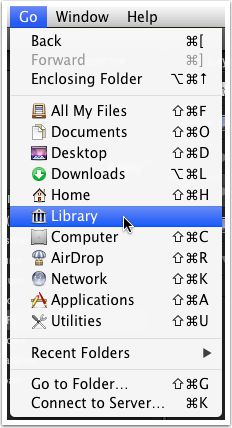 Dies ist, wie Sie dort ankommen.
Im Finder-Fenster, das geöffnet wird navigieren Sie zu dem Ordner Einstellungen, blättern Sie dann einen langen Weg und schicken Sie alles, was mit com.apple.FinalCut beginnt in den Papierkorb mit einem schnellen rechten Maustaste. Wenn FCP X ist bissig nach einem Relaunch youre fertig!

Und dies sind die Dateien zu löschen.
Bewegen Sie ältere Veranstaltungen und Projekte
Wie im Abschnitt dieses Artikels auf Event Manager X , können Sie ganz leicht bewegen unerwünschte Ereignisse und Projekte in einen versteckten Ordner. Sie könnten auch ältere Projekte zu bewegen Archivierung Festplatten aus FCP X selber. Verstecken Projekte in Ordnern ist auch ein Update, das funktionieren kann, zumindest, wenn Sie halten die Ordner geschlossen.

Halten Sie Ihre aktuellen Projekte aktiv, aber verstecken ältere Projekte und Veranstaltungen.
Wie auch immer Sie es tun, die Verringerung der Menge von Veranstaltungen und Projekten, dass FCP X versucht zu laden, wenn es startet ist eine ausgezeichnete Idee.
Dont Medien auf Ihrem System-Laufwerk speichern
Wenn Sie einen iMac mit Fusion-Laufwerk haben, youll wahrscheinlich eine zügige Bearbeitung Zeit, zumindest auf den ersten. Allerdings, wenn Sie füllen das Laufwerk ein wenig, können Sie feststellen, dass das System an zu stottern beginnt. Dieser war schwierig aufzuspüren, aber Ive gesehen sicherlich Medien auf einem Top-spec Fusion Antrieb iMac Pause während der Wiedergabe, und die Ursache schien das Laufwerk selbst zu sein. Standard-Empfehlung seit Jahren, um Ihre Medien auf einem zweiten Laufwerk zu halten, und das ist noch gute Praxis. Natürlich sollte die externe Festplatte Thunderbolt, eSATA oder USB 3 für die besten Ergebnisse sein.
Optimieren Sie (oder auch nicht)
Während es nicht unbedingt notwendig ist , kann, wenn youre Arbeit mit exotischen Medien oder Ihr Mac wird immer älter, dann die Optimierung Ihrer Medien helfen beschleunigen Sie. Der rechten Maustaste und wählen vorhandenen Medien Transcodierung Medien, dann kreuzen Optimize in dem Dialog, der erscheint. Sie könnten stattdessen Proxy Medien, aber das ist nur wirklich nützlich für große, komplexe Workflows.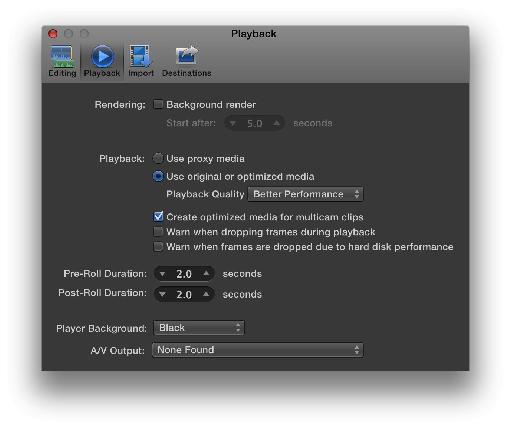 Steuerung und Optimierung überprüfen Playback Quality.Simple Bevorzugt Switches
Dies ist eine einfache, wenn Ihr eine Wiedergabe stottert. Unter Einstellungen
Vermeiden Sie lange Generatoren
Erzeugt Hintergründe kann sicherlich hilfreich sein, aber sie nehmen Zeit zu berechnen. Wenn Sie sehr lange Generatoren, Sie gegen Ende dieser Generator youre kann schwere beachballing.

Dies könnte sogar noch schlimmer mit einer Reihe von gestapelten Titel darüber.
Die Lösung ist einfach: Option ziehen Sie den Generator (allein) bis zum Ende des Projekts, und wählen Sie mit dem Auswahlbereich-Werkzeug. Teilen als Master File, dann re-importieren, dass Film in Ihr aktuelles Ereignis. Ziehen Sie diesen neuen Clip auf die vorhandenen Generator, dann von Anfang Ersetzen. Auf diese Weise brauchen Sie nicht, um etwas neu zu berechnen sein gerade einen anderen Film warten.
Split komplexen Projekten
Einige sehr komplexe Projekte könnte nur sein, zu groß. Im Projekt-Bibliothek, mit der rechten Maustaste klicken und Duplizieren Sie Ihre Projekt zweimal. Nun löschen Sie die erste Hälfte der Bearbeitung in einer Kopie und die zweite Hälfte in der anderen. Bewahren Sie die Originalverpackung Projekt just in case.

Ein komplexes Projekt wird zwei einfachere.
Fazit
Dies sind nur ein paar Möglichkeiten, wie Sie die Geschwindigkeit Ihres Bearbeitung kann; beachballs neednt in die Quere kommen. Dennoch, wenn keine dieser Hilfe, die Modernisierung Ihrer Hardware (Speicher oder CPU) könnte der beste Weg nach vorn.