Are your Final Cut Pro X projects shuddering to a halt? Perhaps slowing down to a snail's pace? Iain Anderson is here to help you speed 'em up and get your projects purring again with these tips.
No importa cuán rápido tu Mac o cómo organizan sus hábitos, de vez en cuando, Final Cut Pro X puede ralentizar como FCP 7 podía. Afortunadamente, no es difícil de conseguir FCP X de nuevo a la punta superior condición de funcionamiento. En este caso, también un vistazo a algunas de las razones más comunes para nuestro editor favorito a empantanar. Primero, sin embargo, dejar de FCP X si su funcionamiento.

Eliminar preferencias
Un viejo pero bueno. De vez en cuando, parece que FCP X puede sufrir de preferencias corruptas y tirarlas a la basura es la solución más rápida. En estos días, Apple esconde la carpeta Biblioteca personal de forma predeterminada, pero es fácil de demostrarlo. Mantenga pulsada la tecla Opción abajo, a continuación, elija el menú Ir del Finder y seleccione Biblioteca.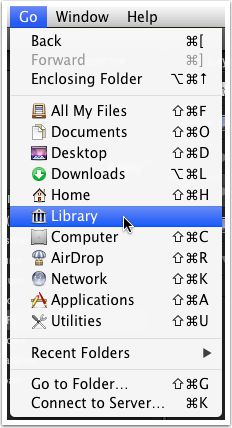 Esta es la forma de llegar allí.
En la ventana del Finder que se abre, vaya a la carpeta Preferencias y, a continuación, desplácese hacia abajo un largo camino y enviar cualquier cosa que comienza con com.apple.FinalCut a la papelera con un clic derecho rápido. Si FCP X es rápido después de un relanzamiento, estás hecho!

Y estos son los archivos que desea eliminar.
Mueva eventos mayores y Proyectos
Como se menciona en este artículo en Event Manager X , se puede mover con facilidad eventos y proyectos no deseados a una carpeta oculta. También puede mover los proyectos más para unidades de disco duro de archivos desde dentro de la propia FCP X. Esconder los proyectos en carpetas es también una solución que puede funcionar, al menos si se mantiene las carpetas cerradas.

Mantenga sus proyectos actuales activos, pero ocultar los proyectos más antiguos y eventos.
Sin embargo usted lo hace, lo que reduce la cantidad de eventos y proyectos que FCP X intenta cargar cuando se inicia es una excelente idea.
¡No almacene multimedia en la unidad del sistema
Si tienes un iMac con Fusión Drive, interminables probablemente una edición en tiempo rápido, al menos al principio. Sin embargo, una vez que se llena el coche un poco, es posible que el sistema comienza a tartamudear. Este ha sido difícil de localizar, pero Ive visto en los medios de comunicación sin duda un motor de fusión superior de las especificaciones iMac pausa durante la reproducción, y la causa fue la propia unidad. Recomendación estándar para los años ha sido la de mantener sus medios de comunicación en un segundo disco duro, y eso es todavía una buena práctica. Por supuesto, eso duro externo debería ser Thunderbolt, eSATA o USB 3 para obtener mejores resultados.
Optimizar (o no)
Aunque no es estrictamente necesario , si usted está trabajando con los medios de comunicación más exóticos o su Mac está envejeciendo, y luego optimizar sus medios de comunicación pueden ayudar a acelerar. Haga clic derecho en los medios de comunicación existentes y elegir transcodificación multimedia, entonces marque Optimizar en el cuadro de diálogo que aparece. Usted podría utilizar los medios de comunicación del proxy en su lugar, pero eso sólo es verdaderamente útil para grandes flujos de trabajo complejos.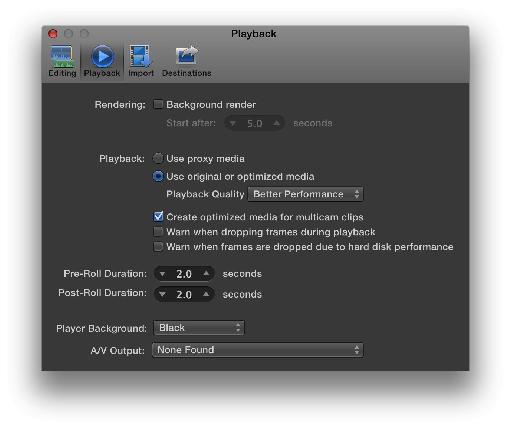 Control de la optimización y comprobar reproducción Switches preferencias Quality.Simple
Esto es fácil si su reproducción es la tartamudez. En Preferencias
Evite generadores largas
Fondos generados sin duda puede ser útil, pero sí tomar tiempo para calcular. Si usted está usando generadores muy largas, haciendo clic al final de que el generador puede causar beachballing pesado.

Esto podría ser aún peor, con una serie de títulos apilados encima de ella.
La solución es fácil: Opción mientras arrastra el generador (solo) hasta el final de su proyecto, a continuación, selecciónelo con la herramienta Selección de rango. Compartir como maestra de archivos, a continuación, vuelva a importar esa película en su evento actual. Arrastre este nuevo clip en el generador existente y Reemplazar en Inicio. De esta manera, ya no tienes que esperar nada para volver a calcular su sólo otra película.
Divida proyectos complejos
Algunos proyectos muy complejos pueden ser demasiado grande. En la biblioteca de proyectos, haga clic derecho y Duplicar el proyecto dos veces. Ahora, elimine la primera mitad de su edición en un solo ejemplar y la segunda mitad en el otro. Guarde el proyecto original por si acaso.

Un proyecto complejo se convierte en dos más simples.
Conclusión
Estas son sólo algunas maneras que usted puede acelerar su edición; beachballs neednt se interponga en tu camino. Sin embargo, si ninguno de ellos ayuda, actualizar el hardware (almacenamiento o CPU) podría ser el mejor camino a seguir.