Are your Final Cut Pro X projects shuddering to a halt? Perhaps slowing down to a snail's pace? Iain Anderson is here to help you speed 'em up and get your projects purring again with these tips.
Peu importe à quelle vitesse votre Mac ou comment organiser vos habitudes, de temps à Final Cut Pro X peut ralentir tout comme FCP 7 possible. Heureusement, ce n'est pas difficile d'obtenir FCP X back to top tip-état de fonctionnement. Ici, bien examiner quelques-unes des raisons les plus communes pour notre éditeur favori pour enliser. Mais d'abord, cesser de FCP X si son fonctionnement.

Supprimez vos préférences
Un ancien mais un goodie. De temps en temps, il semble que FCP X peut souffrir de préférences corrompus et de les jeter est la solution la plus rapide. Ces jours-ci, Apple cache votre dossier Bibliothèque personnelle par défaut, mais il est facile de montrer. Maintenez la touche Option enfoncée, puis choisissez le menu Aller du Finder, puis choisissez Bibliothèque.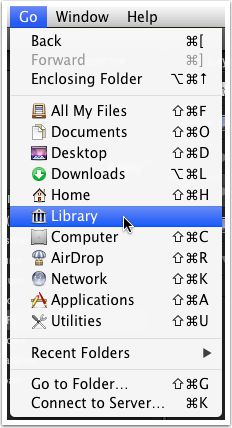 Voici comment vous y rendre.
Dans la fenêtre du Finder qui s'ouvre, accédez au dossier Préférences, puis faites défiler un long chemin et envoyer ce qui commence par com.apple.FinalCut dans la corbeille avec un clic-droit rapide. Si FCP X est accrocheur après une relance, vous êtes fait!

Et ce sont les fichiers à supprimer.
Déplacez événements antérieurs et projets
Comme indiqué dans cet article sur Event Manager X , vous pouvez très facilement déplacer des événements indésirables et des projets dans un dossier caché. Vous pouvez également déplacer les anciens projets de disques durs d'archives au sein de FCP X lui-même. Cacher projets dans des dossiers est également une solution qui peut fonctionner, au moins si vous gardez les dossiers fermés.

Gardez vos projets actuels actif, mais cacher projets et des événements plus anciens.
Mais vous le faites, ce qui réduit la quantité d'événements et de projets que FCP X tente de charger quand il lance est une excellente idée.
Ne pas stocker les médias sur votre disque système
Si vous avez un iMac avec Fusion Drive, vous aurez probablement avoir un montage de temps rapide, au moins au début. Cependant, une fois que vous remplissez le lecteur un peu, vous pouvez constater que le système commence à bégayer. Celui-ci a été difficile à traquer, mais Ive médias certainement vu sur un Fusion dur iMac pause top-spec pendant la lecture, et la cause semblait être le lecteur lui-même. Recommandation standard pendant des années a été de garder vos médias sur un second disque, Et c'est toujours une bonne pratique. Bien sûr, c'est dur externe devrait être Thunderbolt, eSATA ou USB 3 pour de meilleurs résultats.
Optimiser (ou pas)
Alors que ce n'est pas strictement nécessaire , si vous êtes travail avec les médias plus exotiques ou votre Mac est vieillissante, puis l'optimisation de votre contenu multimédia peut vous aider à accélérer. Cliquez à droite sur les médias existants et choisir Transcode Media, puis cochez Optimiser dans la boîte de dialogue qui apparaît. Vous pouvez utiliser les médias Proxy place, mais c'est vraiment seulement utile pour les grands flux de travail complexes.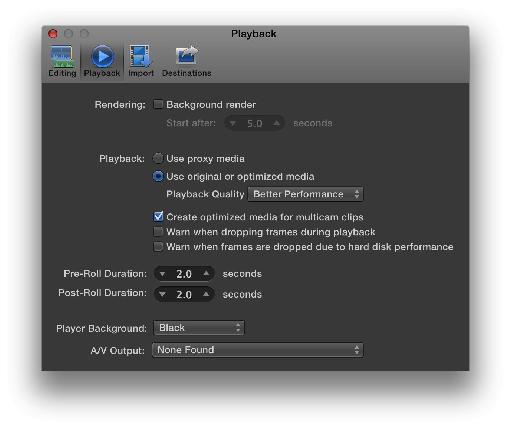 Contrôle et optimisation Vérifiez la lecture Commutateurs privilégiées Quality.Simple
C'est facile si votre lecture est le bégaiement. Sous Préférences
Évitez les longues générateurs
Milieux générés peuvent certainement être utiles, mais ils prennent du temps à calculer. Si vous êtes à l'aide de très longues générateurs, en cliquant vers la fin de ce générateur peut causer lourd beachballing.

Ce pourrait être encore pire avec une série de titres empilés au-dessus.
La solution est simple: Option + faire glisser le générateur (seulement) à la fin de votre projet, puis sélectionnez avec l'outil Sélection d'Intervalle. Partager un Master File, puis ré-importer ce film dans votre événement en cours. Faites glisser ce nouveau clip sur le générateur existant, puis Remplacer depuis le début. De cette façon, vous n'avez pas besoin d'attendre quoi que ce soit de recalculer sa juste un autre film.
Diviser les projets complexes
Certains projets très complexes peuvent être simplement trop grand. Dans la bibliothèque de projets, cliquez droit et dupliquer deux fois votre projet. Maintenant, supprimer la première moitié de votre édition en un seul exemplaire et la seconde moitié de l'autre. Gardez le projet initial au cas où.

Un projet complexe devient deux simples.
Conclusion
Ce ne sont que quelques façons dont vous pouvez accélérer votre montage; beachballs neednt dans votre chemin. Pourtant, si aucun de ces secours, la mise à niveau de votre matériel (stockage ou CPU) pourrait être la meilleure voie à suivre.