Are your Final Cut Pro X projects shuddering to a halt? Perhaps slowing down to a snail's pace? Iain Anderson is here to help you speed 'em up and get your projects purring again with these tips.
Non importa quanto velocemente il vostro Mac o su come organizzare le vostre abitudini, di volta in volta Final Cut Pro X può rallentare proprio come FCP 7 poteva. Per fortuna, la sua non è difficile ottenere FCP X torna a ottime condizioni di funzionamento. Qui, ben guardare alcuni dei motivi più comuni per il nostro editor preferito per impantanarsi. Prima, però, uscire da FCP X se la sua esecuzione.

Cancella le preferenze
Un vecchietto, ma un goodie. Di tanto in tanto, sembra che FCP X può soffrire di preferenze corrotti, e gettarli via è la soluzione più rapida. In questi giorni, Apple nasconde la tua cartella Libreria personale per impostazione predefinita, ma è facile dimostrarlo. Tenere premuto il tasto Opzione, quindi scegliere il menu Vai nel Finder e selezionare Libreria.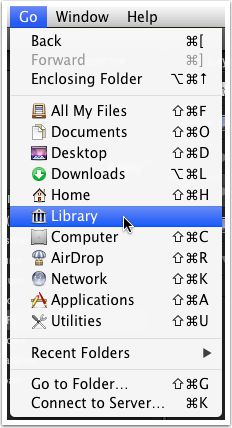 Questo è come si arriva.
Nella finestra del Finder che si apre, selezionare la cartella Preferenze, quindi scorrere verso il basso un lungo cammino e inviare tutto ciò che inizia con com.apple.FinalCut nel cestino con un clic destro rapido. Se FCP X è scattante dopo un rilancio, hai finito!

E questi sono i file da eliminare.
Spostare Eventi anziani e Progetti
Come discusso in questo articolo su Event Manager X , si può facilmente spostare gli eventi indesiderati e progetti in una cartella nascosta. Si potrebbe anche spostare i progetti più grandi per i dischi rigidi di archiviazione all'interno di FCP X stesso. Nascondere i progetti in cartelle è anche una soluzione che può funzionare, almeno se non eliminare le cartelle chiuse.

Mantenere i vostri progetti attuali attivo, ma nascondere i progetti più grandi e gli eventi.
Comunque lo si fa, riducendo la quantità di eventi e progetti che FCP X tenta di caricare quando si lancia è un'ottima idea.
Non memorizzare file multimediali sul disco di sistema
Se si dispone di un iMac con Fusion Drive, youll probabilmente un editing di tempo veloce, almeno in un primo momento. Tuttavia, una volta che si riempie il disco un po ', si potrebbe scoprire che il sistema comincia a balbettare. Questo è stato difficile da rintracciare, ma Ive supporti sicuramente visto su un top-spec Fusion pausa iMac unità durante la riproduzione, e la causa sembrava essere l'unità stessa. Raccomandazione standard per anni è stato quello di mantenere i vostri media su un secondo disco, e questo è ancora buona pratica. Naturalmente, questo disco esterno dovrebbe essere Thunderbolt, eSATA o USB 3 per i migliori risultati.
Ottimizza (o meno)
Mentre la sua non è strettamente necessario , se sei di lavoro con i media più esotici o il vostro Mac è l'invecchiamento, quindi ottimizzando il supporto può contribuire ad accelerare in su. Fare clic con supporto esistente e scegliere transcodificare supporti, quindi selezionare Ottimizza nella finestra di dialogo che appare. Si potrebbe utilizzare un supporto proxy invece, ma questo è solo veramente utile per i grandi flussi di lavoro complessi.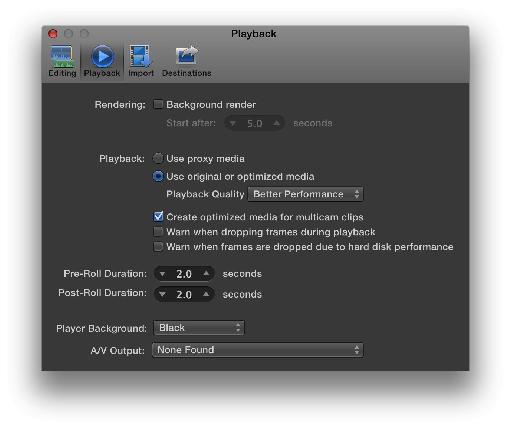 Controllo di ottimizzazione e controllo Riproduzione Passa Preference Quality.Simple
Questo è un compito facile se il playback è la balbuzie. In Preferenze
Evitare di generatori lunghi
Sfondi generati possono certamente essere utili, ma lo fanno prendere tempo per calcolare. Se youre utilizzando generatori lunghissimi, cliccando verso la fine di quel generatore può causare pesanti beachballing.

Questo potrebbe essere anche peggio, con una serie di titoli impilati sopra di esso.
La soluzione è semplice: Opzione-trascinare il generatore (solo) per la fine del progetto, quindi selezionarlo con lo strumento Selezione Intervallo. Condividi come un master file, quindi importare nuovamente quel filmato nel tuo evento corrente. Trascinare che nuovo clip sul generatore esistente, quindi Sostituisci da Start. In questo modo, non dovete aspettare per niente per ricalcolare il suo solo un altro film.
Split progetti complessi
Alcuni progetti molto complessi, potrebbe essere troppo grande. Nella Biblioteca di progetto, fare clic destro e duplicare il progetto due volte. Ora, eliminare la prima metà della tua modifica in una sola copia e la seconda metà nell'altra. Mantenere il progetto originale per ogni evenienza.

Un progetto complesso diventa due più semplici.
Conclusione
Questi sono solo alcuni modi è possibile accelerare l'editing; beachballs neednt ottenere nel vostro senso. Eppure, se nessuno di questi aiuto, aggiornare il proprio hardware (memoria o CPU) potrebbe essere il modo migliore di procedere.