Are your Final Cut Pro X projects shuddering to a halt? Perhaps slowing down to a snail's pace? Iain Anderson is here to help you speed 'em up and get your projects purring again with these tips.
Não importa o quão rápido o seu Mac ou como organizar seus hábitos, de vez em quando o Final Cut Pro X pode retardar como FCP 7 podia. Felizmente, não é difícil obter FCP X volta ao tip-top condição operacional. Aqui, também olhar para algumas das razões mais comuns para o nosso editor favorito para atolar. Primeiro, porém, sair FCP X se a sua execução.

Apagar as suas preferências
Um velho, mas um goodie. De vez em quando, parece que o FCP X podem sofrer de preferências corruptos, e jogá-los fora é a solução mais rápida. Estes dias, a Apple esconde sua pasta Biblioteca pessoal por padrão, mas é fácil de demonstrar. Segure a tecla Option para baixo, em seguida, escolher o menu Ir do Finder e escolha Library.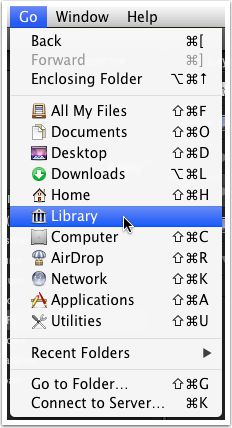 Isto é como você chegar lá.
Na janela do Finder que se abre, navegue até a pasta Preferências, em seguida, desloque-se um longo caminho e enviar qualquer coisa que começa com com.apple.FinalCut para a Lixeira com o botão direito do mouse rápida. Se o FCP X é mal-humorado depois de um relançamento, você está feito!

E estes são os arquivos a serem excluídos.
Mova eventos mais antigos e Projetos
Conforme discutido no presente artigo em Event Manager X , você pode facilmente mover eventos indesejados e projetos para uma pasta oculta. Você também pode mover projetos mais antigos de unidades de disco rígido arquivo de dentro do próprio FCP X. Escondendo projetos em pastas também é uma solução que pode funcionar, pelo menos se você manter as pastas fechadas.

Mantenha seus projetos atuais ativa, mas esconder projetos mais antigos e eventos.
No entanto, você fazê-lo, reduzindo a quantidade de eventos e projetos que FCP X tenta carregar quando se lança é uma excelente ideia.
Não armazene a mídia em sua unidade de sistema
Se você tem um iMac com Fusão Drive, você provavelmente vai ter uma edição em tempo rápido, pelo menos no início. No entanto, uma vez que você encher o carro um pouco, você pode achar que o sistema começa a gaguejar. Este tem sido complicado para rastrear, mas Ive mídia certamente visto em uma fusão top-spec unidade iMac pausa durante a reprodução, ea causa parece ser a própria unidade. Recomendação padrão durante anos tem sido a de manter a sua mídia em uma segunda unidade, e isso é ainda uma boa prática. Claro, que a unidade externa deve ser Thunderbolt, eSATA ou USB 3 para melhores resultados.
Otimizar (ou não)
Enquanto não é estritamente necessário , se você está trabalhando com a mídia mais exóticas ou o seu Mac está envelhecendo, então otimizar seus meios de comunicação podem ajudar a acelerar-lo. Botão direito do mouse e escolher meios existentes Transcodificar Mídia, em seguida, assinale Optimize na caixa de diálogo que aparece. Você poderia usar a mídia de proxy em vez disso, mas isso só é verdadeiramente útil para grandes fluxos de trabalho complexos.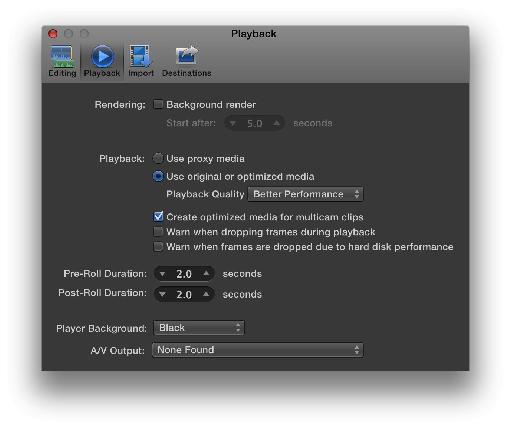 Controle de otimização e confira reprodução Switches preferência Quality.Simple
Isso é fácil, se o seu reprodução é a gagueira. Em Preferências
Evite geradores longos
Fundos gerados certamente pode ser útil, mas eles levam tempo para computar. Se você estiver usando geradores muito longos, clicando no final do que o gerador pode causar beachballing pesado.

Isto poderia ser ainda pior com uma série de Títulos empilhadas acima dela.
A correção é fácil: Option-arrastar o gerador (sozinho) até o fim de seu projeto, em seguida, selecione-o com a ferramenta Selection Range. Ações como a Master File, em seguida, voltar a importar esse filme em seu evento atual. Arraste esse novo clipe para o gerador existente, em seguida, substituir a partir de Start. Dessa forma, você não precisa esperar por nada para recalcular o seu apenas mais um filme.
Dividir projetos complexos
Alguns projetos muito complexos só poderia ser muito grande. Na Biblioteca de Projetos, botão direito do mouse e duplicar seu projeto duas vezes. Agora, elimine o primeiro semestre de sua edição em uma cópia e na segunda metade no outro. Mantenha no projeto original para o caso.

Um projeto complexo torna-se dois mais simples.
Conclusão
Estas são apenas algumas maneiras que você pode acelerar a sua edição; beachballs neednt entrar em seu caminho. Ainda assim, se nenhum deles ajuda, atualizando seu hardware (armazenamento ou CPU) pode ser o melhor caminho a seguir.