Now that Final Cut Pro X contains some of Logic Pro's best audio effect plugins'"a feature overlooked by many editors'"there're tons of ways to transform dialogue or audio. Ben Balser shows you how.
A common audio effect I'm asked about a lot is getting a person's voice to sound as if coming through a telephone or radio. I could go into a long-winded description of specific filters to use and how to adjust each little control, but in FCP X it's a lot easier than that. We have all of Logic Pro's effects, so we have top-quality processing, and a little extra help. I'll give you my two favorite start places and some guides to make tweaking them very easy for even the non-audio folks.

Step 1 - Setting Up The Project
So we'll start by pretending I have a scene of my film I'm editing in FCP X. My subject is on the phone with someone else. I have his dialog from the actual shoot. To add the character's voice who's on the phone, since he's never seen, I'll go to Window > Audio Recording, and record my ADR right there inside of FCP X. (See my Hub article on using FCP X for VO short form work for details on recording, multiple takes, editing, and more.)
Once I've gotten my ADR laid down, if it's in multiple clips I'll put them all into a single Compound clip. This way I can adjust their volume, pan, and effects all at one time. This works exactly the same way as if I put all my clips on one track in a DAW, or run them all through a common effects buss.
Use Command - , (comma) to open the Preferences window, go to the Editing tab and for 'Audio:' make sure 'Show referenced waveforms' is checked. This will show a ghost of the audio waveforms, at their normalized levels, no matter how low you pull the actual waveforms down by lowering the volume. You can visually see audio events even if the clip's volume is at zero.
It will also help to open the Timeline controls (switch icon lower right of Timeline pane) and make your track very tall and set it to see only the audio content, or perhaps minimal video content as desired. Now I'm ready to dirty up the phone voice.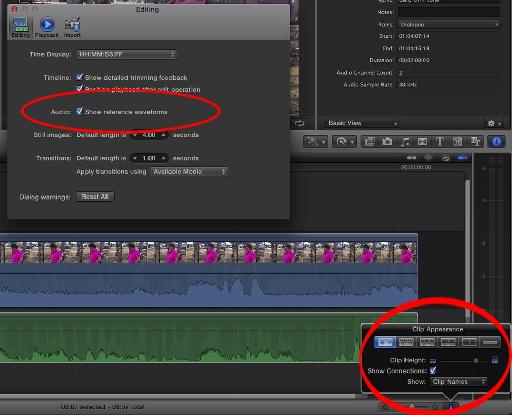 Step 2 - Megaphone EQ Guidelines
In FCP X I'll use Command-5 to open the Effects Browser. Scroll down to the Audio section, then find the Logic sub-section of that, and apply the Channel EQ effect to my telephone voice clip. In the Inspector's Audio tab, in the Channel EQ controls, the Preset menu, go to the 07 EQ Tools group, and select Megaphone EQ.
Don't be fooled by the name or its default sound; it's a great place to start. I recommend scrolling down the parameters for this effect to the 'Peak 1 On/Off' check box. Or leave it on and try adjusting Peak 1's Frequency, Gain and Q-Factor parameters. Experiment, you'll find something interesting and useful here. You can also turn off Peak 1 and start adjusting the parameters for Peak 2 for even more edgy, sharper effects.
Step 3 - Telephone EQ Guidelines
Back in the Preset menu's 07 EQ Tools group is a Telephone EQ preset. Remember you're working in the same audio effect as above, just a different preset of its many parameters. With this preset I recommend turning on the 'Low Cut On/Off:' check box and try adjusting the Low Cut Frequency between 700 and 2000. Try changing the Low Cut Slope between 6db/Oct and 12db/Oct settings. Also experiment with Low Cut Q-Factor settings between 0.1 (the lowest) and 5.0.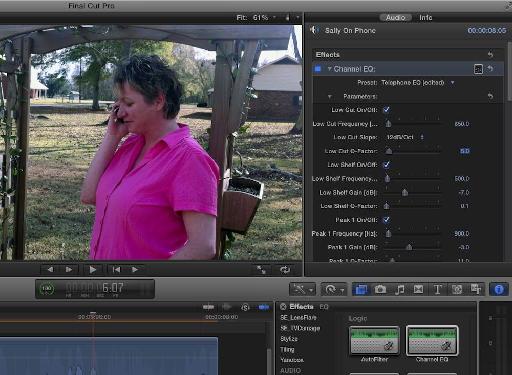 Step 4 - Quick Effects
Our 07 EQ Tools group also has two presets for what I consider Quickie effects: The Phone Filter Notch and Phone Filter Wide Band. When using these two I find working with the interface of the effect the way to go. To the right of the Channel EQ title bar is a square icon, next to the rest arrow. Click this square icon to bring up the interface. Click and drag inside the frequency spectrum. Try small changes at first, then exaggerate after. These presets have certain frequencies set and disabled so you're limited to what you will change right off the bat.
Be aware you can also use this interface with our first two effect presets. I showed them this way so that you could see how to approach tweaking these presets both ways. Some folks prefer parameter sliders, some prefer dragging around in the frequency spectrum.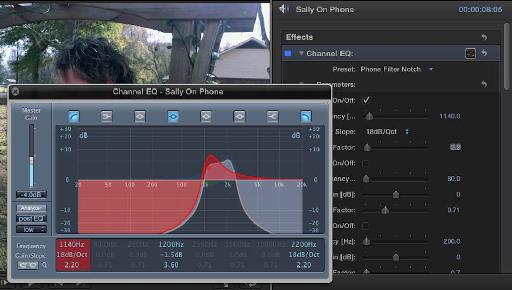 Conclusion
Achieving radio, telephone, small TV speaker, and other voice effects can be had with an EQ filter. As you see, the Logic Pro Channel EQ is huge and can look very complicated. But with these guidelines it can be very manageable and save you a lot of time from having to build this category of effects from scratch. It will simply take some experimenting with the outlined parameters to get it working for your unique situation, but that's really the fun part, anyway.