When it comes to recording audio (in particular voice-overs) for your next video-based project, Final Cut Pro X has you covered. Certified FCP X Trainer, Ben Balser, shows just how easy it is.
As someone who does a lot of voice work, I've found Final Cut Pro X to be an excellent platform to record and edit it in. In this article I'm going to show you step by step the proper workflow to make recording and editing short voice work (TV and radio spots, ADR, and the like) in FCP X, easy.

Step 1 - Recording Set-Up
In FCP X create a new Event (Option-N) and a new Project (Command-N). When creating the new Project set it to use the proper default Event, and Audio and Render settings are set to: Custom, Stereo, 48kHz and Apple ProRes 422.
With the new Event and Project both open go to the Window menu, and click Record Audio. This opens the audio recording floating window. Set the Destination to your chosen Event. Each recording made will be placed into this specified Event, as well as be placed into your open Project. Specify the Input device your mic is connected to. Recite a bit of your script to verify the levels. You do not want your audio living in the red area of the meters, but just below that. If your audio I/O device won't get loud enough or gets too loud, use the Gain control to wrangle it in. Finally, set the Monitor settings as desired.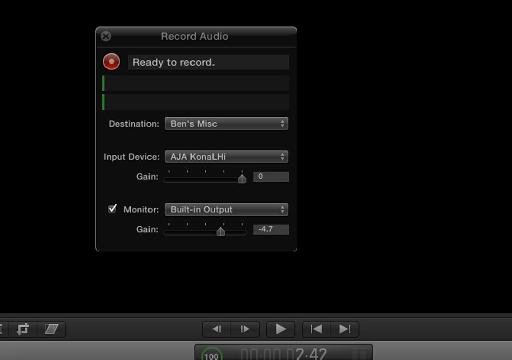 Step 2 - Recording Multiple Takes
When recording short takes such as 30-second TV or radio spots, ADR and the like, we can record several individual takes. Be sure the playhead is at the start of the Timeline (Home key) then click the red Record button in the Record Audio floating window to begin recording. When you're finished with your take, click the button again or hit the space bar. The playhead will jump back to the start of the Timeline automatically. To do your next take, simply click the record button again; the new recording will be placed directly below the previous one. Repeat as many times as necessary.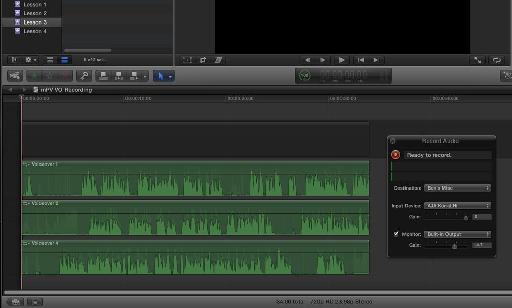 Step 3 - Editing Multiple Takes
If needed apply a Noise Gate effect (Command-5) and adjust as needed. Save this as a Preset for future use. From the Timeline Adjustment menu (switch icon, bottom right) select the setting icon at the left to show only waveforms. Adjust clip heights so you can clearly see the waveforms well. Drag the center tool bar up if needed to give the Timeline enough height.
Click each take and mute them (V) so you can audition each independently. Use the Slip tool (T) and drag the center of each clip to get the waveforms lined up together. Use the Range Select Tool (R) to drag and select the range of each take you do not want to use, then drag the black volume line on each clip down to the bottom to silence that section. Then with the best section of each take at normal volume, un-mute (V) them all. Select them all (Command-click) and create a new Compound Clip (Option-G). You now have one clip that contains the best part of each take, so it sounds like one fantastic VO recording.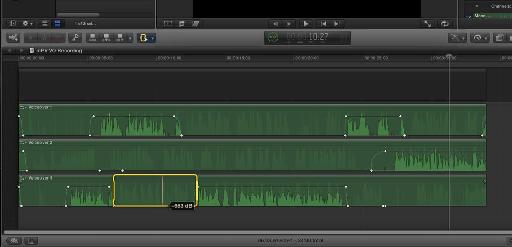 Step 4 - Finalizing The Edit
Once done you have one single Compound Clip to deal with. At this point you can apply the Channel EQ in the Logic section (Command-5) of audio effects. This applies the EQ to the work as a whole, rather than having to EQ each clip individually. You can also keyframe the audio level to the single Compound Clip to make it work with other video elements allowing you to work much easier.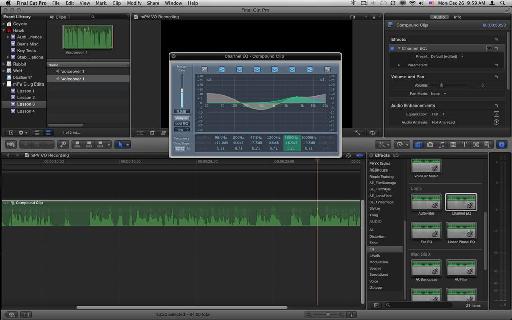 Conclusion
Using the editing tools in FCP X, voice recordings can be made and edited very quickly, very easily, and in record time. These flexible tools will also give you options to edit your work in some very unique, creative ways. Give it a try and I'm sure you'll be pleased.