"Video is two-thirds audio", or so the saying goes. Whatever the actual percentage, bad audio can ruin a great film. David Smith takes a tour of audio editing in Final Cut Pro X and Adobe Premiere.
Edição de grande exige uma coisa mais do que provavelmente qualquer outra coisa: um excelente som.
FCP Passo X 1 -
Abra o botão Aparência Clipe e entre as opções selecione o segundo botão.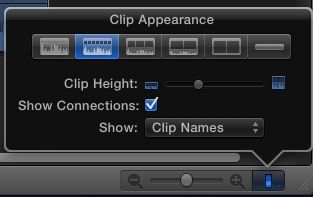 Isto dá a ênfase de áudio mais na linha do tempo.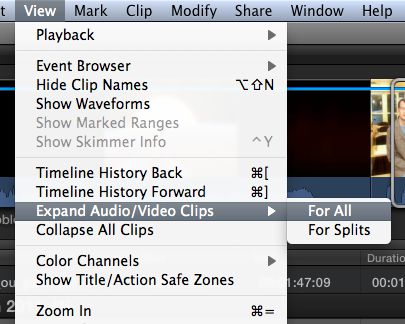 Agora o clip de áudio na linha do tempo é mais visível e tão fácil de editar.
FCP X Step 2 - Assistentes de monitoramento de áudio
Clique à direita da tela Timecode no painel para ativar Medidores de áudio FCPX é.

Os medidores de áudio ajudar com o monitoramento visual dos níveis sonoros. Para ajudar ainda mais com o monitoramento sonoro dos níveis sonoros, tente desligar Scrubbing Áudio pressionando Shift-S. Isto irá manter a distração a um mínimo.
FCP 3 X Etapa - Criar um Crossfade
Criar uma sobreposição, arrastando o ponto de o áudio do segundo clipe volta para o primeiro, por cerca de 2 segundos. Linha do tempo magnética realmente ajuda aqui: arrastando um clipe sobre a outra para criar uma sobreposição não é algo que a maioria dos pacotes de edição permitiria. No entanto, no FCP X a colisão de áudio é evitada, o áudio irá mover para baixo para outra "faixa" automaticamente.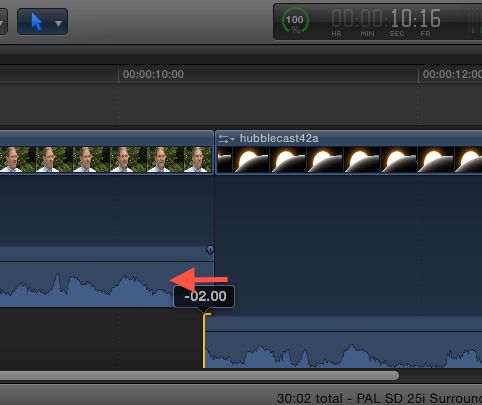 Selecione o clipe de saída no cronograma do projeto. A partir do canto superior do clipe selecionado, pegue a alça e arrastá-lo para a esquerda (no clipe).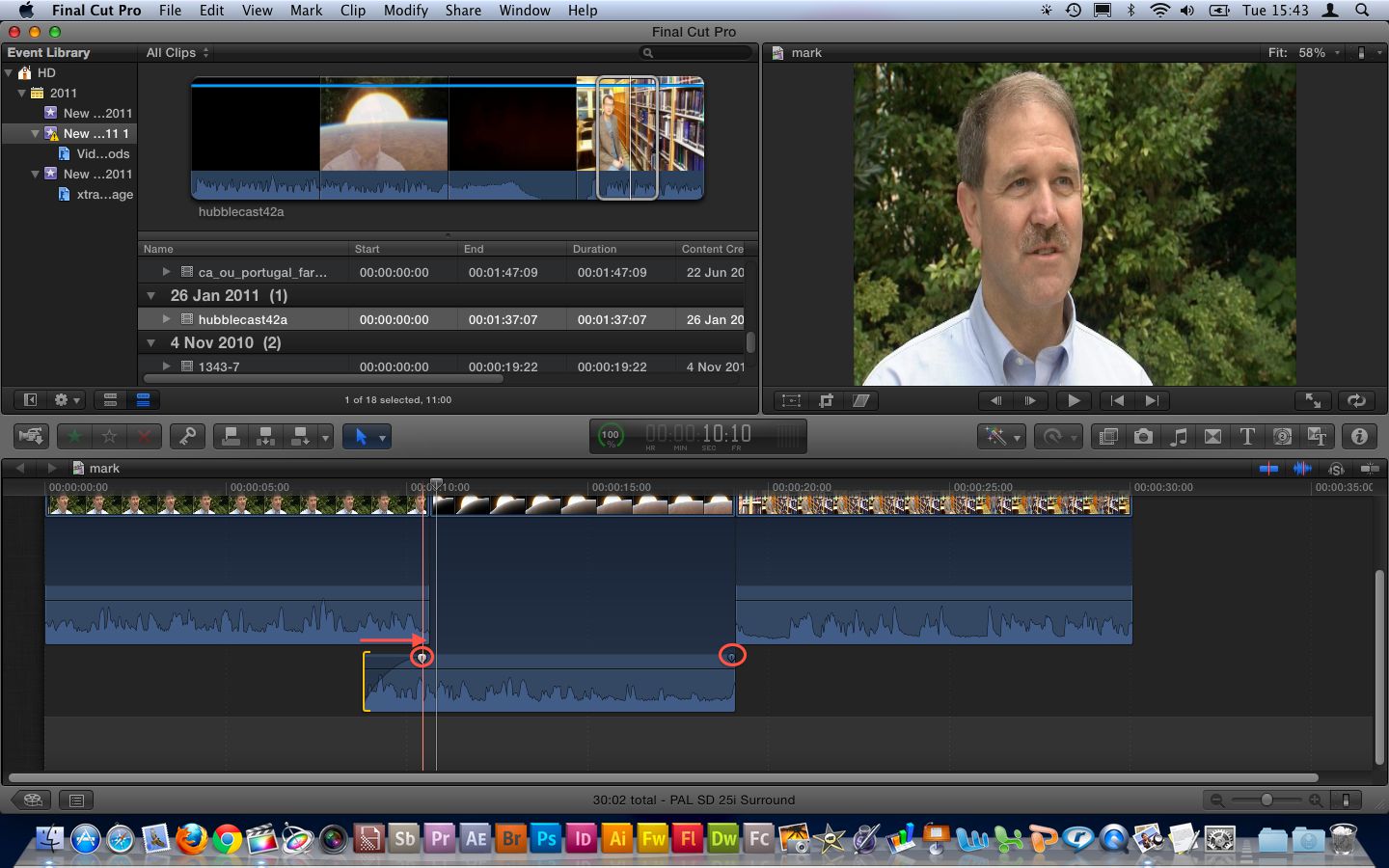 Esta ação cria o fade de áudio de saída. O comprimento da alça dita o comprimento do fade (para qualquer um acostumado a trabalhar com o Soundtrack Pro, este vai se sentir muito familiar).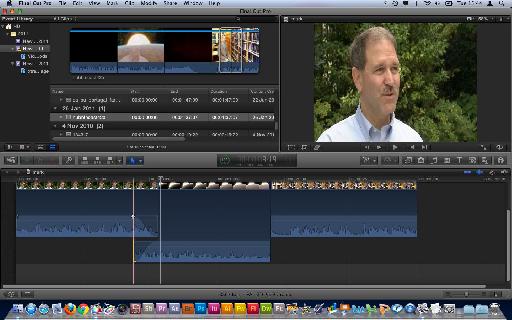 Repita o fade de áudio no clipe de entrada.
FCP X Passo 4 - Escolher Estilo fade
Botão direito do mouse em um identificador de fade de áudio e da janela pop-up, selecione um tipo de fade. Das 4 opções, é logarítmica padrão FCP X.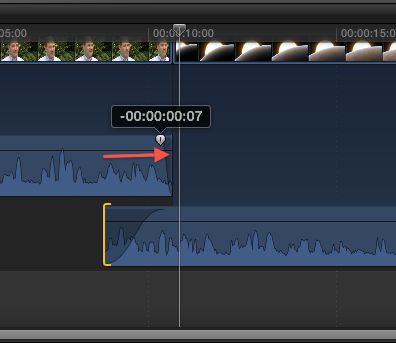 Repita esta acção para os dois se desvanece. Em seguida, pressione Shift - /
FCP Passo X 5 - Removendo Crossfades
Para remover um crossfade, pegue a alça crossfade novamente e arraste-o de volta para o início / fim do clipe. Faça isso para ambos os clipes.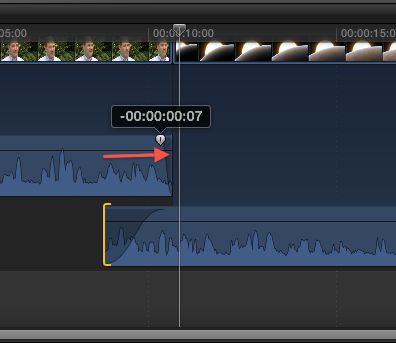 Premiere Pro
Na linha do tempo Sequence clique na seta para a divulgação ao lado de cada faixa de áudio para expandir sua visão e revelam níveis: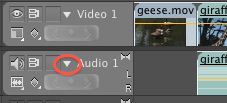 Em seguida, coloque as faixas de áudio Mostrar Estilos para mostrar de forma de onda.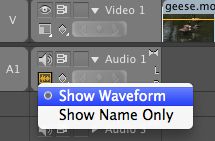 Premiere Passo 2 - Criar uma sobreposição de áudio
Para criar uma sobreposição de áudio pegar a trilha de áudio do segundo clipe e arraste-o para baixo a faixa de áudio 2. Em seguida, use a alça de corte para expandir os clipes e criar uma sobreposição.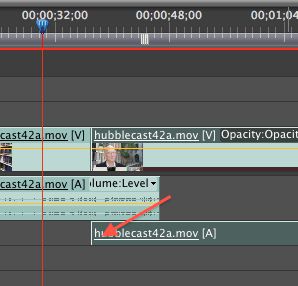 Passo 3 - Adicionar Fades Áudio
Abra o Painel de Efeitos, em seguida, navegue para a transições de áudio e pastas Crossfade.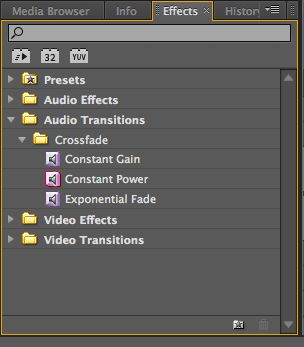 Existem 3 tipos de crossfade para escolher: Ganho Constante, Power constante e Fade exponencial. Escolha Poder Constant.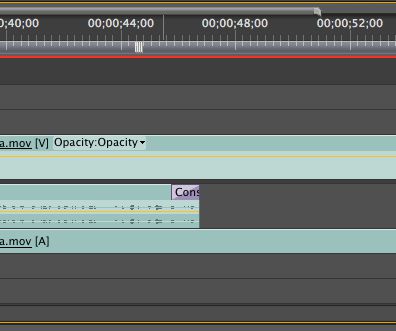 Arraste o crossfade de energia constante sobre o ponto fora do primeiro clipe de áudio e colocá-lo. Um marcador roxo aparece no clip: esta é a primeira crossfade.
Passo Premiere 4 - Modificar Crossfade
Para alterar a duração do crossfade pegar uma das extremidades e arraste-o para trás até que o comprimento desejado.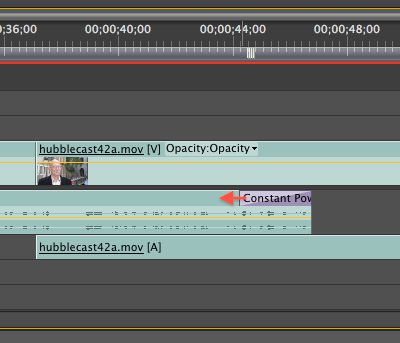 Para uma opção mais elegante, clique duas vezes na Crossfade Áudio roxo e abra o Painel de Controle Efeitos: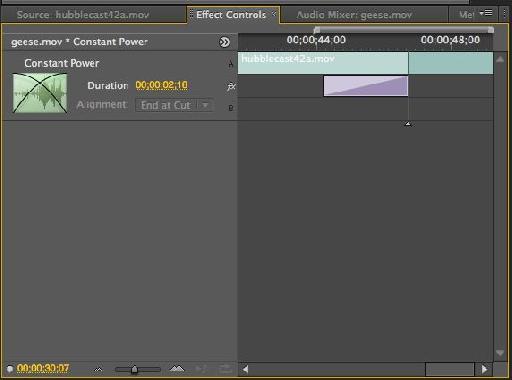 A duração do Crossfade é indicado pelo timecode duração de laranja. Clique no timecode e digite a duração desejada em seu lugar.
Premiere
Adicionar um crossfade semelhante ao do início do áudio do segundo clipe do arrastando outro Crossfade Poder Constant do painel Efeitos para sua cabeça. Redimensionar para o tamanho desejado, desta vez, arrastando para a direita.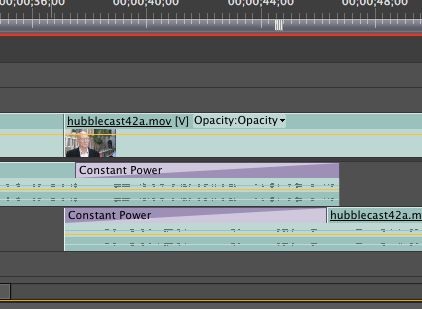 Reproduzir a seqüência de ouvir o crossfades.
Dica: Premiere Pro tem 'brincar' no padrão de atalho, mas você pode atribuir um mesmo usando a ferramenta de personalização do teclado.
Passo 6 - Remoção Crossfades
Selecione uma das Crossfades roxa na timeline e pressione Delete, repita isso por tanto Crossfades.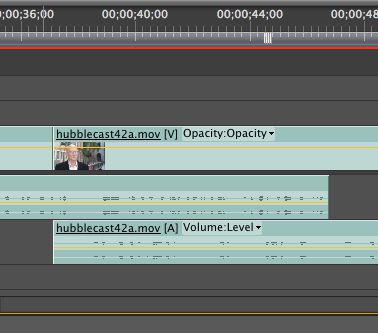 Como você pode ver, há um fluxo de trabalho semelhante para ambas as aplicações. Timeline Magnetic Final Cut Pro X é provavelmente lhe dá uma vantagem neste caso particular no entanto.
Saiba mais com a gama completa de tutoriais FCP X aqui