FCP X vs. Adobe Premiere, Part 5: Exporting
It's the final part of this 5-article series comparing Final Cut Pro X & Adobe Premiere Pro. David Smith sits back after a hard day's edit to explore the different export options in both NLEs.
There are so many options in FCP X and in Premiere Pro for sharing and exporting media that to compare all of them would take several articles. Instead I thought I should look at one of the more popular options: Exporting video to a self-contained QuickTime movie.

Let's start with Final Cut Pro X.
FCP X: Step 1 - Begin Exporting
Select a project from the Project panel and choose Share > Export Media or press Command-E.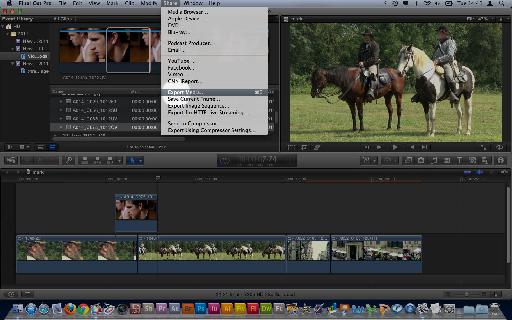 Share Menu.
FCP X: Step 2 - Media Export & Codec
Choose what media is to be exported: Video and Audio, Video Only or Audio Only, whichever is appropriate for your project.
Choose from the Video Codec menu list what codec you require. The default is Current Settings, which will keep the exported QuickTime to the same settings as the FCP X Project. On this occasion, choose Current Settings.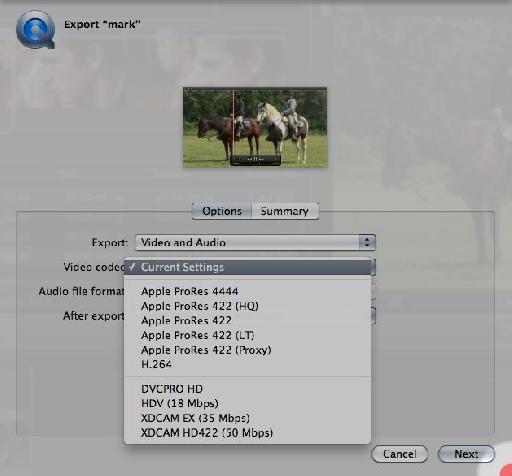 The Video Codec menu.
FCP X: Step 3 - Choose what to do with the Export
For After export select what QuickTime should do with the exported video. Open with Compressor will allow Batch Processing to multiple formats using Compressor if you have it installed. For now choose to Open with QuickTime Player.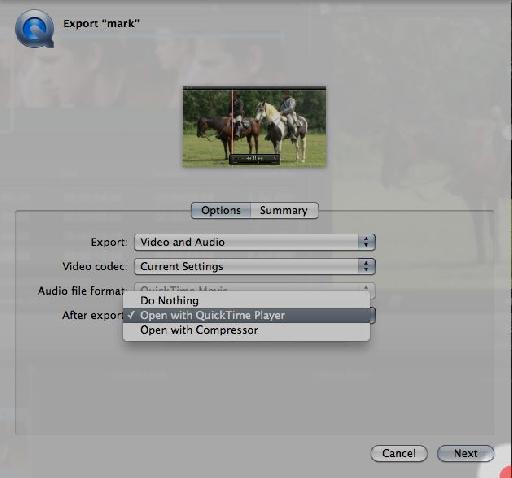 The 'After Export' drop-down menu.
Click Next to move on to the Save As'¦ window. Name the file, select a destination then click Save. A self-contained QuickTime movie will appear; play it back using QuickTime to see the results.
Now let's take a look at exporting for QuickTime in Premiere Pro.

Premiere: Step 1 - Open Exporting
Select a sequence from either the timeline or the Project Panel and choose File > Export > Media or press Command-M.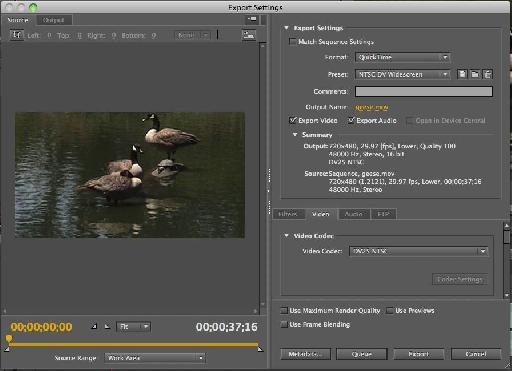 Premiere export settings.
Premiere: Step 2 - Set Export Options
At the top of the Export window is a checkbox named Match Sequence Settings. Make sure this box is checked.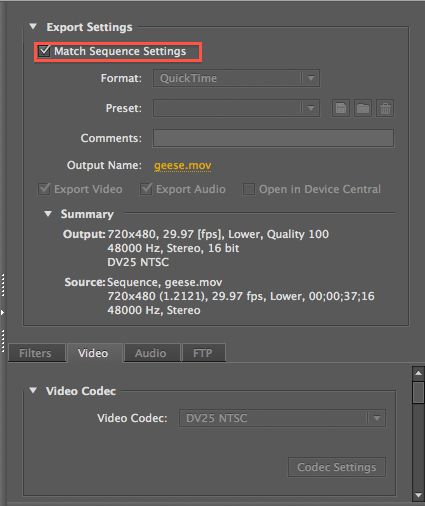 Premiere's Match Sequence Settings checkbox.
Without this option checked you will have the option to compress the QuickTime movie using another codec and standard.
Premiere: Step 3 - Select a Destination
Click on the Orange text "Output Name", and from the Save As window choose where to export to and what to name the file.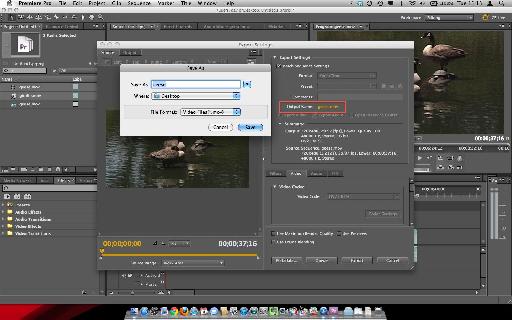 The Output name, Save As.
Premiere: Step 4 - Improve the Quality
While there are no properties available to change'"because you checked the Match Sequence Settings box earlier'"you can still control render quality and frame blending.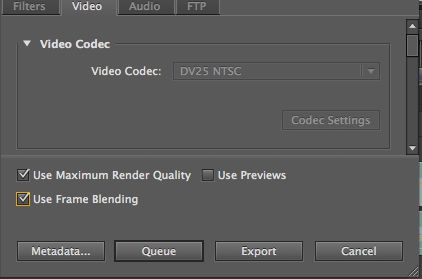 Render Quality and Frame Blending.
Select Use Maximum Render Quality. Though this will make the file bigger, it will result in a better finish. Also select Use Frame Blending if you think that the interpolation of the frames will be obvious after compression.
Step 5 - Preview the output
Using the monitor to watch your footage, toggle between the Source and Output tabs to compare the export with the media (there may be some rendering required so be patient).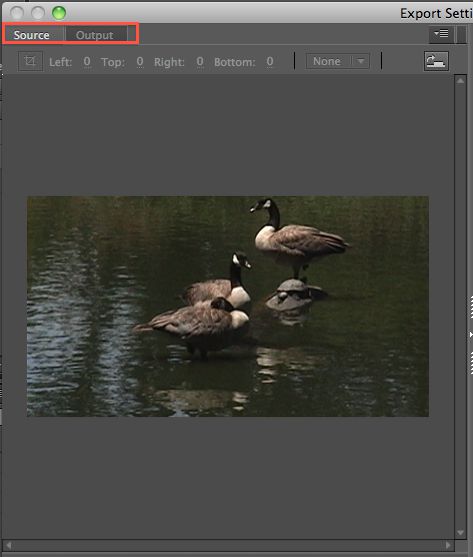 Premiere's Preview Window.
Step 6 - Set the desired media & Export
Using the Mini Timeline, set the in and out points to mark the desired area for export.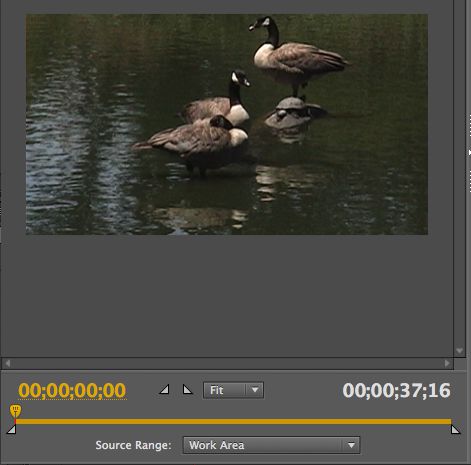 Set the in and out points.
Or else choose Entire Sequence or Entire Work Area from the drop-down menu, assuming that the sequence only contains the desired media for export.
Click Queue if you wish to add this export to a Batch Export workflow and export multiple versions using different formats. Otherwise click Export to begin to export this single version now.

The Queue and Export buttons.
As you can see Premiere offers more in the way of options when exporting QuickTime movies. Final Cut Pro X relies instead on Compressor for more complex exporting workflows. In either case this might prove a blessing for some, a curse for others. I'll let you decide.
Need more? Learn more about Final Cut Pro X, Compressor and Premiere Pro.