It's the final part of this 5-article series comparing Final Cut Pro X & Adobe Premiere Pro. David Smith sits back after a hard day's edit to explore the different export options in both NLEs.
Es gibt so viele Möglichkeiten in FCP X und in Premiere Pro für den Austausch und Export von Medien, die zu vergleichen alle von ihnen würden mehrere Artikel nehmen. Stattdessen dachte ich, ich sollte in einem der beliebtesten Optionen aussehen: Exportieren von Video zu einem in sich geschlossenen QuickTime-Film.

Lassen Sie uns mit Final Cut Pro X zu starten
FCP X: Schritt 1 - Starten Sie exportieren
Wählen Sie ein Projekt aus dem Projekt aus und wählen Sie Share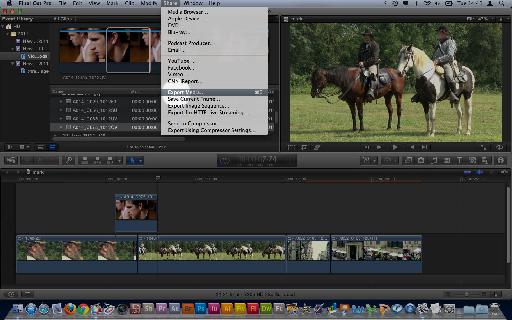 Share Menu.
FCP X: Schritt 2 - Media Export
Wählen Sie, welche Medien exportiert werden soll: Video und Audio, Video oder nur Audio nur, je nachdem, was angemessen ist für Ihr Projekt.
Wählen Sie aus dem Video Codec Menü-Liste, was Sie benötigen Codec. Die Standardeinstellung ist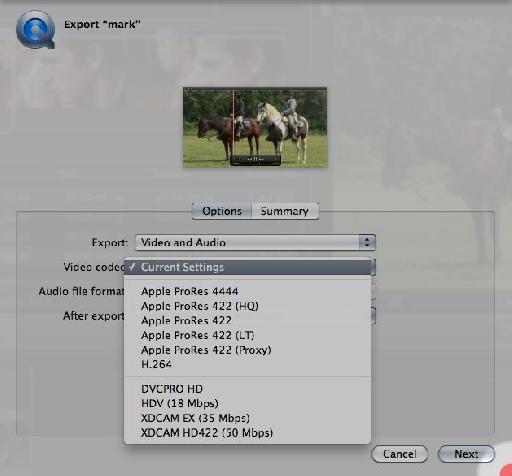 Der Video-Codec-Menü.
FCP X: Schritt 3 - Wählen Sie, was mit dem Export zu tun
Für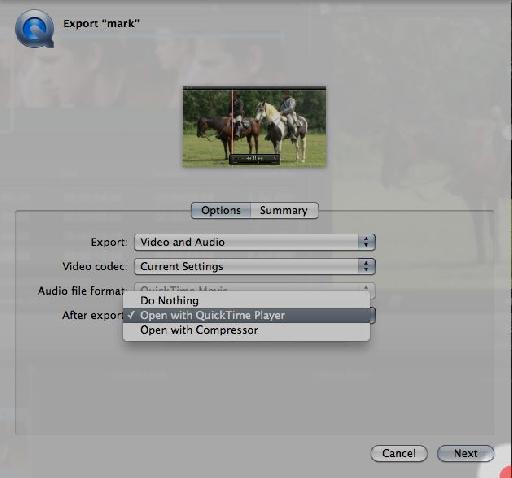 Die "Nach Export" drop-down Menü.
Klicken Sie auf Weiter, um an das Fenster Speichern unter zu bewegen. Benennen Sie die Datei, wählen Sie ein Ziel klicken Sie auf Speichern.
Werfen wir nun einen Blick auf Exportieren für QuickTime in Premiere Pro.

Premiere: Schritt 1 - Öffnen Sie exportieren
Wählen Sie eine Sequenz entweder aus der Timeline oder das Projekt Systemsteuerung und wählen Sie Datei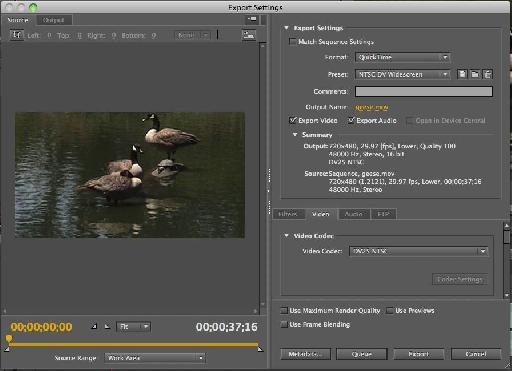 Premiere Export-Einstellungen.
Premiere: Schritt 2 - Export-Optionen
An der Spitze der Export-Fenster befindet sich ein Kontrollkästchen mit dem Namen Match Sequence-Einstellungen. Vergewissern Sie sich, dieses Kontrollkästchen aktiviert ist.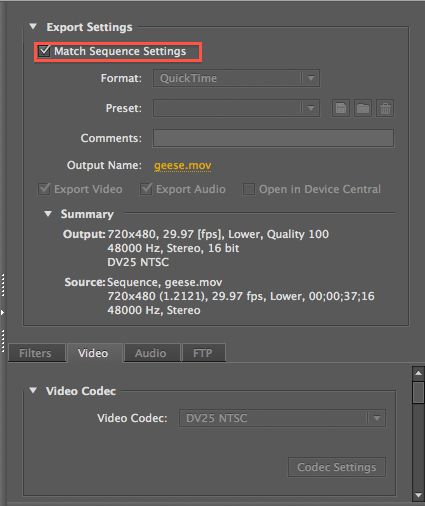 Premiere Match Sequence-Einstellungen aktivieren.
Ohne diese Option aktiviert haben Sie die Möglichkeit, den QuickTime-Film mit einem anderen Codec und Standard zu komprimieren.
Premiere: Schritt 3 - Wählen Sie eine Destination
Klicken Sie auf die orange Text "Output Name", und aus dem Fenster Speichern unter wählen, wo zu exportieren und was auf den Dateinamen.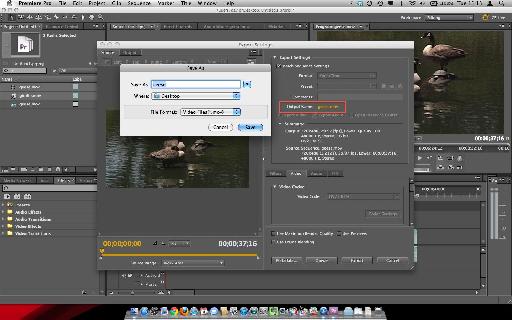 Der Output Name, Save As.
Premiere: Schritt 4 - Verbesserung der Qualität
Zwar gibt es derzeit keine Immobilien zur Verfügung changebecause Sie das Kontrollkästchen Match Sequence Feld Einstellungen earlieryou noch steuern können Render-Qualität und Frame-Überblendung.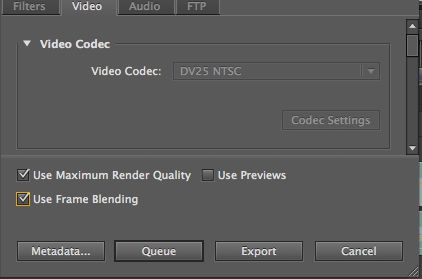 Render Qualität und Frame-Überblendung.
Wählen Sie Maximale Render Qualität. Obwohl dies wird die Datei größer, wird sie in ein besseres Finish ergeben. Auch wählen Sie Frame-Überblendung
Schritt 5 - Vorschau der Ausgabe
Mit dem Monitor, um Ihre Aufnahmen, um zwischen den Source-und Output Tabs zu sehen, um den Export mit den Medien zu vergleichen (es kann einige Rendering benötigt werden, so geduldig zu sein).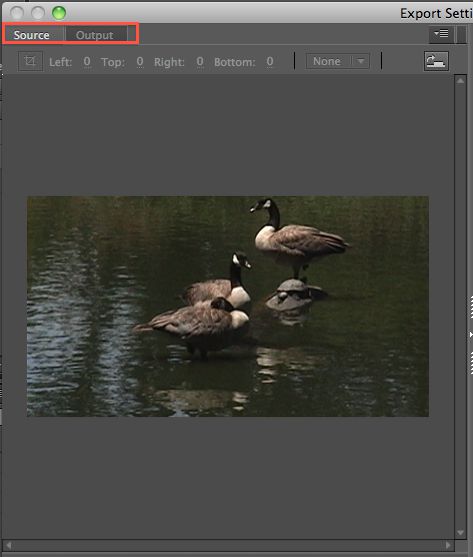 Premiere Vorschau-Fenster.
Schritt 6 - Stellen Sie die gewünschten Medien
Mit dem Mini Timeline, stellen Sie die Anfangs-und Endpunkte auf den gewünschten Bereich für den Export markieren.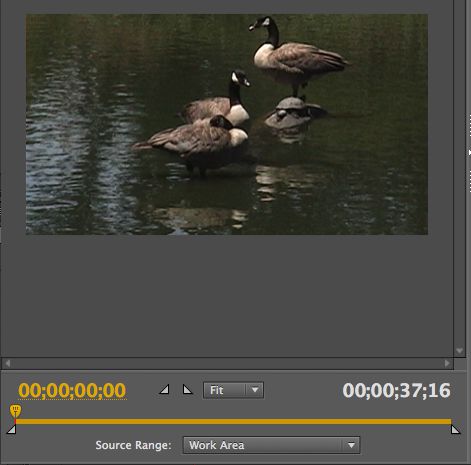 Legen Sie die Anfangs-und Endpunkte.
Oder wählen Sie Entire Sequence oder gesamten Arbeitsbereich aus dem Drop-Down-Menü, vorausgesetzt, dass
Klicken Sie Queue

Die Queue-und Export-Tasten.
Wie Sie sehen können Premiere bietet mehr im Wege Optionen beim Export von QuickTime-Filmen. Final Cut Pro X setzt stattdessen auf Compressor für komplexere Export-Workflows. In beiden Fällen könnte dies beweisen, ein Segen für die einen, ein Fluch für die anderen. Ich lasse dich entscheiden.
Brauchen Sie mehr? Erfahren Sie mehr über Final Cut Pro X , Compressor und Premiere Pro .