It's the final part of this 5-article series comparing Final Cut Pro X & Adobe Premiere Pro. David Smith sits back after a hard day's edit to explore the different export options in both NLEs.
Ci sono così tante opzioni in X FCP e in Premiere Pro per la condivisione e l'esportazione dei media che confrontare tutti loro avrebbe preso diversi articoli. Invece ho pensato che avrei dovuto guardare una delle opzioni più popolari: il video Esportazione in un self-contained filmato QuickTime.

Cominciamo con Final Cut Pro X.
X FCP: Fase 1 - Iniziare Esportazione
Selezionare un progetto dal pannello Progetto e scegliere Condividi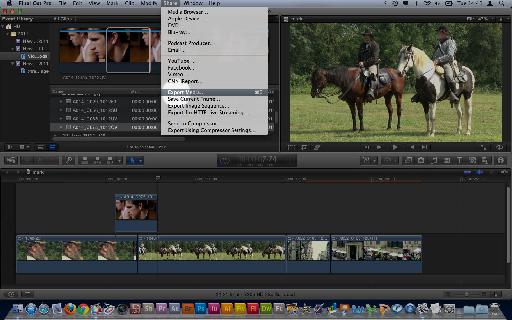 Condividi Menu.
X FCP: Fase 2 - Media Export
Scegliete ciò che i media è da esportare: video e audio, solo video o solo audio, a seconda dei casi per il vostro progetto.
Scegli dalla lista menu Video Codec quali codec hai bisogno. Il valore predefinito è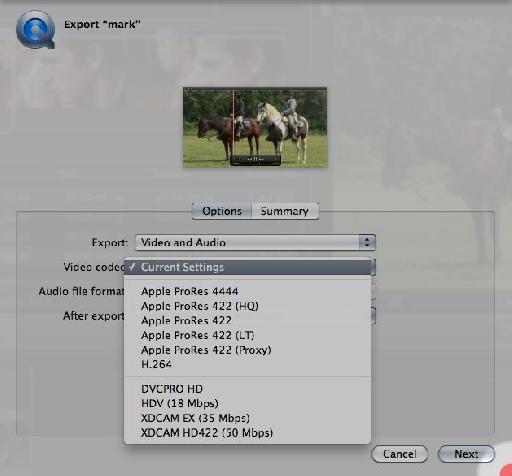 Il menù Video Codec.
FCP X: Fase 3 - Scegliere che cosa fare con l'esportazione
Per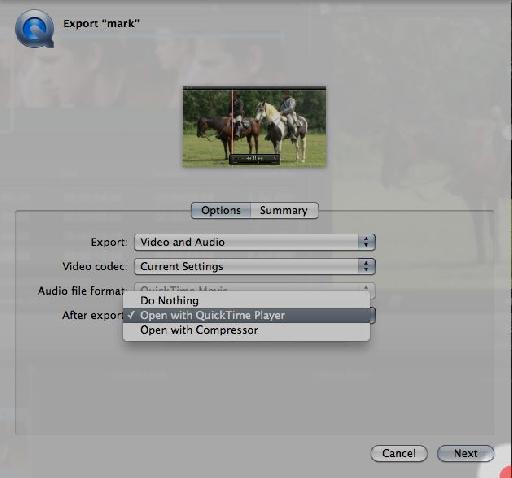 Il 'Dopo Export' menu a discesa.
Fare clic su Avanti per passare alla finestra Salva con nome. Nome del file, selezionare una destinazione fare clic su Salva.
Ora diamo un'occhiata alla esportazione per QuickTime in Premiere Pro.

Premiere: Passo 1 - Aprire Esportazione
Seleziona una sequenza sia dalla timeline o nel pannello Progetto e scegliete File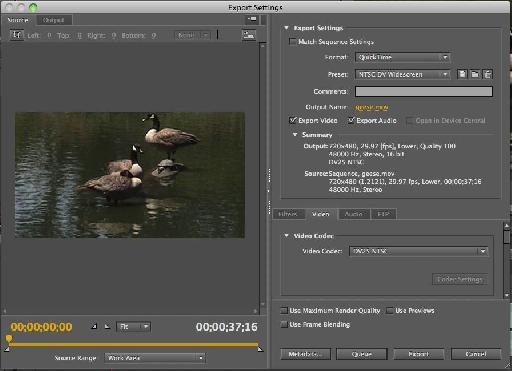 Impostazioni di esportazione premiere.
Premiere: Fase 2 - Opzioni di esportazione Set
Nella parte superiore della finestra Export è una casella di nome Incontro Sequence Settings. Assicurarsi che la casella è selezionata.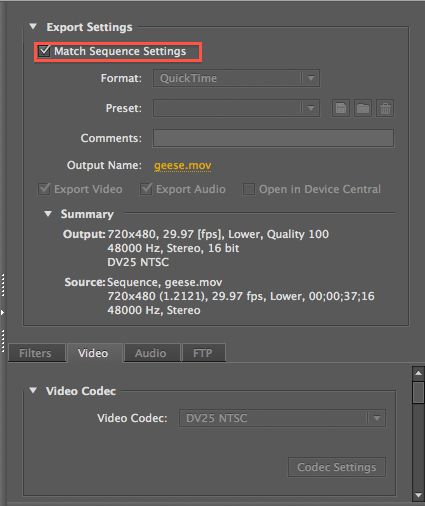 Incontro di Premiere Sequence Settings casella di controllo.
Senza questa opzione selezionata si avrà la possibilità di comprimere il filmato QuickTime utilizzando un altro codec e standard.
Premiere: Passo 3 - Selezionare una destinazione
Fare clic sul arancione "Nome di uscita" del testo, e dalla finestra Salva con nome scegliere dove e cosa esportare il nome del file.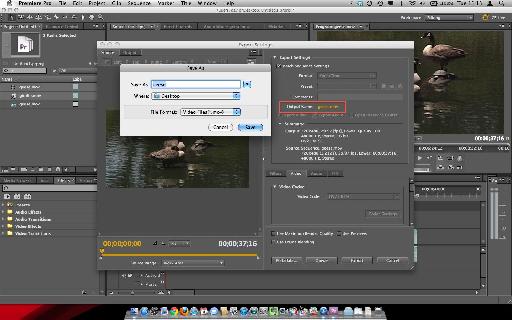 Il nome di uscita, Salva con nome.
Premiere: Fase 4 - Migliorare la Qualità 
Mentre non ci sono proprietà disponibili per changebecause è stata selezionata la sequenza Incontro Settings earlieryou ancora possibile il controllo di qualità rendering e fusione di fotogrammi.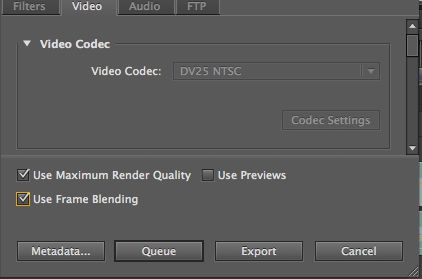 Rendering di qualità e Frame Blending.
Selezionare Usa massima qualità di rendering. Anche se questo renderà il file più grande, che si tradurrà in una migliore finitura. Selezionare anche la fusione dei fotogrammi Usa
Fase 5 - Anteprima l'uscita
Utilizzare il monitor per guardare i tuoi filmati, passare da una sorgente e le schede di uscita di confrontare le esportazioni con i media (ci possono essere alcuni resa necessaria in modo da essere paziente).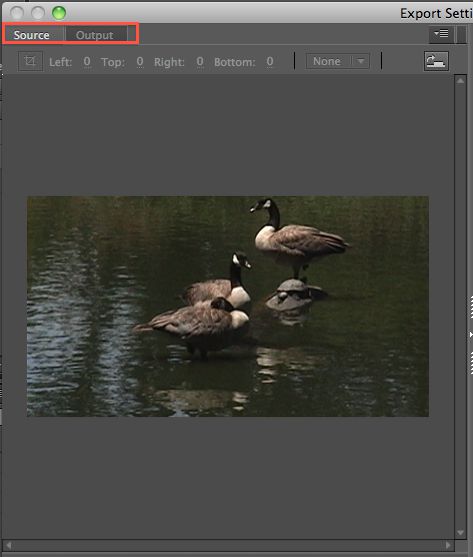 Anteprima di Premiere Finestra.
Fase 6 - Impostare il supporto desiderato
Utilizzando la timeline Mini, impostare il dentro e fuori i punti per contrassegnare l'area desiderata per l'esportazione.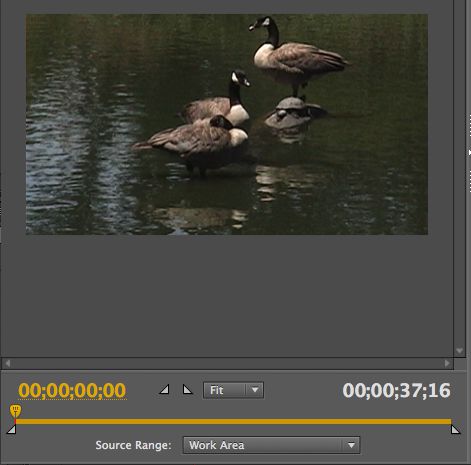 Impostare il dentro e fuori punti.
Oppure scegliere intera sequenza o area di lavoro dal menu a discesa, partendo dal presupposto che
Clicca coda

La coda e pulsanti Esporta.
Come si può vedere Premiere offre di più in termini di opzioni per l'esportazione di filmati QuickTime. Final Cut Pro X si basa invece su compressore per l'esportazione dei flussi di lavoro più complesso. In entrambi i casi questa potrebbe rivelarsi una benedizione per alcuni, una maledizione per gli altri. Li lascerò decidere.
Bisogno di più? Ulteriori informazioni su Final Cut Pro X , Compressor e Premiere Pro .