So, you've got 48 hours to write, shoot, edit and format a film... sounds like a job for Final Cut Pro X!! Ben Balser shares his experience using FCPX during the 48 Hour Film Project in 2013.
If you don't know, the 48 Hour Film Project is a touring filmmaking contest. Participants register a team, and have 48 hours to write, rehearse, shoot, edit, format, and deliver a finished product. It can be gruelling. My former student and respected colleague Mickey Gaidos and I participated this year in the New Orleans competition on different teams. We both used Final Cut Pro X in our editing, with surprising results.
In this article, I'd like to share how we used FCP X to save time, be accurate, and get our productions delivered on time. For more information about the 48HFP, visit their web site at www.48HourFilm.com. I would like to start by stating one team tried to learn FCP X while producing their 48HFP production. I want to make very clear that this is NOT the production to learn something new. Time is everything, and what you have to learn on the fly will push you closer and closer to missing your deadline. Learn your hardware and software very well, and BEFORE entering a timed filmmaking event like this one. Mickey and I are experienced with FCP X and are very comfortable with the tools, as you should be no matter what NLE you use for this type of competition.

Production And Ingest
To start with, as any editor wants to know, what cameras and formats will we have to work with? Mickey's crew used a Sony FS700, Canon 5D MkII, and a GoPro Hero3 Black. My crew shot with a Canon 7D and a GoPro Hero3 Black mounted to a Phantom quadcopter. I created a Camera Archive, Mickey copied cards directly to the hard drive. Both of us optimized media upon import, which is a background process, allowing us both to begin editing right away without waiting. This was one of the biggest timesavers. Yeah, this was HUGE in letting us get started right away and get into the meat and potatoes of things as soon as possible.
We both found keywording to be so much nicer and infinitely faster than working with bins. We keyworded slate numbers, scene numbers, etc., so much faster. Compared to 48HFP with FCP 7, shooting on Friday night, v.7 required a lot of organization time using bins. And I mean a LOT of valuable time you wish you were sleeping instead! FCP X allows the organization and transcoding in about 1/3 the time, as Mickey put it. I claim it took me even less time. We can both also attest that racing through keywords (using keyboard shortcuts for almost everything) was much faster and easier and gave us much more accurate organization.
We each created a Compound Clip for each scene, created a Smart Collection filtering Clip Type for Compound. Then one master output Compound Clip to assemble them for output. Neither of us used a Project Timeline for the output assembly. But it is easier to simply select all of your scene Compound Clips, right-click, and select 'Create New Compound Clip'. Poof, you're done and ready to open it and export it (Command-E).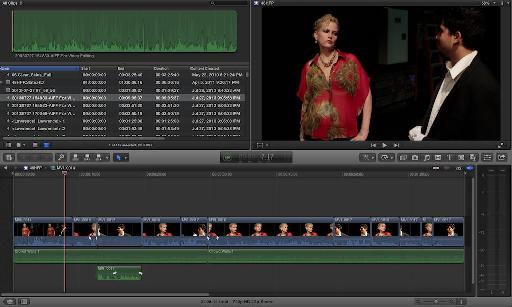 Audio Sync
Mickey's team recorded audio from the booms to the FS700. So each camera take was self-contained clip of audio and video. My team recorded audio via a Sennheiser MKH-416 in a blimp and deadcat to my iPhone 5S, via an iRig, recording with the built-in Voice Memo app. I had excellent audio quality worthy of the MKH-416. We ran audio non-stop through a scene, starting and stopping the camera only. I know, sounds crazy, right? Not really.
We both synced separately recorded audio to video clips, as needed, inside FCP X with great accuracy. The secret is getting good quality audio in both the audio recorder and the camera. In my case, I ended up with one long Sync Clip for each scene. The audio was non-stop, the several camera video clips syncing very well to it. We each had only one or two clips needing manual tweaking, but overall, it was very fast and easy.
This brings up an issue I'm used to, from working with 16mm film telecine'ed per full reel to a single ProRes 422 file. You have several takes all in one clip. I found by using the Skimmer (S), the J/K/L keys (reverse/stop/forward play), I & O (mark range In/Outs), and Favorites (F), I was able to mark the segments I needed from that single long Sync Clip amazingly fast. Change the Browser filter menu to Show Favorites, select all (Command-A), Append Edit (E), and poof, I'm ready to trim my rough cut.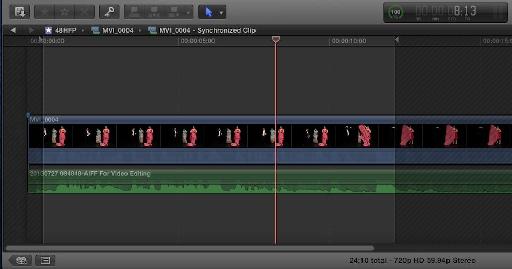 Director's Changes
I ran the camera and edited, output a rough cut H.264 for Vimeo (password protected), had my director review and text me notes. She was out of town once shooting was over. But Mickey had a much nicer workflow. 'Normally the director gives me a list of notes, then I get to work on the changes and finish up 20 to 30 minutes later. But with X, when you understand how the Timeline works, it is genius and saves so much time. What used to take 3 steps I do in one keystroke. Making changes in a real-time conversation is so nice to do, rather than telling him, '˜Go play on your laptop while I make these changes.' They're not technical, they're not editors, they're creatives. And when they see it just happen, they're thrilled at how fast I can move along at these speeds, because of the way the software is designed.
The reaction from the director (about real-time corrections) was, '˜Wait, you already made it?' I said, '˜Yes, that's the speed and power of FCP X.' The look on their face when I can do these changes on the fly surprises the direct, and saves a ton of time.'
Audio, Color, Effects
Slo-mo with the Sony was huge for Mickey. Slo-mo with the GoPro was huge for me. Shoot at the faster frame rates, use the Conform command in a 24 FPS Timeline, poof, in-camera, frame accurate, top quality Slo-mo shots that are simply beautiful.
I actually had to poof an actor into dust. I did pretty much what I explain in the 'Dusting People In Motion' Hub article (to be published soon). In the timeline, I exported a still of a frame. In Pixelmator, isolated the actor and removed the background. Opened that in Motion, did my trick, exported a ProRes 4444 with alpha channel. Bring that into FCP X and I was done.
We both did all audio work, color correction, and effects inside of FCP X, with the one exception I just mentioned. Titles, shot matching, it was all done inside one application. That is also a major timesaver, not having to go out to other apps for audio, color, etc.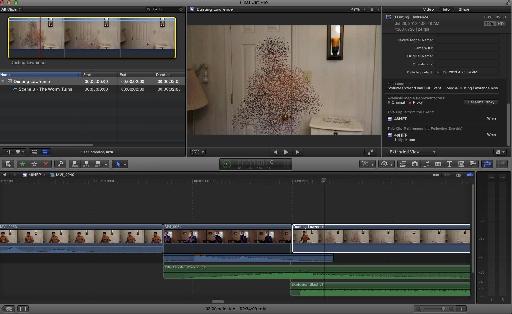 Exports And Formatting
As stated earlier, I exported an H.264 for upload to Vimeo for my director to note corrections remotely. I had set up a preset in Compressor for this beforehand. I then used this preset to create a custom Destination (export) in FCP X. That type of customizing, along with background export encoding, was a huge timesaver. I also set up custom metadata in the Share section of the Inspector so that when I exported a ProRes 422 for our final submission, I had all production, copyright, and other metadata ready to go. Command-E and we're off to the races!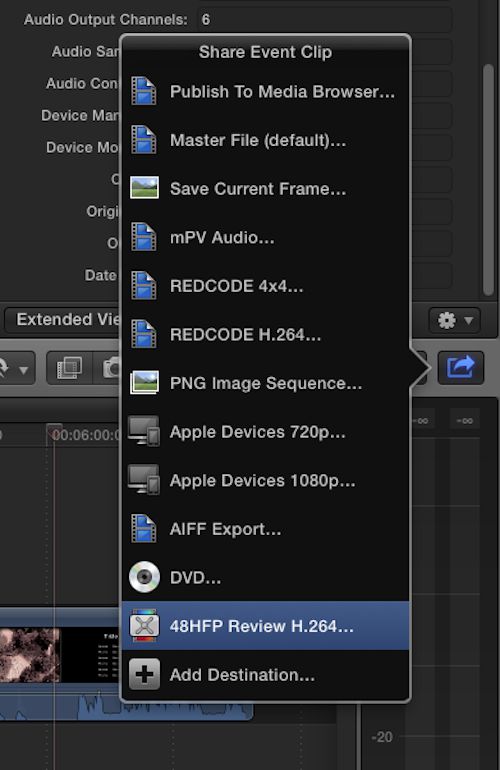 Stability
Stability in an NLE is of major importance when you only have a few hours to finish an edit. Seven minutes of video can seem like hours under this type of deadline pressure. To quote Mickey, 'Throughout the whole process, editing about 7:00 p.m. Friday night, through the turn-in deadline on Sunday, I only had one crash, and it was on Sunday. I ran FCP X around the clock with version 10.0.8. It froze up, spinning beach ball, force quit, re-launched, nothing lost. Pro-Versioner was also running in the background as a safety, but I never needed those backups. I was very pleased with how stable it was. This was as much of a stress test as an NLE can get.'
In my case, I had one problem, and that was with clips importing from the Canon 7D having issues. FCP X would claim it couldn't read 3 or 4 of them, and would have to continue referring to the copies on the SD card. This prevented FCP X from exporting. I ended up using Compressor to encode my ProRes copies from the SD card's H.264 files. After some research, we have found this is a common issue with the Canon 7D specifically. My GoPro clips were flawless.
So each of us had one issue each, neither was a deal killer. Mine issue, at 4:00 a.m. Sunday morning (I edited non-stop from 1:00 a.m., to 4:00 p.m.), had my brain swimming. Not thinking totally clearly, I made some user errors trying to fix it. But I was not aware at the time the 7D had these issues. Had I know that, I'd have used Compressor to convert everything to start with.
Conclusion
When you're making a film, you have from 7:00 p.m. Friday to 7:00 p.m. Sunday, and doing audio & color corrections, and most all of your effects inside the NLE, this has great advantages. All color, matching, audio work we did inside X in ways we were never able to do before. The secret is to know the tools well before starting a competition like this. This is not the time to learn a new NLE. Once you know the tools, FCP X will literally fly you through your workflow with unimaginable speed. Big words, I know, but we both stand behind them. We have the 48 Hour Film Project - New Orleans to back those words up. Neither of us will ever look back. FCP X is light years ahead from where 7 was, and where it is going in the future looks great.
Watch Ben Balser's film, Mr Romance, from the project here: