If you have the need for more speed in FCP X in real time, read this second part of insightful tests by Iain Anderson comparing major Mac models across a number of FCP X tasks.
In our recent comprehensive speed test of FCP X performance, we looked at how quickly modern Macs can render, export and compress a variety of different files. Those numbers are certainly important, in that you can extrapolate them to larger video projects fairly readily. But what about real time performance? Can your Mac keep up with you? That's what we're going to look at here.

What needs to be fast?
For best results, your Mac needs to be able to show you the full resolution of your chosen format with whatever effects, crops and color corrections you want to apply, in real time. If you're willing to compromise, you can work with proxy files quite easily, and then almost any Mac can keep up.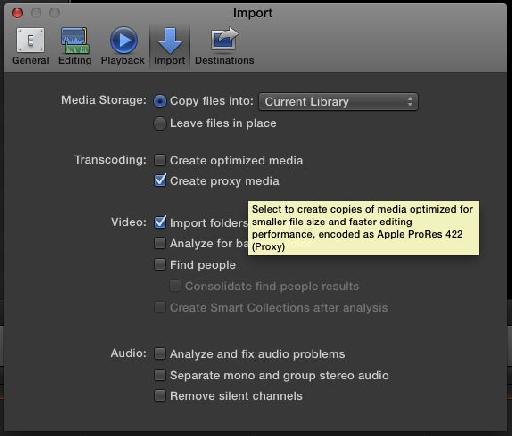 If your Mac isn't fast enough for your needs, flick this on import.
To work with proxy files, just flick a switch to generate proxy files on import, and another switch (below the Quality/Performance switch) on playback.
Here though, we're chasing the no-compromise workflow.
What we tested
On a variety of Macs, we added these effects in order to an adjustment layer sitting above 4K and 1080p video:
The color board preset 'Summer Sun'

The Gaussian Blur effect, on defaults

The Crisp Contrast effect

A crop of 20% of the image was taken off the left-hand side

A 2° rotation and 110% scale was added

At the end of the day, that's quite a few effects and transformations. Some workflows would routinely add more than that; many would add less. It's a rough approximation.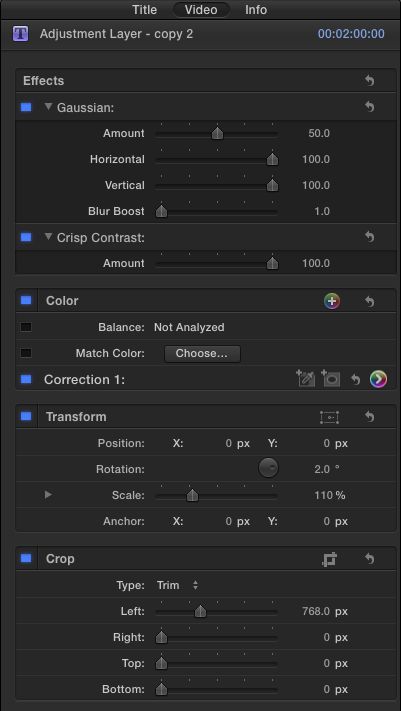 Everything applied at once.
What we tried to do is to play the video and see if it stuttered. There are setting you can activate to let Final Cut Pro X warn you if frames are dropped, and usually you'd leave them off. Turning them on lets us see where the pain points are.
We used the same Macs as in the previous set of tests:
'¢ Mac Pro 2013 (the brand new cylinder model 6,1 from late 2013): 3 GHz 6-core, dual D700s, Pegasus P2 16 TB Thunderbolt in RAID 5 for storage, 32 GB RAM
'¢ iMac 27' (top of the all-in-ones for now, model 14,2 from late 2013): 3.5 GHz quad core i7, GTX780 w/4GB, 2 x Seagate Backup Plus drives in RAID 0 for storage, 24 GB RAM
'¢ MacBook Pro 15' (a top mobile Mac, model 11,3 from early 2013): 2.6 GHz quad core i7, GTX750M, Pegasus P2 16 TB Thunderbolt in RAID 5 for storage, 16 GB RAM
'¢ MacBook Pro 13' (a cheaper mobile Mac, model 10,2 from early 2013): 2.5 GHz dual core i5, Intel HD Graphics 4000, 2 x Seagate Backup Plus drives in RAID 0 for storage
'¢ Mac Pro 2008 (the older model 3,1 from 2008): 2 x 3.2 GHz Quad-Core Intel Xeon, ATI Radeon HD 5870 internal secondary 1 TB SATA for storage, 16 GB RAM
We started everything at Best Quality settings, and if frames dropped, we turned it down to Best Performance, which is essentially half resolution. It's fine for editing in most situations, certainly good enough to see if an effect is appropriate or color is correct, but it's going to be soft if you're looking closely. No compromise, right?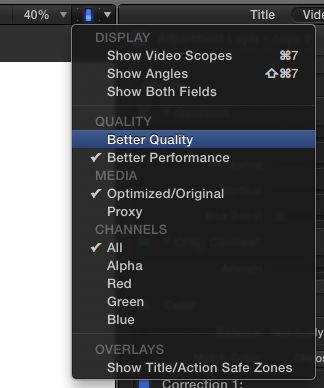 Start on Best Quality and turn it down if needed'"also note the Proxy switch is here if you need it.
Results
The MacBook Pro 15' and new Mac Pro didn't drop any frames at all in our test suite, not in 1080p, and not in 4K. Besides the performance advantage of the Mac Pro, this is almost certainly due to their new, fast, Thunderbolt 2 RAID'"but it's an impressive result nonetheless.
The new iMac and older Mac Pro had no issues with 1080p video at Better Quality. Still, both managed to drop frames quite quickly in 4K at Better Quality. Knocking back to Better Performance, the iMac could manage it with no problems, while the older Mac Pro couldn't do it at all. Slower storage on the iMac was likely an issue, because the iMac's GPU and CPU are both faster than the MacBook Pro's.
However, the poor MacBook Pro 13' struggled with 1080p in Better Quality, not even able to manage the Blur, though it could cope with everything once pushed back to Better Performance mode.
Identifying the bottlenecks
Performance of GPU and CPU will obviously play a big part, but storage speed is always an important factor too. This is especially true if you're pushing your Mac fairly hard, and it's made worse when you're dealing with separate files'"you're more likely to see a frame drop when a new clip starts in your timeline. Remember that even if your drive should be fast enough to read a single clip with no problems, in a project it's got to be able to read the current clip and then quickly access the next clip too.
Don't forget that everything gets harder when you're dealing with multicam, or with heavy formats like RED. Native H.264 footage shouldn't be too bad, as the extra decoding work is somewhat offset by the reduced data rate requirements.
Conclusions
As you'd expect, you need a Mac with a real graphics card to work at full size. It's surprising just how capable a MacBook Pro can be when paired with a decent RAID, but unsurprising that a Mac Pro can handle 4K in real time without any problems. An iMac with a cheaper drive solution can handle 4K, but only just'"and that's not really a surprise either. If you're tackling 4K, go straight for the top of the line gear.
For best results, buy any modern Mac with a dedicated GPU, decent storage, and you'll have blindingly fast real-time performance with full-resolution media. For the best results in 4K, grab a fast RAID too.