The dust has settled and many Final Cut Pro 7 users are looking upon FCP X favourably! To ease the transition, David Smith shows us how to construct rough cuts in the first of this three-part series.
FCP 7 bot eine Reihe von grundlegenden Bearbeitungsfunktionen, mit denen ein Redakteur einen Rohschnitt bauen könnte. FCP X macht das gleiche, und während es einige Ähnlichkeiten gibt es auch einige Unterschiede. Ich werde Sie durch diese Unterschiede berücksichtigen und wo sie Punkt bestehen die Gemeinsamkeiten in einer Reihe von 3 Quick Tip Artikel über die Schaffung eines Rohschnitt in FCP X. Dies ist Teil 1.

Schritt 1 - Starting Out
Beginnen wir, indem Sie den Gegenwert von Beginn einer neuen Sequenz. In FCP X ein neues Projekt anlegen Datei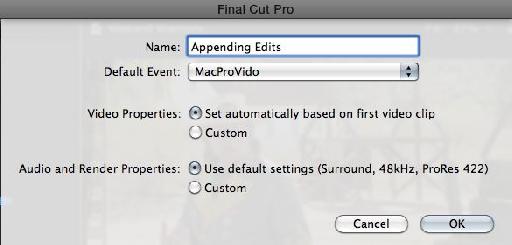 Project Settings Dialog.
Nur um auf die Differenz zwischen dem FCP 7 und FCP X-Workflows deutlich, in 7 erstellten Sequenzen im Inneren Projekte, während in X Sie Projekte mit Veranstaltungen verbundenen erstellen. Sie sind nicht dasselbe wirklich, aber für einfache Übergang denke, eine der Projekt als eine Sequenz hat.
Die Projekt-Einstellungen Dialog enthält auch Einstellungen ähnlich wie die Sequence Menü Einstellungen in FCP 7, sondern für eine Sache, es ist viel einfacher und zum anderen sind die Einstellungen Projekt-spezifischen, nicht mehr zu vergessen, sie zu ändern, wenn Sie ein neues Projekt zu starten.

Die New Project Dialog Box Video-Eigenschaften.
Die Video-Eigenschaften-Menü ist äquivalent zu 'Easy Set-up' in FCP 7. Bei dieser Übung lassen Sie den Standard des 'Set automatisch auf der Grundlage erster Videoclip ", da dies bedeutet, dass Ihr Projekt ist Arbeit, das von den ersten Clip, den Sie bearbeiten, wie die Open-Source-Timeline-Workflow in der Version 7 wird eingestellt.
Wenn Sie eine spezielle Arbeitsgruppe Format wählen "Custom" und du bist in die Easy Set-up Workflow erneut. FCP X hat noch einen Open-Source-Workflow, das macht es etwas einfacher, denke ich.
Schritt 2 -
Legen Sie einen Clip aus dem Event-Bibliothek in die Event-Browser und Magermilch (Peeling mit der Maus oder Trackpad) auf den gewünschten ersten Frame Ihres erschossen. Drücken Sie I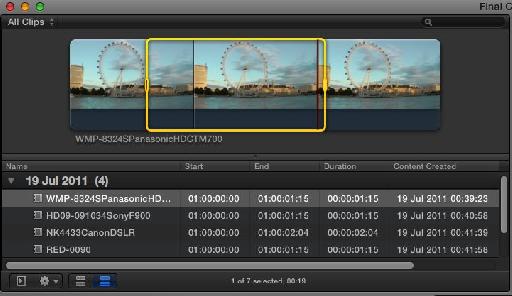 Markierte Clip.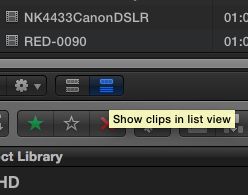 Tipp: Anzeigen der Event Browser Clips in der Listenansicht öffnet sich ein wirklich schönes Filmstreifen für Sie mit zur Arbeit. So wechseln Sie auf die List View-Taste am unteren Rand des Event-Bibliothek wie in diesem Bild klicken.
Bei der Verwendung von FCP 7, in Ermangelung Ihre Abspielposition an die genaue Position zu bekommen, wo Sie den Clip Drop wollen, können Einführung einer slug Rahmen Mitte bearbeiten oder schneiden Sie die ausgehende Clip leicht an.
In FCP X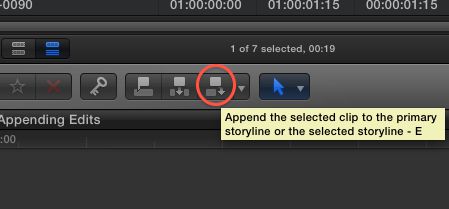 Die Append bearbeiten. Simple.
Versuchen Sie, eine schnelle Bearbeitung selbst und sehen, wie schnell man ein grundlegendes Projekt mit dem Skim, schneide ich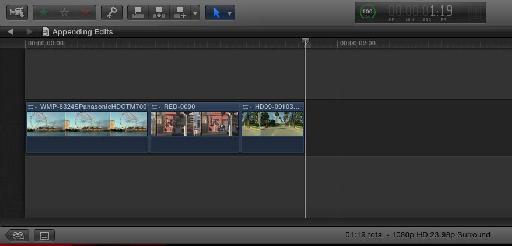 A Growing Timeline.
Suche Part 2 auf Einfügen Clips hier auf der MPV Hub .
In der Zwischenzeit erfahren Sie mehr über das Bearbeiten mit diesen Tutorials von Redakteur und Experte Michael Wohl: