The third of our First-Look Reviews for the Final Cut Pro X suite takes a look at the most uncelebrated of apps: Compressor 4. Has this essential tool for video editors been given a mighty make-over?
Sur Juin 21, 2011, Apple a sorti Final Cut Pro X , un réécriture complète de son programme de vénérables de montage vidéo professionnel. Avec elle venue de nouvelles versions de mouvement et de compresseur . Compresseur, maintenant à la version 4, a longtemps été l'outil le pro de choix pour les logiciels de compression vidéo, notamment pour les DVD et le Web authoring, et est généralement considéré comme la meilleure plateforme disponible pour la compression H.264. Dans cette revue, nous allons jeter un oeil à la nouvelle version du compresseur et voir ce qui, si rien n'a changé.

Premières impressions

Contrairement à Final Cut Pro (FCP) et Motion, qui ont radicalement redessiné interfaces, Compresseur 4 semble identique à la version 3.5. La seule différence immédiate est que lors du premier lancement du programme, vous voyez cette fenêtre: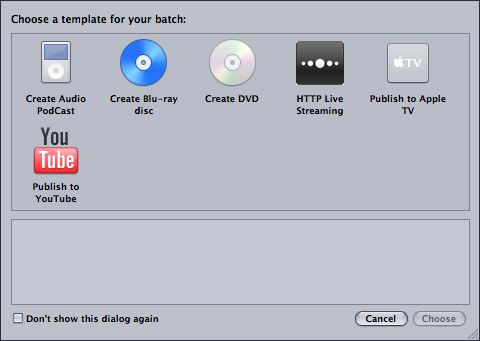 Cela vous permet de choisir un des modèles Apple de compression de nouvelles, qui sont des préréglages pour la vidéo et de compression audio à une variété de formats standards et les périphériques matériels. Pour de nombreux utilisateurs, le choix d'un de ces modèles sera d'autant qu'ils devront faire. Beaucoup de ces modèles comprennent également ce qu'on appelle les actions d'emploi post-traitement. Ce sont des actions automatisées qui, après votre vidéo est compressée, va télécharger automatiquement vos clips compressés à votre compte YouTube, ou graver un disque Blu-Ray à partir de vos fichiers MPEG pour ne citer que quelques exemples. Certaines de ces actions job post-traitement ont également été inclus dans Compressor 3.5, il n'ya donc rien de nouveau ici, bien qu'il existe plusieurs d'entre eux disponibles que par le passé voir les deux images ci-dessous pour les actions d'emploi disponibles dans la version 3.5 et 4, respectivement.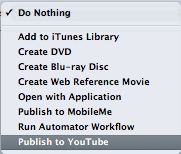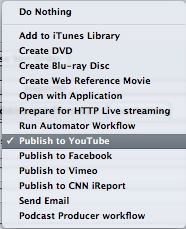 A propos de la seule différence visible d'autres entre 3,5 et 4 est que la version 3.5 de l 'Batch Monitor est maintenant appelé «Monitor Partager":

Mais Moniteur Partager travaille le même que le Batch Monitor vieux, si le nom est la seule vraie différence.
Déceptions
Alors qu'il ya une raison pour la version 3.5 les utilisateurs à passer à la version 4? Eh bien, si vous allez travailler avec FCP et Motion X 5, vous aurez besoin de compresseur 4, comme la «Envoyer à un compresseur" de commande dans X FCP ne fonctionne qu'avec la version 4. Mais à part ça, je crains que la réponse est non.
Tout d'abord, contrairement à X et FCP motion 5, compresseur 4 est encore une application 32-bit. Vous pouvez vérifier cela en exécutant compresseur 4, puis lancer le Moniteur d'activité (dans Applications

Et contrairement à certaines applications, tels que Safari, ce qui vous permettra, à des fins de compatibilité avec les plug-ins tiers, de choisir si l'application va fonctionner en mode 64-bit ou 32-bit ("Get Info" sur l'application dans le Finder pour voir ce commutateur):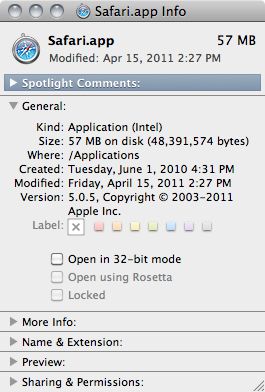 Compresseur 4 n'a pas de case à cocher par exemple: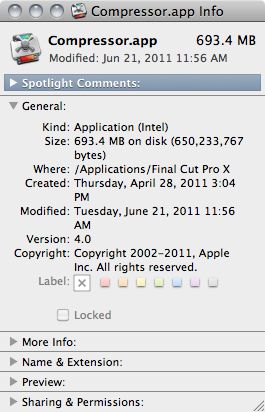 Pourquoi est-ce important? Tout d'abord, 64-bit apps peuvent adresser plus de RAM que 32-bit apps, bien que la plupart des utilisateurs, ce n'est pas important, comme la plupart des utilisateurs n'ont nulle part près assez de RAM pour faire une différence. Plus important encore (et sans entrer dans beaucoup de détails technique), les applications 64 bits sont généralement plus rapides que les applications 32-bit, comme la plus grande taille de texte, avec le matériel adapté, permet l'exécution rapide du code. Et avec la compression vidéo, plus rapide est toujours meilleure.
En effet, alors que nous sommes sur le sujet, nous allons jeter un oeil à une référence rapide. J'ai compressé un 8 minutes, 1280 x clip vidéo 720 dans chaque version au format H.264 à son meilleur réglages, en utilisant les mêmes spécifications que nous utilisons pour nos tutoriels macProVideo.com vidéo en ligne. Voici les résultats:
Compressor 3.5 job: 8:52

Compressor 4.0 job: 8:52
C'est vrai: ils sont exactement les mêmes! Compresseur 4, au moins dans mon test bref, n'a pas été optimisé dans le moindre cours Compressor 3.5. Et c'est la plus grande déception de alllike j'ai dit, dans le monde de la compression vidéo, plus rapide est toujours meilleure.
Final Thoughts

Si vous utilisez X et FCP motion 5, puis obtenir compresseur 4 (ou X) est un non-brainerit toujours parmi les meilleurs outils pour la compression vidéo dans OS X, notamment pour les H.264. Et puisque vous devez utiliser Compressor pour compresser 4 de X FCP ou Motion 5, vous n'avez pas le choix de toute façon. L'édulcorant est ici que le prix d'admission est plus que raisonnable avec Compressor au prix de 50 $.
Mais si vous travaillez déjà avec Compressor 3.5 et ne prévoyez pas de mise à niveau vers X PCF, ou du moins l'intention de continuer à faire la plupart de votre travail professionnel dans Final Cut Studio, il n'ya vraiment aucune raison impérieuse de mettre à niveau vers Compressor 4. Et c'est vraiment trop badit ressemble Apple a raté une belle occasion de mettre à niveau l'ensemble de ses outils de vidéo à travers le conseil.
Utilisez ces didacticiels vidéo pour apprendre tout ce que vous devez savoir sur Final Cut Pro et Motion X 5 (à venir)!