Video editors and artists can never have access to too many effects! And despite there being many included in Final Cut Pro X, Motion 5 enables you to create your own custom ones. Here's ten for you!
One of the great strengths of Final Cut Pro X is that you can use Motion to generate original effects '" we've looked at them before. And while there are many, many effects built into FCP X, there are many more just waiting to be created '" and they'll only take half a minute each. Here, we'll look at how to use Motion to make some of the easiest missing effects for FCP X.
Creating an effect with Motion
It's really easy to start. Launch Motion, then choose Final Cut Effect. The Preset and the Frame Rate don't matter, so just hit Open to make a new Effect.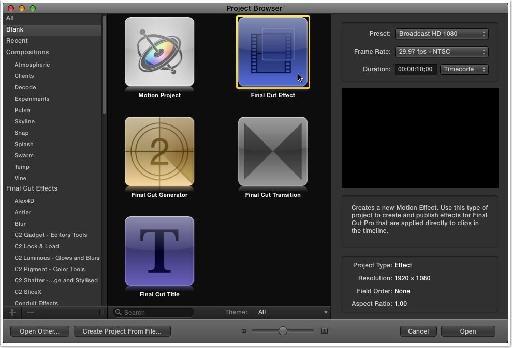 Select Final Cut Effect, then press Open.
The bulk of the interface will go unused here. We want to use the Library, to find new Filters, the Layers or Timeline panel to show the Effect Source that we'll drop them onto, and the Inspector to tweak the settings.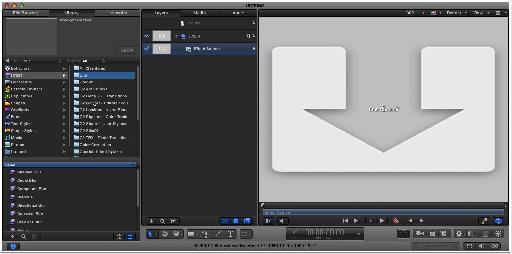 With the Blur filters selected in the Library and the Timeline hidden.
Find a useful filter
For our first effect, click on Library at the top left, then Filters beneath it to the left, then Sharpen to the right of that. Below these categories you'll now see Sharpen and Unsharp Mask. Sharpen is already a filter in FCP X, but Unsharp Mask, surprisingly, is not. Drag Unsharp Mask onto the Effect Source in your document.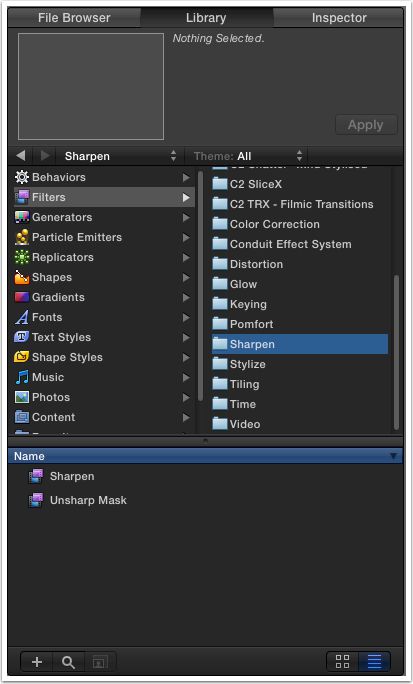 Here's how to get to the Unsharp Mask.
Tweaking and publishing
Click on the Inspector at the top of the screen, then adjust the settings to sensible defaults. I prefer a subtle setting of 2 for radius. Still, anything that could be handy to adjust later should be published, to let you change these settings in FCP X. So right-click on the word Radius and choose Publish. Also publish Amount, Threshold and Mix. Be selective: simply publishing everything will just overwhelm you with options.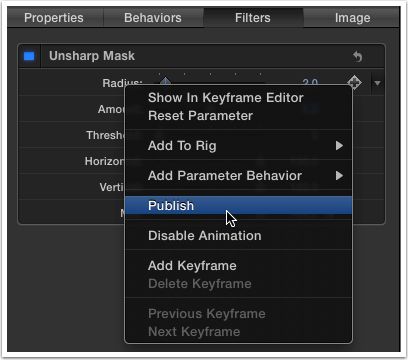 Remember, right-click on the name of the parameter.
Finessing published parameters
It can be useful to reorder or rename some of these parameters. In the Layers pane, click Project. To the left, click Inspector, and then Project within that pane, to the right of Properties, Behaviors and Filters. The Publishing area here lets you see all the parameters you've published, and lets you re-order (by dragging), rename (by double-clicking) and unpublish them (by right-clicking).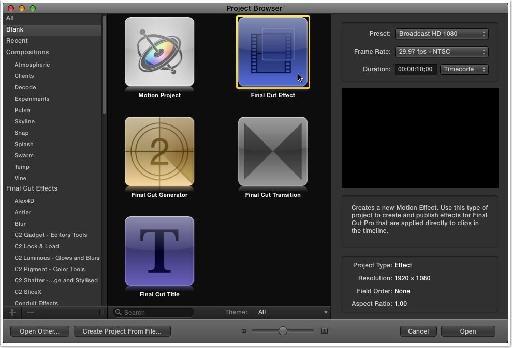 Renaming and reordering published parameters can be worth doing.
Saving and using
Command-S to Save, and give the name Unsharp Mask. If you want to collect these effects, create a new Category from the Category drop-down '" you'll see I'm using 'Experiments'.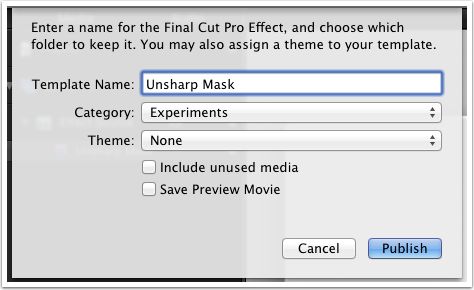 You don't need to set a Theme, just a Category.
Test it out
In FCP X, you'll now see the effect you just created. Apply at will to regain the missing sharpening option you've been looking for, and to compensate for being just a tiny bit out of focus or using a slightly duff lens. It really is that easy. Let's recap that first effect, and take a look at nine more effects along with the recipes we'll use to create them.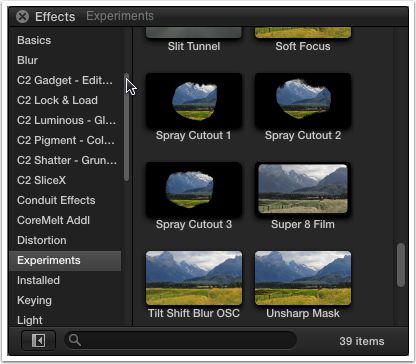 Here are just a few of the effects I've made for my own use.
Unsharp Mask
The missing sharpening tool, much more subtle and appealing than Sharpen.
Apply Filters > Sharpen > Unsharp Mask.
Publish Radius, Amount, Threshold and Mix.
Defocus
A more realistic blur than Gaussian.
Apply Filters > Blur > Defocus.
Publish Amount, Gain, Shape, change Shape to Polygon, then publish Sides and Rotation.
Gradient Blur
A quick depth-of-field faker, letting you define a range over which the shot goes out of focus.
Apply Filters > Blur > Gradient Blur.
Publish Point 1, Point 2 and Amount, then tick the Publish OSC checkbox. This last option displays the on-screen controls in FCP X, which makes using the effect much easier.
Soft Focus
For that dreamy old film look '" and the last of the Blurs for today.
Apply Filters > Blur > Soft Focus.
Publish Amount, Strength and Mix.
BrightnessGammaContrast
If you're not a fan of the color board, or just want another way to tweak your image, this is a handy all-in-one.
Apply three separate Filters from the Color Correction category: Brightness, Gamma, and Contrast.
Publish Brightness, Gamma, Contrast and Pivot.
Levels
This is a very complex filter, but creating it is easy, so let's give it a go.
Apply Filters > Color Correction > Levels.
Publish (in this order): Gamma under RGB, Gamma under Red, Gamma under Green, Gamma under Blue, Black In under RGB, Black Out under RGB, White In under RGB, White Out under RGB.
Hue/Saturation
Apply Filters > Color Correction > Hue/Saturation.
Publish Hue and Saturation. You can publish Value if you wish, but it's duplicating other brightness controls.
Chrome Gradient
This is a great way to produce an original chrome look to anyone and anything.
Apply Filters > Color Correction > Gradient Colorize, then choose the Chrome gradient from the presets list.
Set Repeats to 4.
Publish Gradient, Offset, Repeats, Repeat Method, Map Channel and (why not?) Mix.
Strobe
This effect repeats individual frames over subsequent frames, turning regular footage into stop motion. Also, if you've ever filmed strobing lights and you're concerned about the effect that could have on epileptic viewers, just apply this effect.
Apply Filters > Time > Strobe.
Change Strobe Rate to 6 or so. This is the number of frames that an individual frame will be held for.
Publish Strobe Rate and Mix. Changing Mix to 50% or so in FCP X will give a stilted, unsettling effect look.
WideTime
For another variation on the time-stretched dreamy look, this time softening out the blends between subsequent frames.
Apply Filters > Time > WideTime.
Publish Duration, Decay and Amount.
Conclusion
Creating your own effects doesn't have to be difficult. All of these are easy, yet they bring obvious benefits to your editing. There's also no reason to buy effects this simple. Make them yourself, share them with your friends, and spread the word. Combine them into über-filters that do everything if you want. If you want a Brightness-Gamma-Contrast-Levels-Hue-Saturation effect, go right ahead. Best of luck, and please share your favorite recipes in the comments below.