Correcting "flat" picture profiles from modern DSLR cameras, to add contrast and saturation, need not be a chore! Iain Anderson uses Final Cut Pro X and Motion to good effect in this tutorial.
Most professional cameras can shoot in a 'flat' picture profile these days. The Blackmagic Cinema Camera can shoot in Film mode, Canon DSLRs can shoot in a custom profile such as CineStyle, and even the GoPro 3 can shoot in ProTune mode. All of these picture profiles apply a logarithmic-style effect to the image, to cram more dynamic range into the space available. Because the resulting look is somewhat subdued, you'll need to re-add some contrast and saturation. Ideally, we'd use a look-up table (LUT) effect, but there's nothing built-in, so we'll do the next best thing: fake it.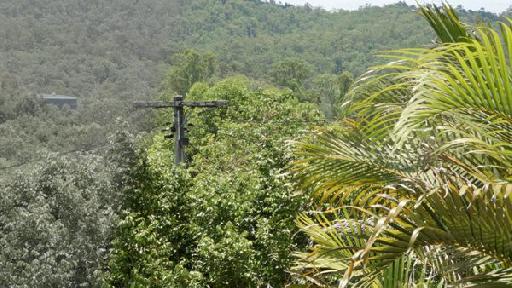 Here's the before/after of the effect applied to a Film-mode Blackmagic Cinema Camera shot.
Create an effect
Launch Motion, and create a new Final Cut Effect. You'll see a new document with an Effect Source layer. That's the stand-in for the clip(s) you apply this effect to, but it won't really show you what you're doing very clearly. It's possible to drag in another clip instead of the grey box with an arrow, but we'll skip that for now.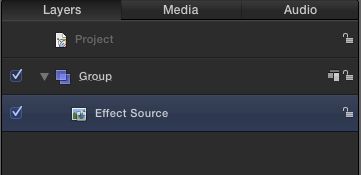 The Effect Source is selected in the Layers pane.
Add a Clone in Overlay mode
Select Effect Source in the Layers pane, then press K. That creates a Clone Layer. In the Inspector pane, in the Blending section, find the Blend Mode drop-down menu, and choose Overlay. That will add contrast, countering the log-style flatness. Still, we don't always want it at full strength, so we need to make the Opacity of this layer visible in FCP X.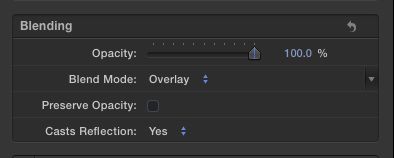 Set the blending Mode of the Clone Layer to Overlay.
Publish some properties
Right-click on the word Opacity, just above Blend Mode, and choose Publish. By choosing to Publish a property, you make it accessible in FCP X's Inspector. Now, click on Project in the Layers panel, then the Project pane in the Inspector. Under the Publishing section, you'll see Opacity. Double-click Opacity, then rename it to Overlay Strength, and set its value to 50%. Setting the defaults like this will be important if you want the effect to work without tweaking, but you'll need to experiment to find the best settings for you camera.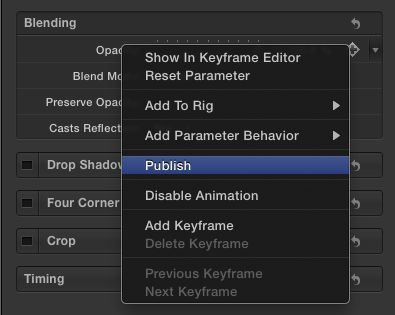 Publish the Opacity (set to 50%) to make it accessible.
Add other filters
From the Library, choose Filters, then Color Correction. Drag Contrast, Gamma, Brightness, and Hue/Saturation to the Effect Source item in Layers. Here's where each shot is going to need different values, but as a starting point, for a Blackmagic Cinema Camera at least, use the Inspector to set them to:
Saturation 1.2

Brightness 1.1

Gamma 0.95

Contrast 1.09

You may well find other settings that work well, but these settings get me very close to the difference between the Film and Video modes. Film on the Blackmagic Cinema Camera is a very 'flat' setting, so you may want to turn these settings down to compensate for a less pronounced profile like the GoPro's ProTune mode.
Once you've set the values, right-click on each property name in turn, then choose Publish. Also Publish the Hue parameter from Hue/Saturation, and the Pivot parameter, part of Contrast.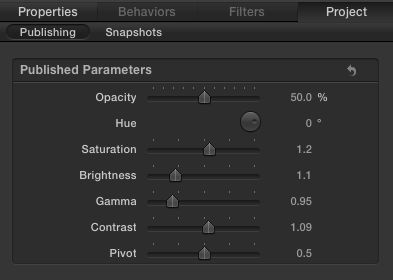 You should eventually have something like this.
Save
Choose File > Save, or press Command-S. In the resulting sheet, give a name (I like 'De-Film') and a Category (I've used Experiments). Choose Publish.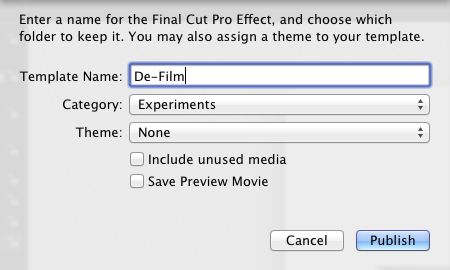 Save the effect to make it available to FCP X.
Apply in FCP X
Back in FCP X, all you need to do is add a 'flat' clip to a project, then drag your new 'De-Film' effect on top of it. You can also use it with the Adjustment Layers I've written about before, to correct whole scenes at once.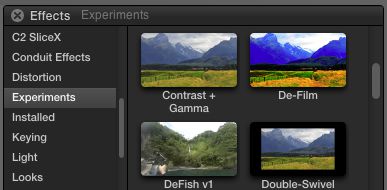 Here's the effect in FCP X '" drag onto a clip or an adjustment layer to make it happen.
Conclusion
While this is a useful starting point (and is great for client approval in the field) note that you'll very likely need to tweak the settings on each shot. You'll also need to experiment to find the best settings for your chosen profile and camera. Still, this is a simple alternative to the Color Board with much more control over contrast. Best of luck.