Apple Motion users: if you want to create generators, titles or effects for use in Final Cut Pro X, this tutorial by Iain Anderson will help you rigging (combining multiple parameters in a simple GUI)
Motion is an awesome program with plenty of power, but some of its best features are well hidden. One such feature is rigging, which has many uses for anyone who wants to create generators, titles or effects for use in Final Cut Pro X. Here, we'll take a practical hands-on look at what rigging is, what kinds of rigs you can make, and some tips and tricks.
What is rigging?
In a nutshell, rigging lets you combine several parameters into a single checkbox, slider or pop-up menu. If you want to offer your users choices without making them do too much work themselves, then rigging is the way forward. While most parameters can be published, simply publishing every parameter can result in an overwhelmingly complex interface for FCP X editors. Too much choice is not a good thing.
For example, if you were to offer a choice of different background elements behind a title, you could expose the Opacity values for each one, but it would be a much better experience to offer the choice through a pop-up menu instead. Note that rigging can't truly turn objects off, but it can change an object's opacity to 0 to hide it.
Get started
Open Motion, and create a new Title. You can use Rigs with any kind of FCP X Motion template, but a title will do for now. As we won't be interacting with the video beneath the title, select and delete the Title Background element, and reposition the title if you wish. Choose Object > New Drop Zone, then resize and reposition the drop zone to the right of the title. We'll now make that drop zone optional with a rig.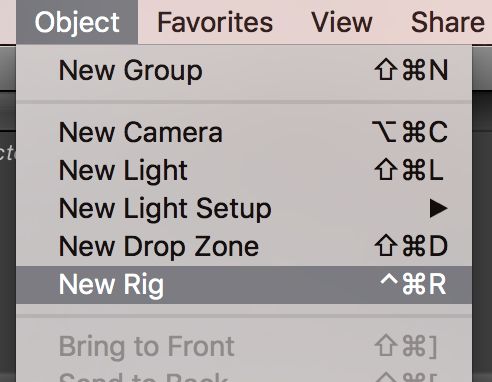 Look in the Object menu to make new items, including Rigs.
Create a checkbox rig
Choose Object > New Rig, and you'll see three buttons appear in the Inspector: Slider, Pop-up, and Checkbox. Pressing one of these buttons creates a new "widget", a control element that can affect anything in the template. A single Rig can contain many separate widgets, but you'll need to select the rig at the top level to see these three buttons.
Click on "Checkbox" to create a new checkbox widget, with a button below that lets you start Edit Mode.
Edit Mode
While Edit Mode is active, any parameters that you change will be linked to this widget and have their new values recorded. You can adjust a single value or many, but to be recorded, the values must change.
For now, it's easy—press the Start button to activate Edit Mode. A new floating window appears with a single button: "Stop Rig Edit Mode". This is a reminder that you're still in Edit Mode, and you need to focus. Only change the parameters that need to change—don't just revise the project in general. It's a little like recording animation keyframes; you want to use it sparingly.
Select the Drop Zone, then change Opacity to 0 in the Properties tab. That's the only parameter we want to add to the checkbox, so press the Stop Rig Edit Mode button when you're done.
Note: If you want to add a parameter to a widget, but that parameter is already at the value you want, it's easiest to change it (to anything else), leave Edit Mode, then change the value back.
Select the Checkbox in the Layers or Timeline pane, and you'll see that "Drop Zone. Opacity" has been added to the widget. Right now, the Checkbox is simply called "Checkbox", so double-click "Checkbox" in the Layers or Timeline pane, and replace that word with "Use Drop Zone".
You can now check the checkbox to see that the Opacity jumps back to 100%, or uncheck it again to see that it jumps to 0%. Right-click on the words "Use Drop Zone" in the Inspector, then choose Publish, and this widget will now be accessible in FCP X. Save your Title, and give it a name and category. Test it in FCP X if you like.
Create a pop-up rig
So far so good, but what about something more complex? A pop-up widget is similar to a checkbox, but can have more than two states. Select the overall Rig, then press the pop-up button to add a new widget. The pop-up defaults to three items, Snapshot 1, 2, and 3, but all can be renamed with the handy "Rename" button underneath. The Edit Mode button works the same way, too.
To test this out, let's rename the pop-up itself to "Drop Zone Position", and then rename the choices to Top Left, Top Right and Bottom Right. You can add more choices with the plus button or remove the current choice with the minus button, but it's not possible to reorder these later, so be sure to get them right.
Select Top Left from the menu, then press Start to enter Edit Mode. Move the Drop Zone to the top left corner, then press Stop Rig Edit Mode. The new position will be recorded against that pop-up option, and the original values will be recorded against the other options. However, there's no need to reenter Edit Mode to set up the top right option. Simply switching to Top Right from the menu and then changing its position (by dragging it, or by changing the value right there in the widget itself) is enough. You only need to re-enter Edit Mode to add whole new parameters.
You can finish this off by right-clicking the Drop Zone Position text and choosing to Publish once more.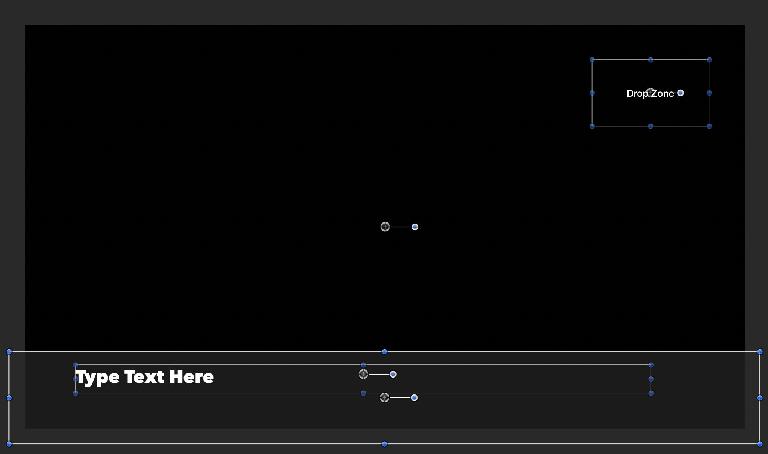 We'll now add a dark grey background panel behind the text, and control its opacity with a slider widget.
Create a slider rig
Sliders can be added in a similar way, but they are more complicated. While it's possible to create complex relationships between multiple parameters—effectively linking them—here we'll keep it relatively simple. We'll add a background panel behind the text, with Opacity limited to values between 50% and 100%.
Select the overall Rig and press the Slider button to add a new widget. A slider widget presents a slider with a definable range to the user—between the Range Minimum and Maximum shown here. Change the Range Minimum to 50%.
Use the Rectangle tool to draw a new shape in the lower part of the canvas, then resize as shown, and move it behind the text in the Layers panel. Also in the Layers panel, double-click your Slider, then rename it "Background Opacity". In the Inspector, press the Start button, select the Rectangle, then Properties, then change Opacity to 50%. Press Stop Rig Edit Mode.
As in the other widgets, right-click the words "Background Opacity" and then choose Publish. You may wish to publish other properties such as the Fill Color of the rectangle, but that won't affect any rigs.
Revising your rigs
Revising is easy—if any widget's stored parameters are wrong, just change those parameters. The widget's currently chosen option (checkbox on or off, active pop-up menu, or current slider setting) will now store those new values, and other widget options will remain as they were. You can re-enter Edit Mode to add new parameters if required, or right-click and remove them if you forget to leave Edit Mode.
In all cases, you'll probably want to publish each widget to make its settings accessible.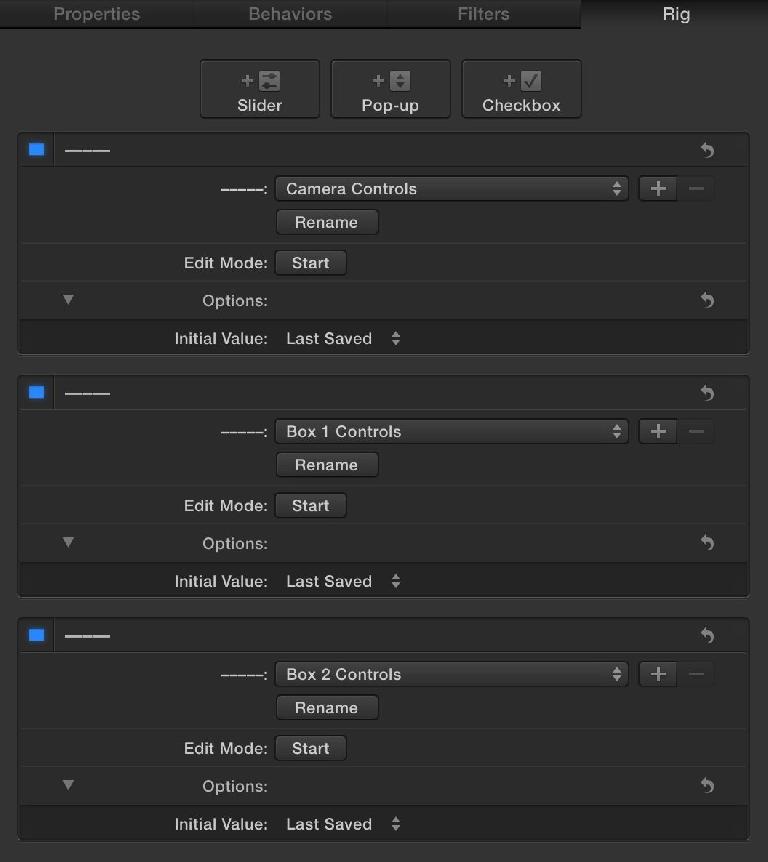 These three pop-ups have just one choice each, and are used to separate sections in the FCP X Inspector.
More uses for rigs
First, rigs are a great way to combine two or more settings, so that as you increase an object's scale, you also change its position. Second, if you're animating with several behaviors, you could combine their parameters into a single control to keep it simple. Third, you can restrict a template's options for the sake of consistency, such as only allowing corporate colors to be chosen.
One last common use: you can use a dummy pop-up rig with a single menu option as a "section header", a separator between groups of related options. How?
1. Name the pop-up with a series of dashes or middots (––––– or · · · · ·).
2. Remove the first two menu choices, then rename the last choice to be your section header, such as "Animation Controls".
3. Publish the dummy pop-up to act as a section header.
4. Drag this dummy pop-up above related options in the Project Properties pane.
Conclusion
Rigging is a terrific way to give your editors options without giving them too many. While some templates really do benefit from publishing parameters directly, many other templates would benefit from the animator (that's you!) publishing some widgets instead. Your editors will thank you too.