Some editing tasks in Final Cut take longer than others. This usually boils down to needing to switch the tool you're using or search through Final Cut's menu's to find the command you wish to apply.
Some editing tasks in Final Cut take longer than others. This usually boils down to needing to switch the tool you're using or search through Final Cut's menu's to find the command you wish to apply. Using keyboard commands or shortcuts is a sure-fire way to speed up your work flow.
Remembering shortcuts can be tricky & of course there are some tasks that don't seem to have shortcuts assigned to them. Fortunately, Final Cut has a Keyboard layout that can be customized to suit your memory! In this Quick Tip we'll explore how to set up your own keyboard layouts.
Read on to find out more...
01 - Keyboard Layouts
In Final Cut you can create, save and load multiple layouts which can be useful if different editors (with their own preferred shortcuts) need to edit using the same machine.
The Keyboard Layouts area in Final Cut is not under the Window menu, which is where most people would look instead, choose:
Tools > Keyboard Layout > Customize...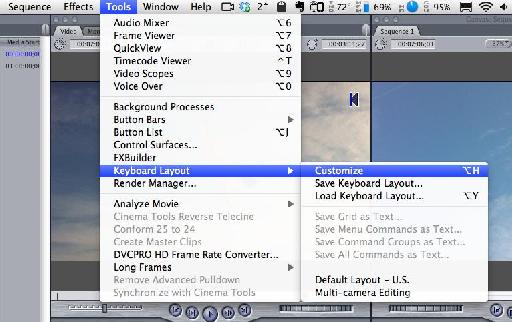 Or use the keyboard shortcut: Option+H
02 - Keyboard Layout Overview
The Keyboard Layout window can be broken down into two main areas. On the left is a representation of your Mac's keyboard. On each key is a image representing the command which has been mapped or assigned to it. Leave your mouse pointer motionless over a key to discover it's function.
On the right is the list of shortcuts in categories, first by menu and then by type. Like in OSX's Finder, click on a disclosure triangle to show/hide the commands listed under that category.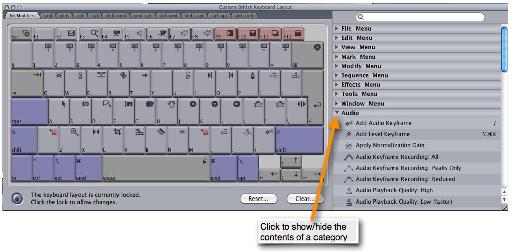 You'll also notice a Search field, which may well be the quickest way to find any command you're look for. You can search by command or by key command, e.g. type "d" to see which commands are assigned to the "d" key.
03 - Find Existing Shortcuts
Let's say we want to find out what the shortcut is for "Ripple Delete". Simply begin typing "ripple" into the Search field and the area below displays only commands containing the word "ripple".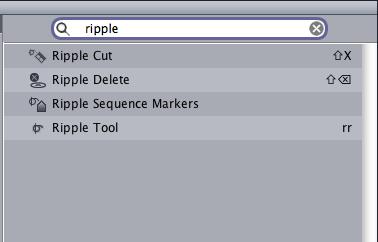 We can see from the filtered results that "Ripple Delete" is assigned to Shift+Backspace/Delete. We can also see that pressing "r" twice will switch your current tool to the Ripple Tool.
04 - Add and Delete your Own
If you want to create your shortcuts or change existing ones you must first unlock the keyboard layout. Click on the Lock symbol in the bottom left corner to unlock it and allow changes. (The lock icon will become open and gray once unlocked).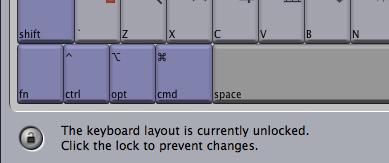 Next, let's say we want to assign "Apply Normalization Gain" to the "Y" key... Search for "gain" in the search field and simply drag the command name from the list on to the "Y" key on the keyboard.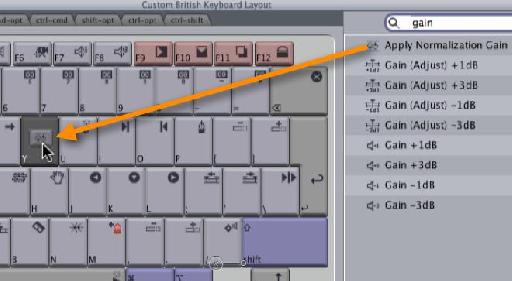 In the Command list on the right, the shortcut now appears next to the name of the command.
If you wish to delete an assigned shortcut, simply drag the key off the keyboard (much like you'd drag an icon out of the Mac OSX Dock) and release the mouse button. Gone!
05 - Using Modifiers
You may want to keep the existing layout as it is, but view and edit those commands used in conjunction with the shift, Option, Command or a combination of those keys.
In the top area of the keyboard layout are tabs that represent the different combinations of modifiers with the alpha numeric keys. Click a tab to display the commands currently assigned to keys used with that/those modifiers.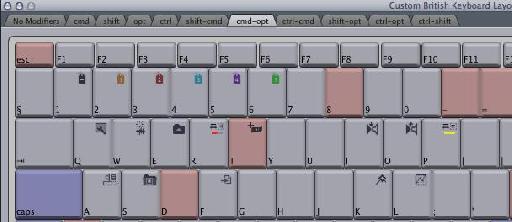 You can now assign a command by searching for it, choosing the Modifier tab and dragging the command onto the key of your choice.
Remember to lock your keyboard layout when you're done and of course you can choose the "Reset..." and "Clear..." buttons to reset the current layout or clear all current key commands respectively.
The Keyboard layout is an extremely useful area, not only to assign key commands to your most needed functions, but also to find commands you didn't even know existed!
Got any Final Cut tips to share? Let us know in the comments below! Be sure to check out the Final Cut tutorials here to learn more.