The latest update to Final Cut Pro (10.0.6) brings with it many useful additions, including native REDCODE RAW support. Ben Balser shares some essential RED tips for FCP X users.
As of the release of Final Cut Pro X version 10.0.6, native REDCODE RAW and the REDROCKET card are fully supported as of FCP 10.0.6. This is the R3D video file format that is proprietary to RED brand cameras. There are some neat tricks to using REDCODE RAW clips natively in FCP X. In this article I'll walk you through what you'll need to know if you want to edit REDCODE RAW media natively in FCP X.
Step 1 - Ingesting R3D
To begin, you will need to install the appropriate plugin for FCP X found at www.red.com. Once installed, launch FCP X and import our R3D video files into an Event. Using Command-I to bring up the standardized file import window, navigate to the R3D files. Highlight them and click the Import button at the bottom right of the window.
I can, like any other type of media, leave my R3D files where they are, or physically copy them into the Event folder itself. We can use any of the regular features in the Import File window just as we would with any other media file we'd import.
If you choose to create optimized or proxy media, you will be warned that if you manipulate the RAW settings (detailed in Step 2 below), your optimized and proxy media will need to be regenerated to match those changes. The changes are baked-in to the ProRes files. Baked-In is a term meaning that changes, effects, coloring, etc, is written in to the file, changing it permanently. The original R3D file is never physically changed, only its metadata (see Step 3) is changed.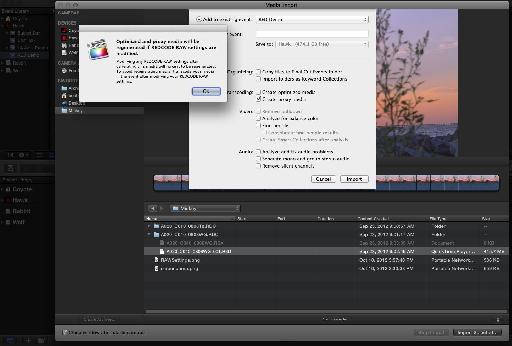 Step 2 - RAW Settings
Once we have our R3D clips in an Event, we can then look at metadata. These non-destructive, metadata based (see Step 3), RAW setting changes will effect all instances of that specific R3D clips universally. A nice inclusion in FCP X's RAW Settings HUD is a 'Revert To' button at the bottom left of the HUD. This allows you to revert all settings back to the camera settings at the time the clip was shot, or revert them all to neutral settings. Of course there are also Cancel and Apply buttons that can be used as necessary.
Accessing RAW Settings is logical if you remember this is metadata we are manipulating. Metadata is accessed in the Inspector. So if the Inspector is not already open, use Command-4 to open it. Select a REDCODE RAW clip in either the browser or a Timeline. Go to the Info tab and at the bottom right there is an 'Action Menu' (gear icon). Open that menu, select 'Show Clip Status'. This reveals clip status information at the bottom of the Info pane and the 'Modify RED RAW Settings' button, click it.
Note that if you have optimized or proxy copies already created you'll get a warning that they need to be deleted and recreated if you change RAW settings. FCP X will delete these for you as per the warning window in Figure 2. You'll have to regenerate them by right-clicking the file in the Browser, select 'Transcode Media', then check the necessary options. This is because the ProRes files have everything baked-in.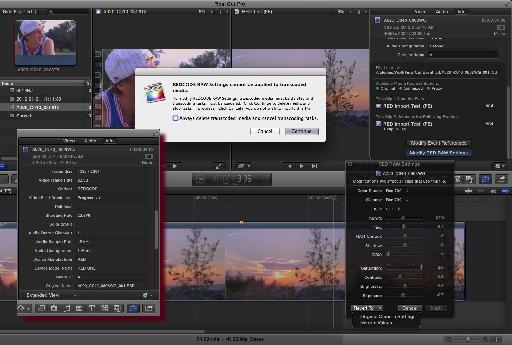 Step 3 - Metadata
REDCODE RAW clips have two types of metadata, internal and external. Internal metadata is generated by the camera itself initially. Internal metadata is stored inside of the R3D file natively. The second type of metadata is external, data not stored inside of the R3D file. It is stored externally from the R3D file in an RMD (RED MetaData) file. The RMD file can be created by REDCINE-X PRO, FCP X, or other software that supports REDCODE RAW metadata adjustments. So how do we take advantage of this in FCP X?
In the Info tab of the Inspector at the bottom left is a menu to change the specific metadata view. Change it to Extended View. Codecs should reflect REDCODE. Frame size, frame rate, audio channel configuration, camera model, etc. are all here for any RED brand camera used to shoot the clip. Even the original file name is listed here in case you rename the clip in the Event Browser.
When we change a RED RAW setting, we do not change the actual R3D file at all. Being non-destructive we are only writing metadata. The metadata file being created by FCP X is the standardized RMD file I just mentioned. Inside the Event folder, in the Original media folder, you will see an individual folder for each RED RAW clip. Inside each is the R3D file, or link to the original, and if changes have been made, the RMD file.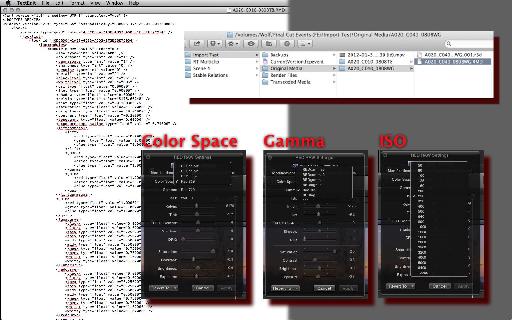 Step 4 - Two Way Metadata
This is fun to know and will be useful to some of you. FCP X both reads and writes to the RMD file. I'll use an example of my original clip inside of FCP X having an ISO of 400. I've quit FCP X and opened the appropriate RMD file with TextEdit. I can manually change the ISO setting to 800, save, quit. Open FCP X again, the RAW settings HUD will reflect the change to ISO 800. Yes, FCP X reads AND writes to the RMD metadata file.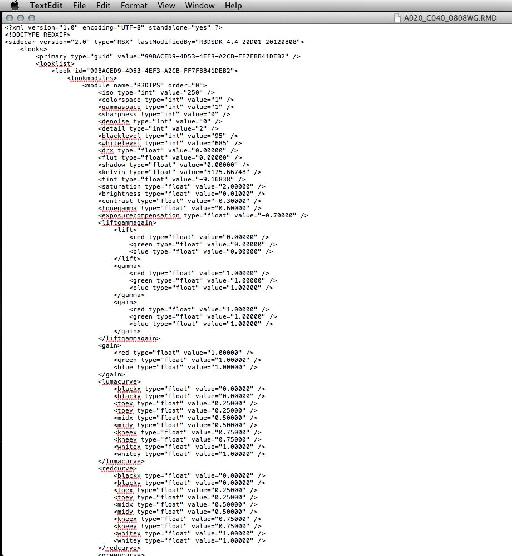 This means if you make changes in FCP X, quit, open that R3D file in REDCINE-X Pro, the changes are there. Make changes in REDCINE-X Pro, open it in FCP X, the changes are there.
Step 5 - Playback
Since R3D files can be rather large and bulky, some systems will have trouble playing them back full resolution. In these cases the immediate steps to take are change the 'Playback Quality' setting in the Preferences (Command-Comma) to 'Better Performance'. You can also turn off waveforms in the Timeline (timeline appearance menu, bottom right of timeline pane).
For those that need full power playback for effects, coloring, compositing, and such the FCP dev team has made FCP X able to work with the RED ROCKET graphics card. This card will handle all RED playback and transcoding work. Visit www.red.com for more information about the RED ROCKET card.
Step 6 - Exporting
Exporting is pretty straight forward. Command-E will bring up the export window to save the timeline out as full resolution ProRes (proxy, LT, 422, HQ, or 4444), uncompressed 8-bit or 10-bit, or H.264 QuickTime file. There's not much else to it. See other macProVideo HUB articles for more on exporting in FCP X.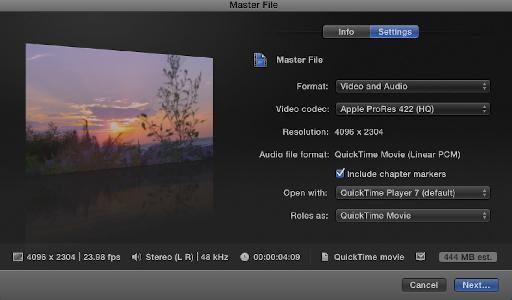 Conclusion
With native RED RAW and REDROCKET support, RAW settings control, and two way RED metadata support, Final Cut Pro X is showing it will continue to evolve into the future of post-production for many. I like that RED has a very solid and easy metadata structure with the RMD sidecar file. The way FCP X takes advantage of that is straight forward and simple. Anyone needing to work with REDCODE RAW will find this implementation in FCP X very satisfying in its ease of use and straightforward workflow.