Final Cut Pro (FCP) and Soundtrack Pro (STP) have long had a symbiotic relationship, going back to the first release of the Final Cut Studio suite. One aspect of that relationship is that you can inte
Final Cut Pro (FCP) et Soundtrack Pro (STP) ont depuis longtemps une relation symbiotique, qui remonte à la première version de la suite Final Cut Studio. Un aspect de cette relation est que vous pouvez modifier interactivement piste audio de Final Cut dans Soundtrack pour profiter de l'édition de Musiques audio supérieure, des effets spéciaux, et des outils de mixage.
Dans cette astuce rapide, je vais vous montrer comment c'est fait.
Let's say you have a video clip in FCP that has a lot of background noise that you want to reduce. FCP doesn't have great noise-reduction tools, but STP does, so you can use STP's Noise Reduction feature to reduce the unwanted noise. Here are the steps.

Étape 1 - Envoi audio à partir de FCP à STP
Il ya effectivement deux façons d'aller sur l'envoi et l'aller-retour audio entre FCP et de STP. Dans la première, vous pouvez contrôler-cliquez sur la piste audio que vous souhaitez traiter, que ce soit dans la fenêtre Projet ou dans le scénario, et choisissez Ouvrir dans l'éditeur: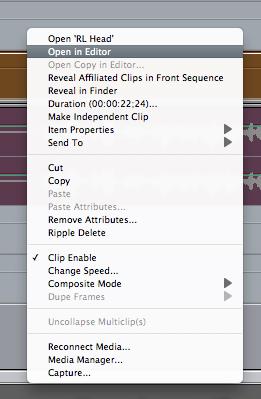 Toutefois, cela ne fonctionnera que si vous avez mis en place STP comme votre éditeur de fichiers audio par défaut dans l'onglet Editeurs externes dans la fenêtre Paramètres système (Final Cut Pro

L'autre chose à prendre en compte est que l'utilisation de la fonction Ouvrir dans Editor provoque une édition destructive de votre source audio - qui est, en changeant et en enregistrant le son dans STP (ou tout autre éditeur audio) va changer l'audio dans votre métrage source de façon permanente. Pour cette raison, je pense qu'il est mieux d'utiliser la méthode plutôt que sur Envoyer vers. Cela ne changera pas votre source audio, et vous pouvez ré-éditer ou annuler les modifications que vous apportez à la source audio sans le perdre pour de bon.
Ainsi, le contrôle-clic sur la piste audio que vous souhaitez traiter, que ce soit dans la fenêtre Projet ou dans le scénario, et choisissez Envoyer vers, puis choisissez Soundtrack Pro Audio projet du sous-menu: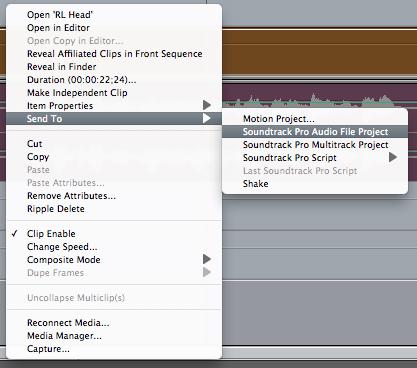 When you do, FCP will ask you to save the audio track as a Soundtrack Pro Audio Project (.stap file) to your drive, using the name of the clip but adding (sent) to it: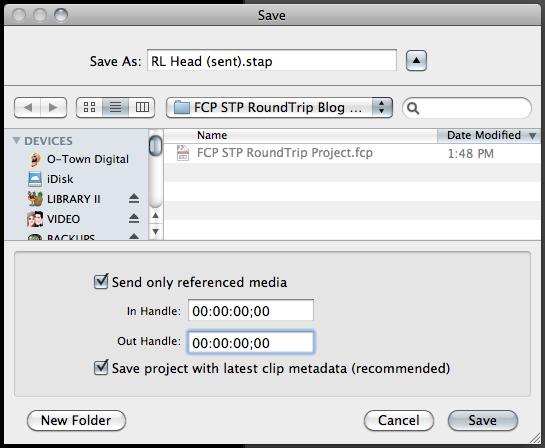 FCP a remplacé de façon transparente de l'audio dans votre scénario avec le projet audio Soundtrack, Soundtrack lancé, et ouvert le projet de STP.
Note: j'ai choisi l'option d'envoyer uniquement des supports référencés et mis l'In / Out Traite à la fois à zéro. Choisir Envoyer uniquement des supports référencés veillera à ce que vous, si vous avez modifié l'audio vers le bas à partir d'un grand clip, vous ne serez pas envoyer tout ce qui audio à STP - juste l'audio taillés. Réglage de la Gère à zéro limite également l'audio envoyé à tout l'audio édités dans la chronologie du PCF. (Vous pouvez changer cela si vous allez être cross-fading ou encore l'édition du STP-traitées audio, mais si vous n'êtes pas, réglez les poignées à zéro pour éviter toute confusion.)
L'option Enregistrer projet avec métadonnées dernier clip est sélectionné par défaut, et il est recommandé, si juste de le faire.
Étape 2 - Processus et Save the Audio en STP
Votre audio PCF va maintenant s'ouvrir dans STP, et vous pouvez faire votre impression de bruit et de réduction du bruit ici (voir "How-To: Suppression du bruit de fond dans Soundtrack Pro" par Rounik Sethi).
Une fois que vous avez traitées l'audio, il suffit de sauvegarder votre projet audio STP. La première fois que vous faites cela, vous verrez cette boîte de dialogue: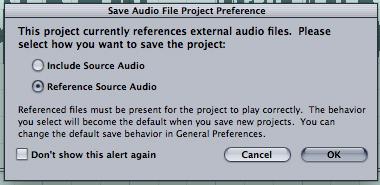 Habituellement, vous voulez choisir l'option de référence Source Audio plutôt que d'inclure audio source, que cela permet de garder la taille STP fichier de projet vers le bas - de l'audio en question est le référencement Retour à l'audio d'origine du PCF. Cependant, si vous allez être en mouvement les projets autour de différents lecteurs ou des postes de travail, il est plus sûr pour y inclure de l'audio, de sorte qu'il est contenu dans le dossier du projet STP.
Étape 3 - Voila!
Maintenant, juste rebondir au PCF, et vous verrez l'audio dans votre mise à jour du PCF Timeline avec les modifications apportées au STP. Jouez vos fichiers audio, et vous entendrez la réduction du bruit (ou procédé que ce soit) que vous avez fait dans le STP.
De là , vous pouvez continuer à modifier les traités rondes déclenché audio simplement en le renvoyant au STP, il ya le traitement, et il épargne - une fois que vous avez remplacé l'audio du PCF avec l'audio STP, vous n'aurez pas à constamment faire des nouveaux projets audio STP, comme vous allez travailler dans votre projet d'enregistrement initial STP audio.
Profitez de l'aller-retour!