In a muddle with FCPX? Want to understand it better? You've come to the right place! Ben Balser explains with precision the possibilities in Final Cut Pro X's Project Properties.
In FCP X arbeiten wir mit Zeitleisten. Jedes Asset, Compound, Multicam ist Sync Clip eine einzigartige Art der Timeline. Projekte sind auch eine bestimmte Art von Timeline. Jedes Projekt Timeline in FCP X hat Base-Eigenschaften eingestellt. Sie können alle Medien jeder Baugröße, Preis, Format in jede Zeitachse fallen, aber seine Eigenschaften bestimmen, wie sie verarbeitet und exportiert werden.
Grundeinstellungen
Navigieren Sie zu dem Projekt Bibliothek (Befehlstaste-0). Markieren Sie die Festplatte, die Sie wollen, um ein neues Projekt Timeline auf zu erstellen. Verwenden Sie Befehlstaste-N um ein neues Projekt zu erstellen. Sie sind mit dem ersten Fenster Projekteinstellungen vorgestellt.

Standardmäßig verwendet die Automatische Einstellungen. Das bedeutet, wenn der erste Asset, das Sie in dieser Zeitlinie bearbeiten ist ein Video-Clip, FCP X wird diese Fristen Bildgröße und den Eigenschaften des Clips einzustellen. Wenn dies erwünscht ist, dann alles, was Sie tun müssen, ist klicken Sie auf die Schaltfläche OK. Wenn das erste Asset kein Videoclip, werden Sie aufgefordert, die Timeline-Einstellungen festgelegt werden.
Wenn Sie Einstellungen angeben müssen, nicht mit dem Auto-Funktion, klicken Sie auf Use Custom Settings. Zum Beispiel, wenn Sie Aufnahmen haben, die müssen in der Kamera Zeitlupe. In diesem Fall können Sie schossen auf 60 fps und brauchen eine Zeitleiste, die 24 fps ist. Wenn Sie die Benutzer-Optionen für das Video und / oder Audio-Eigenschaften auswählen, werden Sie mit mehr Wahlmöglichkeiten.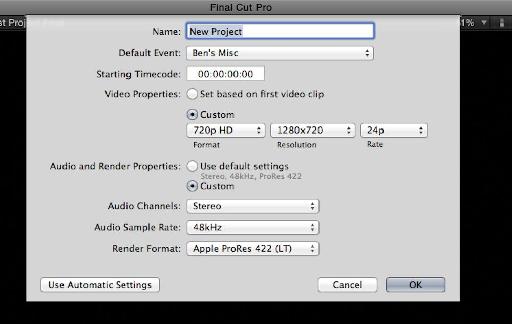 Video-Einstellungen
Das Format-Menü können für Standard-Distribution Formaten von Standard Definition zu 5K. Betrachten Sie dies als, wie viele Pixel jedes einzelne Frame des Videos besteht aus. HD Redakteure wählen Sie entweder den 720p, 1080i oder 1080p-Einstellung. Die Resolution Menü bietet verschiedene Standard-Distribution Baugrößen. Dies ist die eigentliche Baugröße und ändert sich je nachdem, was Format ausgewählt ist. Wenn andere als Format-Typ festgelegt ist, bietet die Auflösung 640x480 und 960x540 web Baugrößen. Obwohl viele Web-Video
Audio-Einstellungen
Es gibt drei Audio-Einstellungen. Audio Channels legt fest, wie viele individuelle Audio-Kanäle der exportierten Video eingebettet haben. Es bestimmt auch, wie die Zeitleiste in der Lage, Audio-Ausgang für die Überwachung. Die beiden Entscheidungen sind Stereo (2 Kanäle) und Surround-Sound (6 Kanäle). Audio Sample Rate kann wie viele Audio-Frames pro Sekunde müssen gedacht werden. Dies wird in kHz (Kilohertz) oder Tausendstel einer Sekunde gemessen. Standard-Video ist 48 kHz (48.000 Samples pro Sekunde), CDs 44,1 sind, verwenden einige Musikaufnahmestudios 96 kHz. Am besten ist es sicher, dass Ihre Kamera zeichnet bei 48 kHz und stellen Sie Ihre Projekt-Timeline, um das gleiche. Die häufigste Ursache von Audio treiben out of sync mit Video ist ein Missverhältnis zwischen der Abtastrate des aufgezeichneten Videoclips und die Abtastrate der Timeline wird bearbeitet in.
Render-Voreinstellungen
Schließlich können Sie die Render-Format. Der Standardwert ist ProRes 422, die in den meisten Fällen funktioniert. Wenn Sie HDV oder H.264 aufzeichnen und müssen Speicherplatz zu sparen, wird ProRes (LT) helfen. Für Auflösungen wie 2K, 4K und 5K, Verwendung ProRes (HQ). Wenn Sie einen Alpha-Kanal für den Export zu einem Compositing-Anwendung benötigen, verwenden ProRes 4444 (sprich vier-mal-vier).
Überprüfen der Einstellungen
Nach einer anfänglichen Einstellungen vollständig sind, und Sie haben einige Bearbeitung getan, müssen Sie ändern oder bestätigen diese Einstellungen. Mit Ihrem Projekt im Projekt-Bibliothek hervorgehoben sind, verwenden Sie Befehlstaste-4, um den Inspektor zu öffnen. An der Spitze im Abschnitt Eigenschaften, sehen wir die grundlegende Formatierungen Informationen.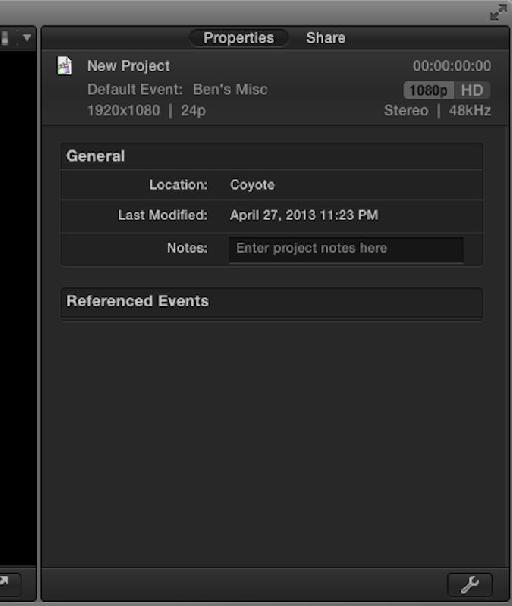 Ändern der Einstellungen
Wenn Sie ganz unten rechts schauen, sehen Sie den Eigenschaften-Menü-Taste. Es hat das Symbol eines Schlüssels. Zum Beispiel bearbeitet Ive eine 1080 Produktion und brauchen einen Standard-Definition-Version. Ich würde das Projekt im Projekt Bibliothek mit Befehlstaste-D duplizieren. Dann in die neuen Projekte Einstellungen über diesen Schlüssel-Taste gehen.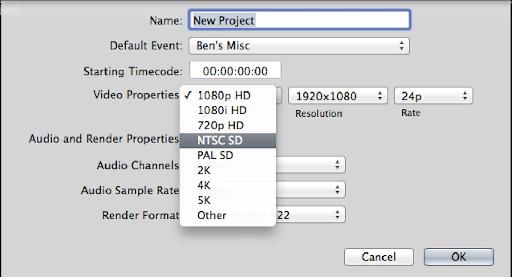 Es öffnet sich das Projekt Setting Fenster wieder. Ich würde durch meine neue SD-Timeline gehen und passen Titel, clip Positionierung, Grafik Größen und Positionen, usw.
Fazit
Sie können jederzeit einen eigenen Ordner auf einem voreingestellten Compressor diese Projekt-Einstellungen beim Export ändern, sondern diese Einstellungen Ive abgedeckt sind, was die Timeline als standardmäßig zu exportieren. Im Bewusstsein, welche Einstellungen Sie benötigen, wenn Sie erstellen zunächst ein Projekt Timeline, und wie verändern sie danach kann ein langer Weg zu halten Ihren Workflow einfach und problemlos zu gehen.