In a muddle with FCPX? Want to understand it better? You've come to the right place! Ben Balser explains with precision the possibilities in Final Cut Pro X's Project Properties.
Dans FCP X, nous travaillons avec des échéanciers. Chaque actif, composé, Multicam, Sync clip est un type unique de calendrier. Les projets sont aussi un type spécifique de calendrier. Chaque montage de projets dans FCP X a définir les propriétés de base. Vous pouvez déposer tous les médias de toute taille d'armature, débit, le format dans n'importe quel scénario, mais ses propriétés déterminer comment elle sera traitée et exportée.
Réglages initiaux
Accédez à la bibliothèque du projet (Commande-0). Mettez en surbrillance le disque dur que vous souhaitez créer un nouveau calendrier de projet sur. Utiliser la commande-N pour créer un nouveau projet. Vous êtes présenté avec la fenêtre des réglages initiaux du projet.

Par défaut il utilise les paramètres automatiques. Cela signifie que si le premier élément que vous modifiez dans cette chronologie est un clip vidéo, FCP X va régler que les échéanciers taille de l'image et votez pour les propriétés de ce clip. Si cela est souhaitable, tout ce que vous avez à faire est de cliquer sur le bouton OK. Si le premier actif n'est pas un clip vidéo, vous serez invité à spécifier les paramètres du montage.
Si vous devez spécifier des paramètres, ne pas utiliser la fonction Auto, cliquez sur le bouton Paramètres de mesure de l'utilisation. Par exemple, si vous avez des coups de feu qui ont besoin d'être à huis clos au ralenti. Dans ce cas, vous avez tourné à 60 images par seconde et ont besoin d'un calendrier qui est de 24 fps. Lorsque vous sélectionnez les options personnalisées pour la vidéo et / ou les propriétés audio, vous êtes présenté avec plus de choix.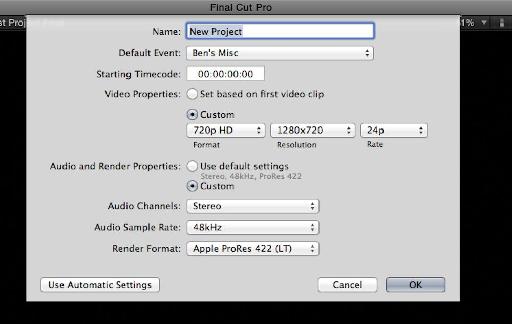 Paramètres vidéo
Le menu Format permet de formats de distribution standard allant de la définition standard à 5K. Pensez à ce que le nombre de pixels de chaque image vidéo est composée d'. Éditeurs HD choisira soit le réglage 720p, 1080i ou 1080p. Le menu de résolution propose différentes tailles de châssis de distribution standard. Il s'agit de la taille réelle de l'image et change en fonction de ce format est sélectionné. Si Autre est défini comme le type de format, la résolution propose les tailles d'images web 640x480 et 960x540. Bien que de nombreux vidéo sur le web
Paramètres audio
Il ya trois paramètres audio. Canaux audio définit le nombre de canaux audio individuels de la vidéo exportée auront intégré. Il détermine également la façon dont le calendrier sera en mesure d'audio de sortie pour le suivi. Les deux choix sont stéréo (2 canaux) et un son surround (6 canaux). Taux d'échantillonnage audio peut être considéré comme le nombre de trames audio par seconde dont vous avez besoin. Elle est mesurée en kHz (kilohertz), ou millièmes de seconde. Vidéo standard est de 48 kHz (48 000 échantillons par seconde), les CD sont 44,1, certains studios d'enregistrement de musique utilisent 96 kHz. Il est préférable d'être sûr que votre caméra enregistre à 48 kHz et configurer votre calendrier de projet pour la même chose. La cause la plus fréquente de l'audio à la dérive en décalage avec la vidéo existe un décalage entre la fréquence d'échantillonnage du clip vidéo enregistré, et le taux d'échantillonnage de la timeline, il est édité po
Paramètres de rendu
Enfin, vous pouvez définir le format de rendu. La valeur par défaut est ProRes 422 qui fonctionne dans la plupart des cas. Si vous enregistrez HDV ou H.264 et ont besoin d'économiser de l'espace disque, ProRes (LT) va aider. Pour des résolutions telles que 2K, 4K et 5K, l'utilisation ProRes (HQ). Si vous avez besoin d'un canal alpha pour l'exportation à une application de compositing, utilisez ProRes 4444 (prononcé quatre par quatre).
Vérification des paramètres
Après vos réglages initiaux sont terminés et que vous avez fait des modifications, vous devrez peut-être confirmer ou modifier ces paramètres. Avec votre projet mis en évidence dans la bibliothèque de projets, utilisez la commande-4 pour ouvrir l'inspecteur. Au sommet de la section Propriétés, nous voyons les informations de formatage de base.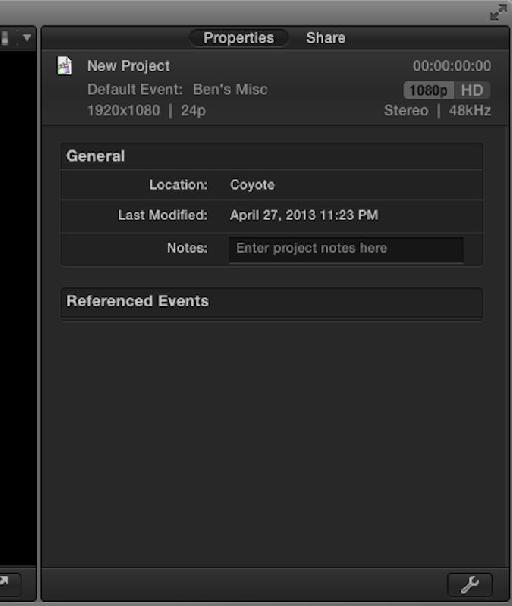 Modification des paramètres
Si vous regardez vers la droite tout en bas, vous verrez le bouton de menu Propriétés. Il a l'icône d'une clé. Par exemple, Ive a édité une production 1080 et besoin d'une version en définition standard. Je voudrais dupliquer le projet dans la bibliothèque de projets avec Commande-D. Ensuite, allez dans les nouveaux paramètres des projets via ce bouton de la clé.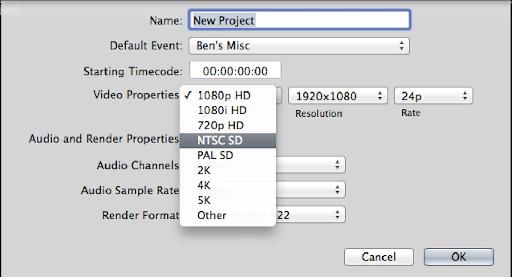 Cela ouvre à nouveau la fenêtre de configuration du projet. Je voudrais passer mon nouveau montage SD et ajuster titres, le positionnement du clip, tailles et positions graphiques, etc
Conclusion
Vous pouvez toujours utiliser une destination personnalisée basée sur un compresseur prédéfini à modifier ces paramètres de projet lors de l'exportation, mais ces paramètres Ive couvert êtes ce que l'échéancier sera exporté que par défaut. Être conscient de ce que les paramètres dont vous avez besoin lorsque vous créez initialement un calendrier de projet, et comment les modifier par la suite peut aller un long chemin à garder votre flux de travail simple et sans problème.