You may have heard the saying: Video is two-thirds audio. The same idea can be applied to interactive animations made in Flash, too. David Smith sounds out the audio side in Adobe Flash CS5.
Wenn ich unterrichte, Flash- Klassen, die wir immer, spalteten sich in zwei Kategorien: Designer und Developer. Dieser Artikel konzentriert sich ganz auf die Designer und wie Sounds können hinzugefügt und bearbeitet werden in. Swf-Dateien ohne die Verwendung von Actionscript.
Schritt 1 - Hinzufügen einer Schaltfläche
Öffnen Sie zunächst Flash-Bibliothek von Schaltflächen: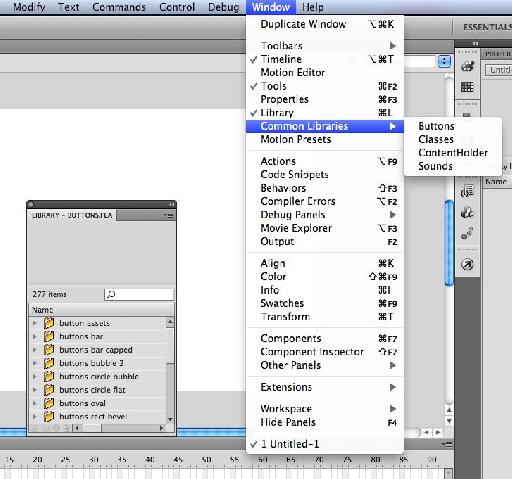 Button Panel
Eines der am meisten Spaß Sätze von Tasten zu bedienen sind die Arcade Buttons, sind diese in der klassischen Tasten-Ordner. Sie bringen wieder viele vergeudete Stunden meiner Jugend.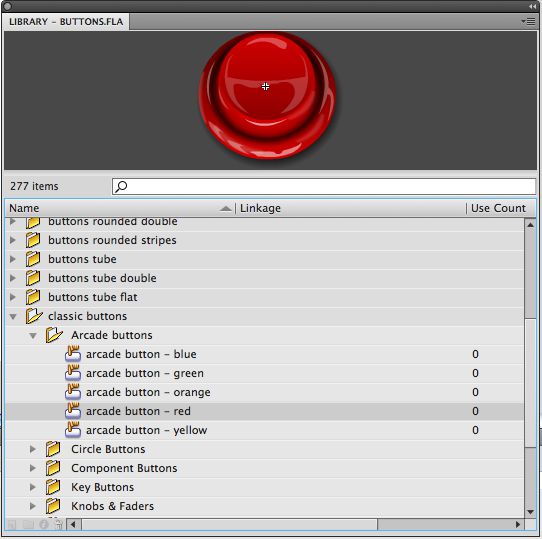 Arcade Buttons in Bibliothek
Wählen Sie die gewünschte Farbe und frag ihn auf Szene 1.
Schritt 2 - Erstellen einer Ebene für Sounds
Auf die Instanz der Schaltfläche, die Sie gerade eingefügt, um das Symbol öffnen Doppelklicken Sie auf.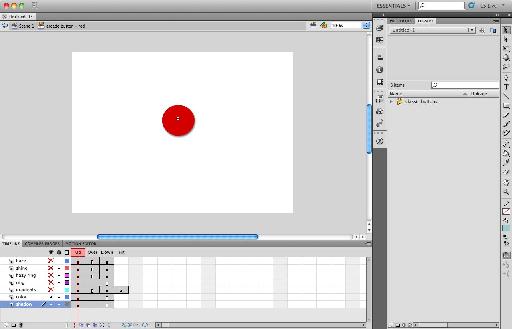 Button Symbol öffnen
Wie Sie sehen können gibt es eine Reihe von Schichten bereits in diese Taste. Fügen Sie eine weitere Ebene und doppelklicken Sie dann auf den Namen klicken und ändern Sie ihn auf "Sounds" zu lesen.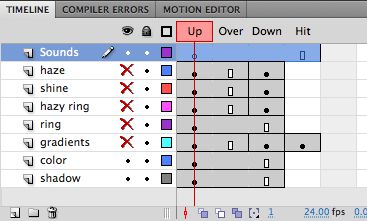 Schicht "Sounds"
Schritt 3 - Finden Sie einen Sound Effect
Die Schicht "Sounds" gibt es keine Soundeffekte wir nun auf diese Schaltfläche hinzufügen zu halten. Hinzufügen einer Schicht speziell für Geräusch macht es einfacher, zu ändern oder entfernen Sie sie später, als sie alle in einem einfach zu Ort zu finden sein wird.
Um Flash-eingebaute Sound-Bibliothek, um Fenster zu gehen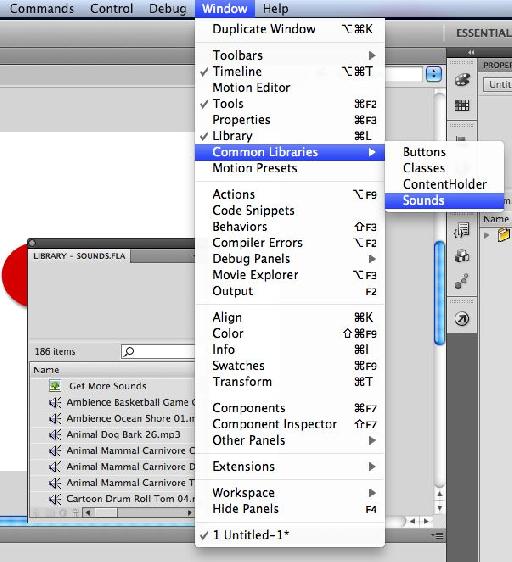 Klingt Bibliothek
Nehmen Sie eine Minute, um ein paar Töne spielen, gibt es einige "interessante" sind. Ich habe keine Verwendung für die menschliche Burp noch für einen ............... OK, das wird nicht gefunden!
Die Wirkung, die wir nutzen werden, nennt man "Sports Basketball Dribbeln in Gym Short.mp3".
Tipp: Versuchen Sie es in das Suchfeld in der Bibliothek Sounds Panel.
Schritt 4 - Hinzufügen der Sound Effect
Der Ton wird jedes Mal, wenn die Schaltfläche geklickt wird gehört werden. Um dies zu ermöglichen den Sound muss auf die Down-Zustand auf den Tasten Timeline hinzugefügt werden.
Wählen Sie die Down-Frame auf der Sounds-Layer, und drücken Sie F6, um einen Keyframe hinzuzufügen. Dieser Keyframe hält den Ton.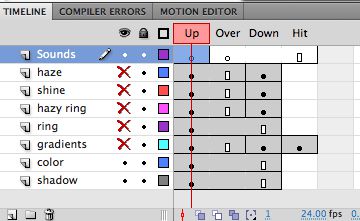 Keyframe hinzugefügt
Um den Klang zu dieser neuen Keyframe, nehmen Sie es in den Sounds-Bibliothek, und ziehen Sie, um das Dokument und nicht das Schlüsselbild.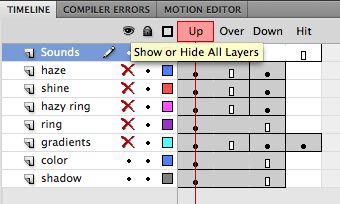 Schallwelle in TL
Der Ton wird nun auf den nach unten Schlüsselbild auf der Sounds Schicht sitzen. Sie können aus einem blauen Wellenform in der Keyframe wenn man sich
Klicken Sie auf das Schlüsselbild in der Zeitleiste, um es auszuwählen und einen Blick auf seine Eigenschaften: der Sound-Eigenschaft zeigt den Klang angewendet.
Schritt 5 - Test den Button
Speichern Sie das Flash-Dokument auf dem Desktop, File
Dann drücken Sie Befehlstaste-Rückkehr in den Film zu testen.
Der Sound-Effekt ist zu lang und dauert zu lange um zu starten. Drücken Sie die Taste mehr als einmal, und wir beginnen, einen Echo-Effekt zu bekommen. Nicht gut!
Schritt 6 - Öffnen Sie den Tonschnitt
Zurück in Ihrem Flash-Projekt, auf dem Keyframe, dass Sie den Ton hinzugefügt klicken Sie auf die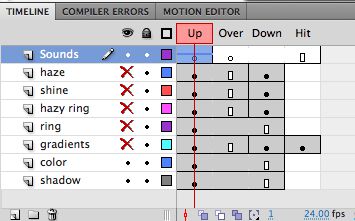 Sound Schlüsselbild ausgewählt
Schauen Sie sich die Eigenschaften für die Layer im Eigenschaften-Bedienfeld und finden Sie den Sound Property wieder.
Klicken Sie auf das Bleistift-Symbol neben dem Dialog, dass der Klang Namen enthält.
Bleistift-Editor
Ein neues Fenster geöffnet, das die Audio-Wellenform für beide Spuren Ihrer Sound-Effekt.
Schritt 7 - Ändern Sie den Sound so passt es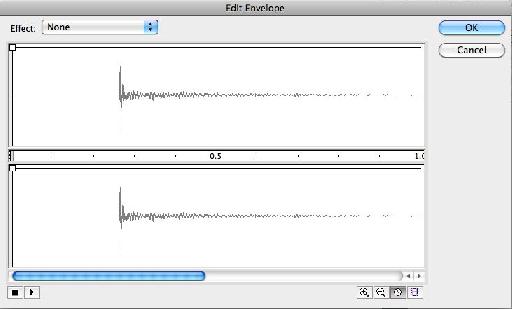 Sound Editor-Fenster
Zwischen den beiden Audio Tracks sitzt ein Zeitplan für die Audio. An jedem Ende sitzt ein Griff, wie ich angedeutet.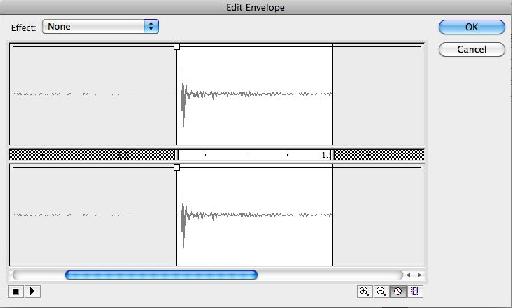 Griffe positioniert
Fassen Sie den Griff am Start und ziehen Sie ihn nach rechts, bis sie kurz vor dem zweiten Satz von Audio Waveform Gipfel platziert ist. Jetzt greifen die zweite Griff und ziehen Sie ihn nach links, bis er kurz nach dem Ende des gleichen Satz von Gipfeln positioniert ist.
Play the Sound im Sound Editor. Sie haben die mehr Klang abgespeckte so ist es nur der Teil für die Schaltfläche benötigt.
Schritt 8 - Export der modifizierten Button
Speichern Sie das Projekt erneut und veröffentlichen einen Testfilm durch Drücken der Befehlstaste-Rendite.
Laden Sie die SWF-Dateien hier.

Klicken Sie auf die Schaltfläche in der SWF, um die Änderungen zu hören.
Ein schön Durchführung Taste, ohne Actionscript erforderlich, wie versprochen.