You may have heard the saying: Video is two-thirds audio. The same idea can be applied to interactive animations made in Flash, too. David Smith sounds out the audio side in Adobe Flash CS5.
Quand j'enseigne flash classes que nous avons toujours les diviser en deux catégories: Concepteur et développeur. Cet article se concentre entièrement sur le concepteur et comment les sons peuvent être ajoutés et édités dans les fichiers SWF. Sans l'utilisation d'ActionScript.
Étape 1 - Ajouter un bouton
Commencez par ouvrir la bibliothèque de Flash de boutons: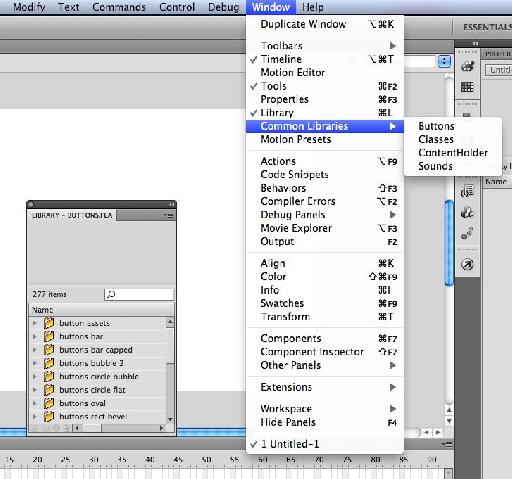 Panneau Boutons
Un des ensembles les plus fun de touches à utiliser sont les boutons d'arcade, ce sont dans le dossier classique de boutons. Ils ramènent le nombre d'heures gaspillées de ma jeunesse.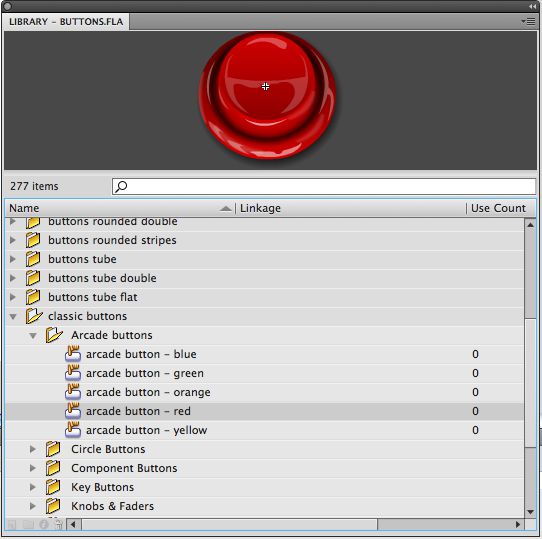 Boutons d'arcade à la bibliothèque
Sélectionnez la couleur que vous voulez et il frag sur la scène 1.
Etape 2 - Créer un calque pour les sons
Double-cliquez sur l'occurrence du bouton que vous venez d'insérer pour ouvrir le Symbole.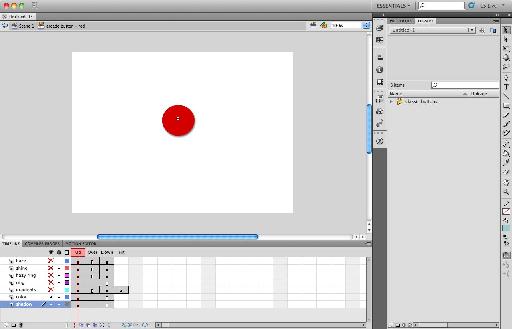 Bouton Symbole ouverte
Comme vous pouvez le voir, il ya un certain nombre de couches déjà en place dans ce bouton. Ajoutez une autre couche et double cliquez sur son nom et le changer à lire "Sons".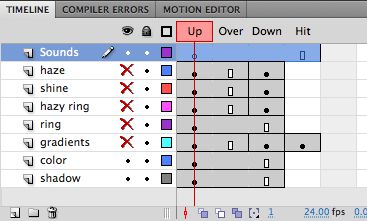 couche de "Sons"
Étape 3 - Trouver un effet sonore
La couche "Sounds" est là pour tenir tous les effets sonores nous ajoutons maintenant à ce bouton. Ajout d'une couche spécifique pour le son, il est plus facile à modifier ou les supprimer plus tard, comme ils seront tous dans un endroit facile à trouver.
Pour trouver la bibliothèque de sons Flash intégré aller à la fenêtre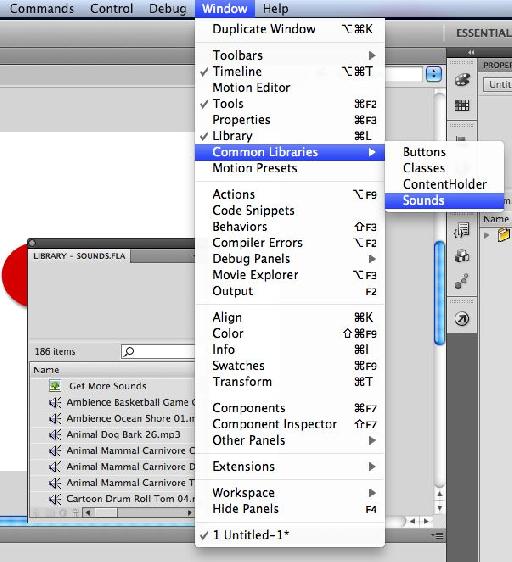 Sons Bibliothèque
Prenez une minute à jouer quelques sons, il ya quelques "intéressant" petits. Je n'ai pas trouvé une utilisation pour le rot de l'homme encore pour un ............... OK, ça va faire!
L'effet que nous allons utiliser est appelé "Dribble Basketball Sport Short.mp3 Gym".
Astuce: Essayez de taper dans le champ Rechercher dans le panneau Bibliothèque Sons.
Étape 4 - Ajouter l'effet sonore
Le son se fera entendre chaque fois que le bouton est cliqué. Pour activer ce bruit, les besoins d'être ajouté à l'état bas sur la chronologie des boutons.
Sélectionnez le cadre sur la couche Sons et appuyez sur F6 pour ajouter une image clé. Cette image clé tiendra le bruit.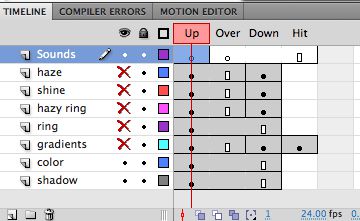 Keyframe ajoutée
Pour ajouter du son à cette nouvelle image-clé, le ramasser à la Bibliothèque Sons et faites-la glisser vers le document, et non pas l'image clé.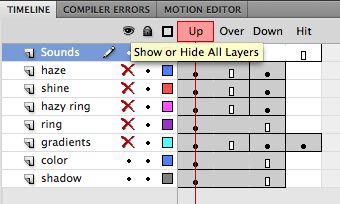 Onde sonore dans TL
L'audio sera maintenant assis sur le bas image-clé sur la couche Sons. Vous pouvez faire une forme d'onde bleues à l'intérieur de l'image clé si vous regardez
Cliquez sur l'image clé dans le scénario pour le sélectionner et jeter un oeil à ses propriétés: la propriété de son illustre le bruit appliqué.
Étape 5 - Testez le bouton
Enregistrez le document Flash sur le bureau, dossier
Puis appuyez sur Commande-retour pour tester l'animation.
Télécharger le fichier SWF ici.

L'effet sonore est trop long, et prend trop de temps à démarrer. Appuyez sur le bouton plus d'une fois et nous commençons à obtenir un effet d'écho. Pas bon!
Étape 6 - Ouvrez l'éditeur de sons
Retour dans votre projet Flash, cliquez sur l'image clé que vous avez ajouté du son à la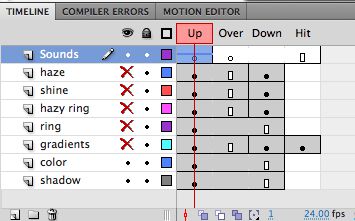 Son image clé sélectionnée
Regardez les propriétés de la couche dans le panneau Propriétés et trouver la propriété de son nouveau.
Cliquez sur l'icône du crayon à côté de la boîte de dialogue qui contient le nom du son.
Éditeur de Crayon
Une nouvelle fenêtre s'ouvre qui contient la forme d'onde audio pour les deux pistes de votre effet sonore.
Étape 7 - Modifier le son de sorte qu'il s'adapte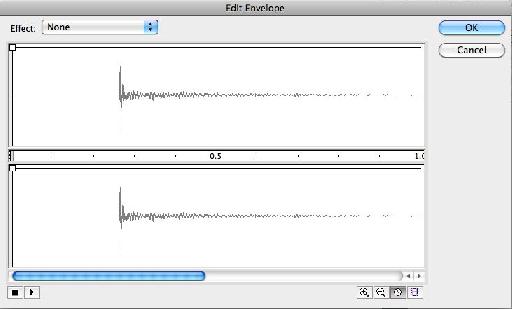 Fenêtre Sound Editor
Entre les deux pistes audio se trouve un calendrier pour l'audio. A chaque extrémité se trouve une poignée, comme je l'ai indiqué.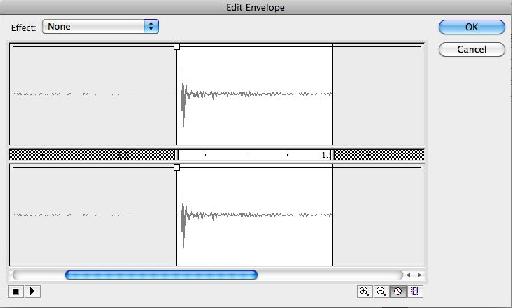 Poignées positionné
Saisissez la poignée au début et le faire glisser vers la droite jusqu'à ce qu'elle soit placée juste avant la deuxième série de pics de forme d'onde audio. Maintenant saisissez la poignée secondes et le faire glisser vers la gauche jusqu'à ce qu'elle se positionne juste après la fin de la même série de pics.
Jouer le son dans le Sound Editor. Vous avez coupé le son plus bas donc c'est juste la partie nécessaire pour le bouton.
Étape 8 - Exporter le bouton modifié
Enregistrer à nouveau le projet et ensuite de publier un test d'animation en appuyant sur Commande-retour.
Télécharger les fichiers SWF ici.

Cliquez sur le bouton dans le fichier SWF d'entendre les changements.
Un bouton très bien la scène, sans aucun besoin d'Actionscript, comme promis.