You may have heard the saying: Video is two-thirds audio. The same idea can be applied to interactive animations made in Flash, too. David Smith sounds out the audio side in Adobe Flash CS5.
ì œê°€ ê°€ë¥´ì¹  ë•Œ 플래시 디자이너 및 개발자 : 수업을 우리는 항상 두 가지 범주로 그들을 ë¶"í• . 이 문서는 디자이너에 ì "ì ìœ¼ë¡œ ì´ˆì ì" 맞ì¶"ê³  및 사운드에 추가하여 ì•¡ì…˜ 스크립트를 사용하지 ì•Šê³ . SWF 파일에서 편ì§'í•  수 있습니다.
1 단계 - 단추를 추가합니다
버튼 플래시의 라이브러리를 열어 시작합니다 :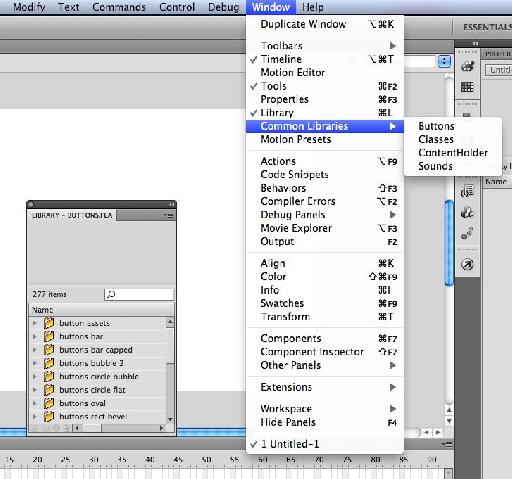 버튼 패널
사용하는 버튼의 가장 재미 세트 중 하나는 아케이드 버튼입니다, 이들은 ê³ ì "ì ì¸ 버튼 폴더에 있습니다. 그들은 다시 우리 청소년의 많은 낭비 시간을 ê°€ì ¸.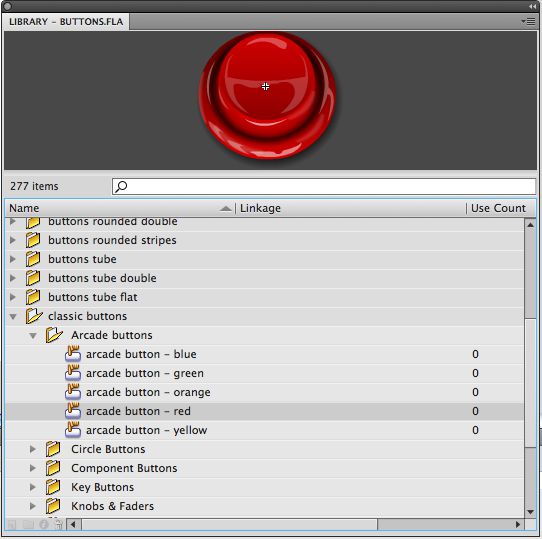 라이브러리에 아케이드 버튼
ë‹¹ì‹ ì´ 원하는 장면 하나에 그것을 파편 색상을 ì" 택합니다.
2 단계 - 소리에 계층을 만드십시오
ë‹¹ì‹ ì€ 단지 기호를 ì—´ 삽입 버튼의 인스턴스에서 두 번 클릭합니다.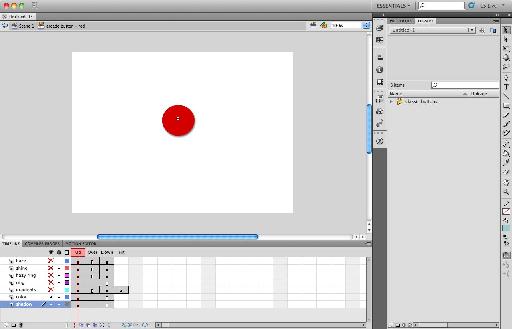 버튼 심볼 오픈
ë‹¹ì‹ ì´ ë³¼ 수 있듯이 이미이 버튼 위치에 ë ˆì´ì–´ 수가있다. 또 다른 ë ˆì´ì–´ë¥¼ ì¶"ê°€í•˜ê³  다음을 두 번 이름을 í´ë¦­í•˜ê³  "사운드"를 읽어 그것을 변경합니다.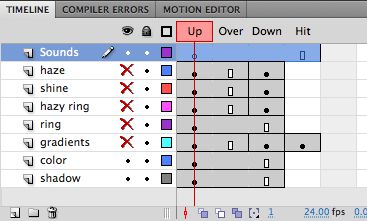 ë ˆì´ì–´ëŠ" "소리"
3 단계 - 사운드 효과를 찾기
ë ˆì´ì–´ëŠ" 우리가 지금이 버튼을 ì¶"ê°€í•  수있는 음향 효과를 잡아있다 "소리". 소리들이 모ë"  장소를 찾는 하나의 쉬운되므로 쉽게 나중에 그들을 ìˆ˜ì •í•˜ê±°ë'˜ ì œê±°í•  수 있습니다용으로 특별히 ë ˆì´ì–´ë¥¼ 추가.
플래시에 내장된 사운드 라이브러리는 윈도우에 가서 ì°¾ìœ¼ë ¤ë©´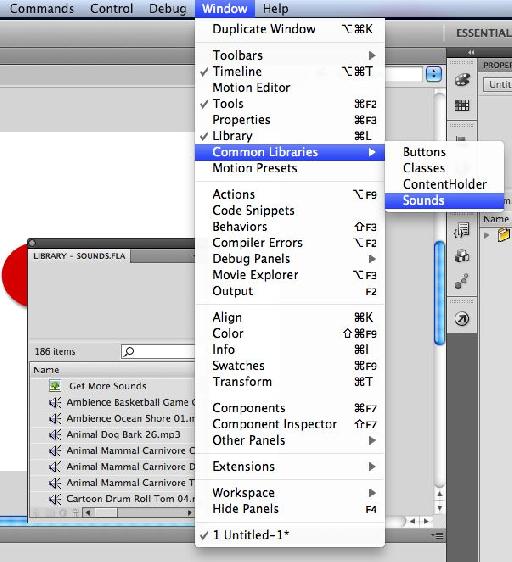 도서관 사운드
몇 가지 소리를 재생하기 위해 ìž ì‹œë§Œ 쉽시다, 일부 "재미있는"것들이 있습니다. í•œ ............... 그래, í•  것이다 아직 인간 트림에 대한 사용을 못 찾았!
우리가 사용하는가는 영향은 "체육관 Short.mp3 ìŠ¤í¬ì¸  농구 드리블"ì´ë¼ê³ í•©ë‹ˆë‹¤.
팁 : 소리 라이브러리 패널의 검색 필드에 ìž…ë ¥í•˜ì‹­ì‹œì˜¤.
4 단계 - 사운드 효과를 추가
소리 버튼을 클릭 때마다 들었 것입니다. ì'¬ìš©í•˜ë ¤ë©´ì´ 사운드는 타임 라인에 버튼 아래쪽 상태로 추가되어야합니다.
소리 ë ˆì´ì–´ì™€ 키프 ë ˆìž"ì" ì¶"ê°€í•˜ë ¤ë©´ F6 키를 눌러에서 아래쪽 í""ë ˆìž"ì" ì" 택합니다. 이 키프 ë ˆìž"은 사운드를 개최한다.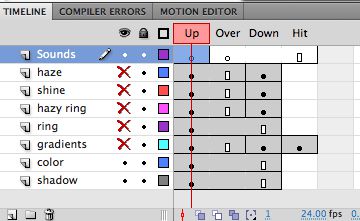 키프 ë ˆìž"이 추가되었습니다
이 새로운 키프 ë ˆìž"에 사운드를 ì¶"ê°€í•˜ë ¤ë©´, 소리 라이브러리에 그것을 ì" íƒí•˜ê³  키프 ë ˆìž", 문서에 그것을하지 드래그합니다.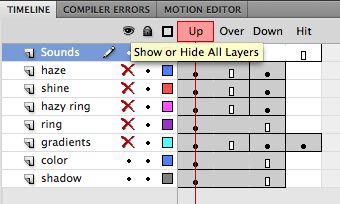 TL에서 사운드 웨이브
오디오는 ì´ì œ 소리 ë ˆì´ì–´ì— 키프 ë ˆìž" 아래에 앉아 있습니다. ë‹¹ì‹ ì´ 보는 경우에 ë‹¹ì‹ ì€ 키프 ë ˆìž" 안에 파란색 파형을 만들 수 있습니다
그것을 ì" íƒí•˜ê³  속성에서 볼을 타임 라인에서 키프 ë ˆìž"ì" 클릭 : 사운드 속성은 사운드가 â€‹â€‹ì ìš© 보여줍니다.
5 단계 - 버튼을 테스트
바탕 화면, 파일에 플래시 문서를 ì €ìž¥
다음 동영상을 테스트하는 ëª…ë ¹ 수익을 누르십시오.
여기에 SWF 파일을 다운로드합니다.

음향 효과가 너무 깁니다, ê·¸ë¦¬ê³  시작하는 너무 오래 걸립니다. 두 번 이상 버튼을 누르면 우리는 에코 효과를 얻기 위해 시작합니다. 큰일났다!
6 단계 - 사운드 편집기를 엽니다
위로 플래시 í""ë¡œì íŠ¸ì—ì—ì— 사운드를 추가하는 키프 ë ˆìž"ì" 클릭합니다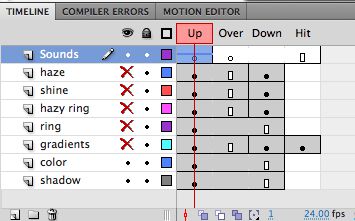 ì" 택된 키프 ë ˆìž" 소리
속성 패널에서 ë ˆì´ì–´ 속성을 봐 다시 사운드 속성을 찾습니다.
사운드 이름이 들어있는 대화 상자 옆에있는 연필 아이콘을 클릭합니다.
연필 편집기
새 창이 사운드 효과 모두 트랙에 대한 오디오 파형을 포함하는 열립니다.
7 단계 - 그게 맞는 있도록 사운드를 ìˆ˜ì •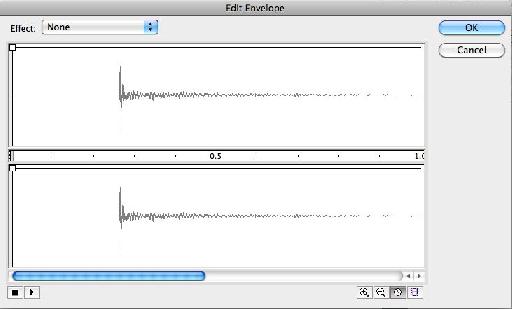 사운드 편집기 창
두 오디오 트랙 사이에 오디오 타임 라인이 ì•‰ê³ . 각 끝에 손잡이가 ë'´ê°€ 가르킨로 앉아있다.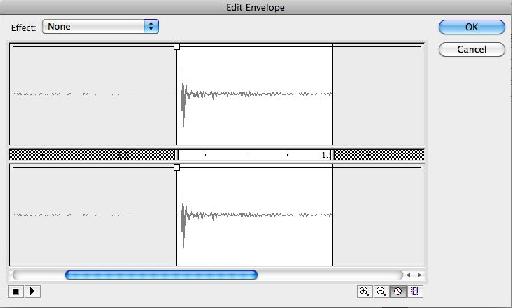 위치 핸들
시작에서 손잡이를 ìž¡ê³  그것이 단지 오디오 파형 봉우리의 두 번째 ì"¤ì •í•˜ê¸° ì "에 배치까지 오른쪽으로 드래그합니다. ì´ì œ 두 번째 핸들을 잡으면 그것이 단지 봉우리의 동일한 집합의 끝 위치 이후 때까지 왼쪽으로 드래그합니다.
사운드 편집기에서 소리를 재생합니다. 그냥 버튼에 필요한 부분은 그래서 ë‹¹ì‹ ì€ 더 이상 소리를 손질했습니다.
8 단계 - ìˆ˜ì • 버튼을 내보내기
다시 í""ë¡œì íŠ¸ë¥¼ ì €ìž¥í•˜ê³  다음 ëª…ë ¹ 수익을 눌러 테스트 동영상을 ê²Œì‹œí•  수 있습니다.
여기에 SWF 파일을 다운로드합니다.

변경 사항을 ë"£ê³  SWF에있는 버튼을 클릭합니다.
필요없이 ì•¡ì…˜ 스크립트와 함께 ì •ì¤'하게 수행하는 버튼은, 약속대로.