If you're new to Adobe Flash you may want to start by creating simple animations. There's no better place to start than by animating text! Iain Anderson takes you through the basics in this tutorial.
If you need to create an animation in Flash, there are a few techniques that can make great work fast. While I discuss many of these in my recent Flash tutorials here, I thought I'd call out one of them here as it's so simple, yet so useful.

Adding some text
First, create a new document and use the Text tool to add some text to the canvas. I'll make a fairly short word to keep it simple here. You may need to make the text bigger than the normal maximum of 96pt, so type a higher value in if you need to.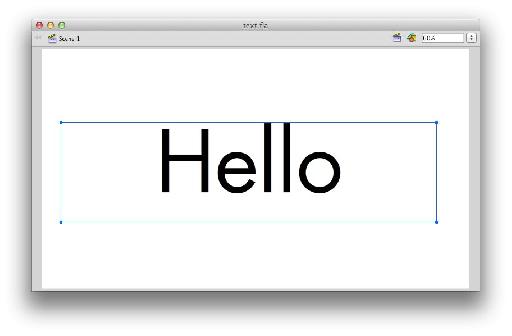 Hello there!
Breaking it apart
Select the text, then choose Modify > Break Apart or press Command-B. This turns the text box into several separate text boxes, one for each letter. (If we chose to Break Apart again, we'd convert it into outlines, but we don't want to do that this time.)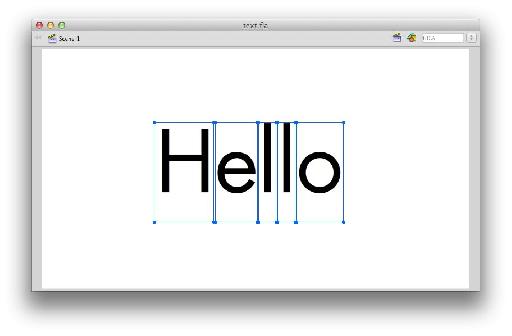 After a single Break Apart, each letter stands alone.
Distribute to Layers
To encourage good Flash habits, a very handy command is Distribute to Layers. Since it's easiest to animate when you have one object per layer and each object is a symbol, we can start by pushing each of these objects to its own layer. Choose Modify > Timeline > Distribute to Layers, or press Command-Shift-D.

Here are all the letters, each on its own layer.
Converting to Symbols
Great! Each letter has been placed onto a new layer and named for that character. Let's convert each letter into a symbol so we can animate them efficiently. Select the first letter, then press F8. (Note that if causes your Mac to play music, you can press Fn-F8, or switch the priority of function keys in the Keyboard pane of System Preferences.)
Name each symbol as 01, 02, 03 etc. followed by the appropriate letter, for example: 01-H, 02-e, 03-l, and so on. This means that you'll have a symbol for each letter, and you'll know which one is which if you want to change them later. I've used Movie Clip as the type, but it's not critical.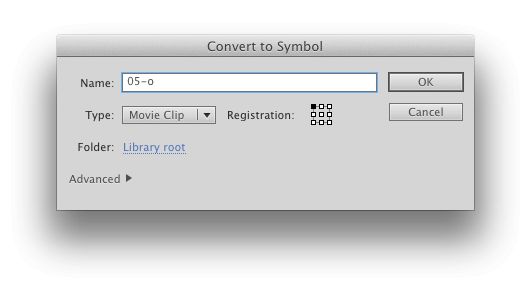 Convert to Symbol for each letter.
Time to work
Select a range of frames in a vertical line, as far down the timeline as you want your animation to last, covering all your letters. Press F5 to Insert Frames, and we have something to work with.

Just before pressing F5, these frames should be selected.
Fixing the end points
Select another range of frames across all your layers, about 70% of the way along the timeline, and press F6 to create some keyframes. This will stop the animation.

If you only keyframe at the end, the animation never rests.
Changing the start
Move the playhead to the start of the movie. Select each letter in turn, move it away from the start point by pressing Shift-Up or Shift-Down a few times, then use Properties to set the Color Effect to Alpha at 0%.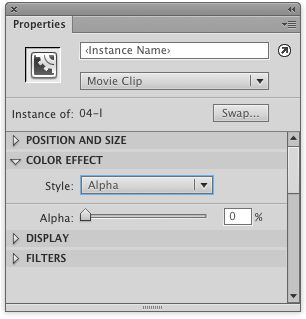 Move them around, make them invisible at the start.
Making it move
Select a vertical range of frames somewhere between the first two sets of keyframes, then right-click and choose Create Classic Tween. Now you'll see the letters all fade and move it at the same time.

All moving at once.
Offsetting it all
You can make the motion more natural by offsetting the start and/or end keyframes of each of these letters. The easiest way to do this is to hold the Command key and drag each letter's first and second keyframes just a little way along the timeline.

And now they're all done.
Conclusion
And that's about it. The same technique can be used for any word, animating any parameter, to produce original, effective, text-based motion graphics in Flash. Enjoy! And remember: if you get stuck, we've got a whole series of Flash video tutorials ready to help.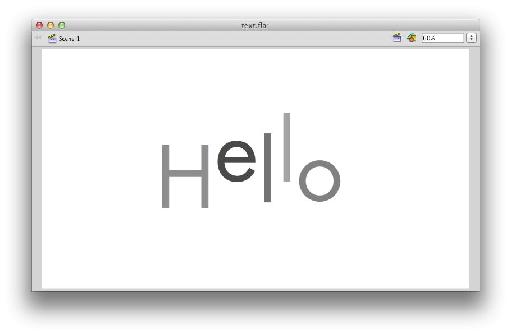 The final letters fly on like this.