Flash's Motion Editor makes it super-easy to visualize and edit your animation sequences. With it, we can control things like motion, color, effects, easing, and more.
Editor de Flash de movimiento hace que sea súper fácil de visualizar y editar las secuencias de animación. Con él, podemos controlar cosas como el movimiento, color, efectos, lo que facilita, y mucho más. Les ahorraré más preámbulo, el derecho que vamos a bucear en ella!

Paso 1 - Cómo configurar las cosas
Para empezar, aplica un movimiento predefinido a un símbolo en el escenario (Ventana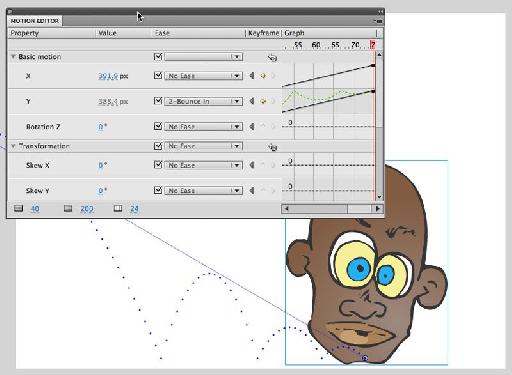 Paso 2 - Touring el editor de movimiento
Como puede ver, hay mucha actividad en el interior del editor de movimiento. Pero vamos a tratar de simplificar las cosas aquí y dividir el panel en posición vertical. A la derecha verás una línea de tiempo con una cabeza lectora roja. Seguir adelante y tomar la cabeza lectora y arrástrela a la izquierda y la derecha para previsualizar la animación que aplicó anteriormente por medio del panel Motion Presets.
A la izquierda verás varias categorías como movimiento de base, la transformación, y así sucesivamente. Usted puede "torcer" estas categorías abiertas y cerradas con el triángulo que hay a la izquierda de cada propiedad. Para simplificar las cosas, gire a todos cerrados, excepto para el movimiento de base (la primera). Nótese también que a la derecha, cada una de estas categorías contiene varias propiedades (como X, Y, Z y de rotación en el movimiento de base, por ejemplo), y que cada una de estas propiedades tiene su propia línea de tiempo a la derecha, que se revela o se oculta cuando expandir o contraer la categoría. Las líneas horizontales en la línea de tiempo de cada propiedad significa que la propiedad no se utiliza, no hay nada pasando allí. Sin embargo, los plazos de propiedad que tienen líneas inclinadas o en ángulo indican que esa propiedad está en uso. Líneas verdes discontinuas representan Easing.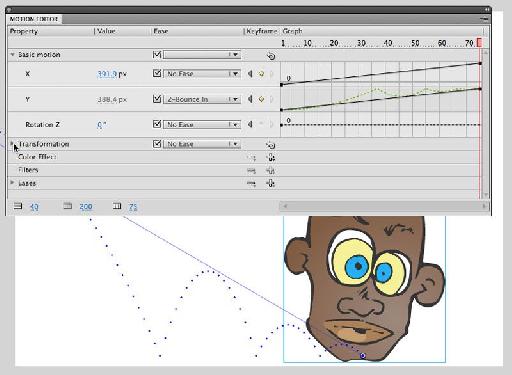 Por otra parte, en la parte superior de la ventana de editor de movimiento, vemos títulos de propiedad, valor añadido, facilidad, fotogramas clave y en el gráfico. Los parámetros para cada título aparecerá directamente en estas partidas.
Paso 3 - La aplicación de un simple efecto
Ahora vamos a aplicar un efecto de color simple a la animación. Además de los preestablecidos de movimiento que se aplican antes, vamos a tener la secuencia completa de animación se desvanecen en el 0% al 100%. He aquí cómo hacerlo:
Busque la categoría de efectos de color a la izquierda. En mi ejemplo, yo no puedo ampliar porque mi secuencia de animación no contiene transiciones de color. Para añadir una transición voy a hacer clic en el botón Agregar,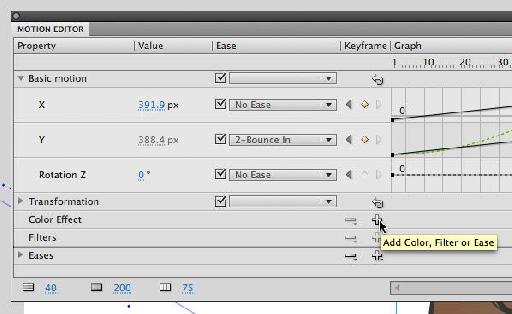 De las opciones que aparecen, elija Alfa. A continuación, asegúrese de que el cabezal de reproducción de color rojo en la línea de tiempo se coloca todo el camino a la derecha (este es el final de la secuencia de animación). Ahora ponga la cantidad Alfa al 100%. A continuación, arrastre la cabeza lectora hasta el final hasta el principio del cambio leftthe sequenceand cantidad de alfa a 0%.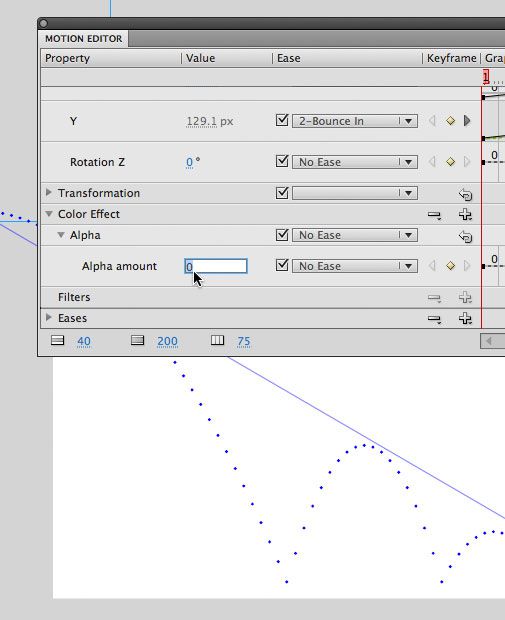 Eso es todo! Trate de jugar de la película hacia atrás, o mejor aún, elija Control
Que se diviertan!