Flash's Motion Editor makes it super-easy to visualize and edit your animation sequences. With it, we can control things like motion, color, effects, easing, and more.
Motion Editor Flash rend très facile à visualiser et éditer vos séquences d'animation. Avec elle, nous pouvons contrôler des choses comme le mouvement, la couleur, effets, assouplissement, et plus encore. Je vais vous épargner le préambule plus, le droit Débutons elle!

Étape 1 - Getting Things Set Up
Pour commencer, appliquer une présélection de mouvement à un symbole sur la scène (Fenêtre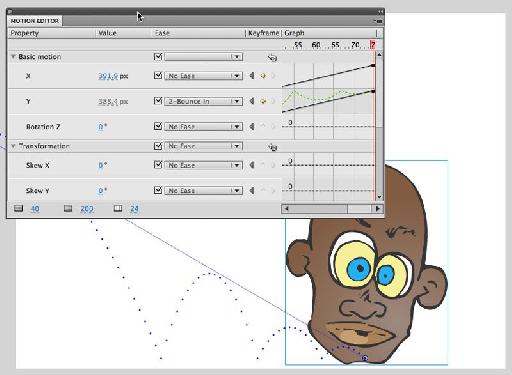 Étape 2 - Visite de la Motion Editor
Comme vous pouvez le voir, il ya tout un tas passe à l'intérieur de l'Editeur de mouvement. Mais nous allons essayer de simplifier les choses ici et diviser le panneau vertical. Sur la droite vous verrez une chronologie avec un tête de lecture. Allez-y et prenez la tête de lecture et faites glisser vers la gauche et de droite pour l'animation que vous avez appliqué ci-dessus via le panneau Présélections de mouvement.
Sur la gauche vous verrez les différentes catégories comme le mouvement de base, la transformation et ainsi de suite. Vous pouvez "twist" de ces catégories ouvertes et fermées à l'aide du triangle à gauche de chaque propriété. Pour simplifier les choses, les tordre toutes fermées sauf pour les mouvements de base (le premier). Notez aussi que, sur la droite, chacune de ces catégories contient des propriétés différentes (comme X, Y et Z Rotation dans les mouvements de base, par exemple), et que chacune de ces propriétés a son propre échéancier sur la droite, ce qui est révélé ou caché quand nous développer ou réduire la catégorie. Les lignes horizontales sur le calendrier de chaque propriété signifie que la propriété n'est pas utilisée, il n'ya rien qui s'y passe. Mais les échéanciers des biens qui ont des lignes oblique ou inclinée indiquent que cette propriété est en usage. Vert lignes pointillées représentent assouplissement.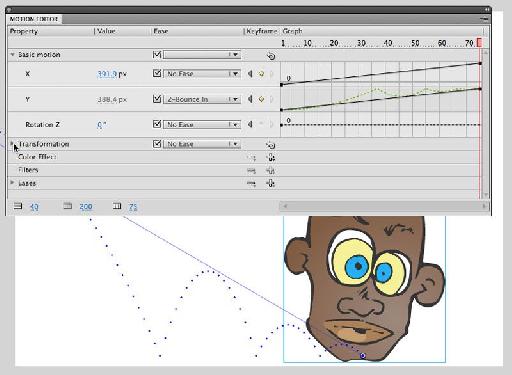 Par ailleurs, dans la partie supérieure de la fenêtre Editeur de mouvement, nous voyons rubriques de la propriété, valeur, leur facilité, Keyframe et graphique. Les paramètres pour chaque rubrique apparaissent directement sous ces rubriques.
Étape 3 - Appliquer un effet simple
Maintenant, nous allons appliquer un effet de couleur simple à notre animation. En plus de la présélection de mouvement que nous avons appliqué plus tôt, nous allons avoir le fondu animation entière séquence de 0% à 100%. Voici comment faire:
Recherchez la catégorie Effet de couleur sur la gauche. Dans mon exemple, je ne peux pas l'étendre parce que ma séquence d'animation ne contient pas de transitions de couleurs. Pour ajouter une transition, je vais cliquer sur le bouton Ajouter,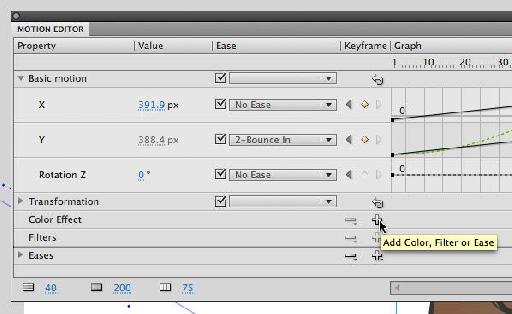 Du choix qui apparaît, choisissez Alpha. Ensuite, assurez-vous que la tête de lecture dans la chronologie est positionné tout le chemin à droite (c'est la fin de la séquence d'animation). Maintenant fixer le montant Alpha à ​​100%. Ensuite, faites glisser le curseur de lecture tout le chemin jusqu'au début leftthe du changement sequenceand au montant Alpha à ​​0%.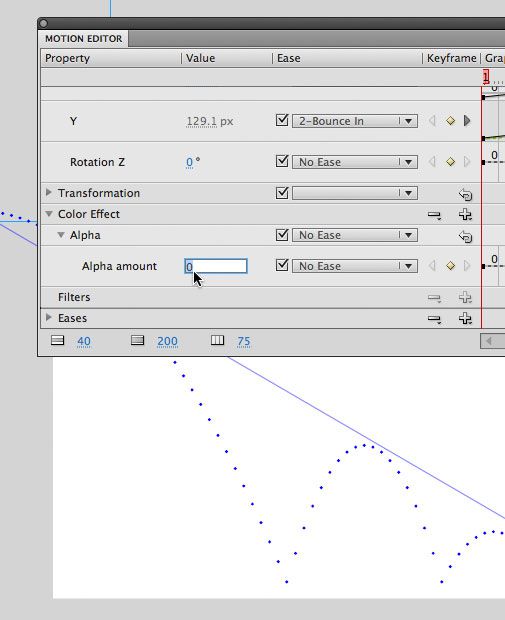 Ça y est! Essayez de jouer votre film, ou encore mieux, choisissez Contrôle
Amusez-vous!