Flash's Motion Editor makes it super-easy to visualize and edit your animation sequences. With it, we can control things like motion, color, effects, easing, and more.
Motion Editor di Flash rende estremamente semplice per visualizzare e modificare le sequenze di animazione. Con esso, siamo in grado di controllare le cose come il movimento, colore, effetti, facilitando e altro ancora. Vi risparmio preambolo più; diritto Tuffiamoci in esso!

Fase 1 - Getting Things Set Up
Per iniziare, applicare un movimento preimpostato a un simbolo sullo stage (Finestra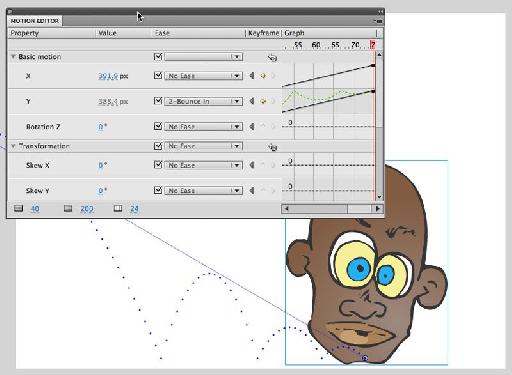 Fase 2 - Touring l'Editor movimento
Come potete vedere, c'è un bel po 'in corso all'interno del Editor movimento. Ma proviamo a semplificare le cose qui e dividere il pannello in senso verticale. Sulla destra vedrete una timeline con un indicatore di riproduzione rosso. Andate avanti e prendete la riproduzione e trascinarla a destra ea sinistra per vedere in anteprima l'animazione si è applicato sopra tramite il pannello Preimpostazioni di movimento.
Sulla sinistra vedrete le varie categorie come il movimento di base, di trasformazione, e così via. Si può "girare" queste categorie aperto e chiuso con il triangolo di apertura a sinistra di ogni proprietà . Per semplificare le cose, ruotare tutti chiusi tranne per il movimento di base (il primo). Si noti anche che a destra, ciascuna di queste categorie contiene varie proprietà (come X, Y, Z e rotazione all'interno del movimento di base, per esempio), e che ciascuna di queste proprietà ha una sua linea temporale sulla destra, che si rivela o nasconde quando abbiamo espandere o comprimere la categoria. Le linee orizzontali sulla timeline di ogni proprietà significa che la proprietà non è in uso, non c'è niente accadendo là . Ma scadenze proprietà che hanno linee inclinate o ad angolo indicano che che la proprietà è in uso. Verde linee tratteggiate rappresentano Easing.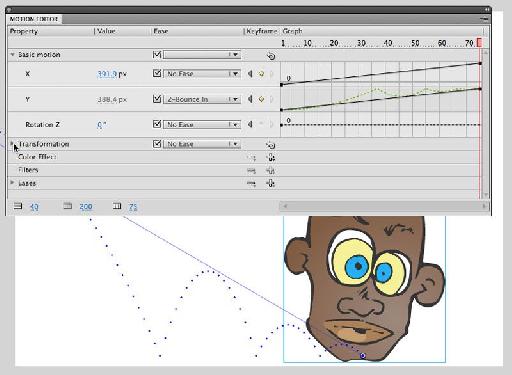 Inoltre, nella parte superiore della finestra Editor movimento, vediamo le intestazioni per la Proprietà , Valore, facilità , Keyframe e Graph. I parametri per ciascuna rubrica appaiono direttamente sotto queste voci.
Fase 3 - Applicazione di un semplice effetto
Ora applicare un semplice effetto colore alla nostra animazione. Oltre ai preset di movimento che abbiamo applicato in precedenza, diamo tutta la sequenza di animazione in dissolvenza da 0% al 100%. Ecco come fare:
Cercare la categoria Effetto colore sulla sinistra. Nel mio esempio, non riesco a espandersi perché la mia sequenza di animazione non contiene transizioni di colore. Per aggiungere una transizione farò fare clic sul pulsante Aggiungi,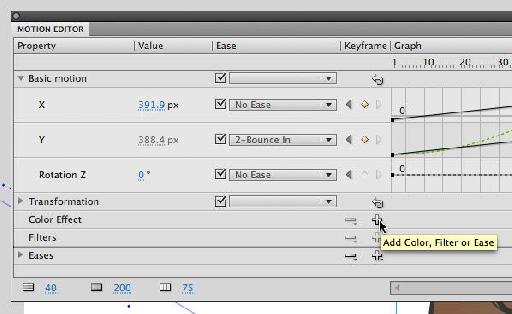 Dalle scelte che appaiono, scegliere Alpha. Quindi, assicurarsi che la barra rossa nella timeline sia posizionato completamente a destra (questa è la fine della sequenza di animazione). Ora impostare la quantità Alpha al 100%. Quindi trascinare l'indicatore di riproduzione fino all'inizio rato uscito del cambiamento sequenceand ammontare Alpha a 0%.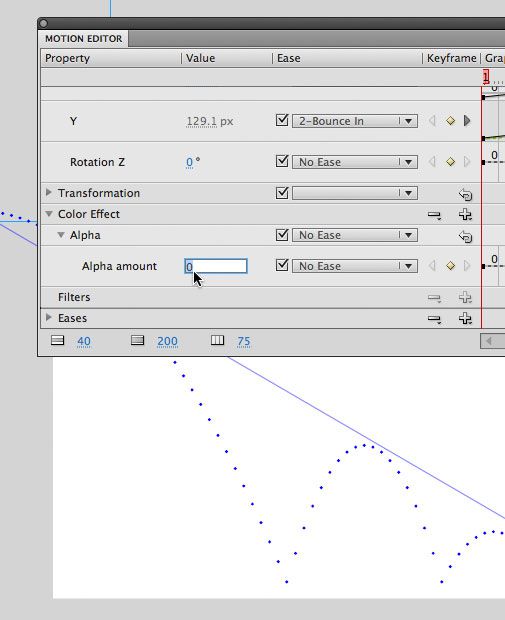 Questo è tutto! Provare a giocare il vostro filmato, o meglio ancora, scegliere di controllo
Buon divertimento!