어도비 플래시 모션 편집기에서 귀하의 첫 번째 ì• ë‹ˆë©"이션 만들기
Flash's Motion Editor makes it super-easy to visualize and edit your animation sequences. With it, we can control things like motion, color, effects, easing, and more.
플래시의 모션 에디터 는 슈퍼 - 쉽게 ì• ë‹ˆë©"이션 시퀀스를 시각í™"í•˜ê³  편ì§'í•  수 있습니다. 그것으로, 우리는 모션, 색상, 효과, 완화, ê·¸ë¦¬ê³  더욱 것들을 ì œì–´í•  수 있습니다. ë'œ ë‹¹ì‹ ì—ê²Œ 더 이상 ì "문ì" ë³´ì¡´ 해주지;하자 다이빙 권리를 그것에!

1 단계 - 상황 ì"¤ì •í•˜ê¸°
ì‹œìž'í•˜ë ¤ë©´ 무대에 기호에 프리셋 모션을 ì ìš©í•©ë‹ˆë‹¤ (ì°½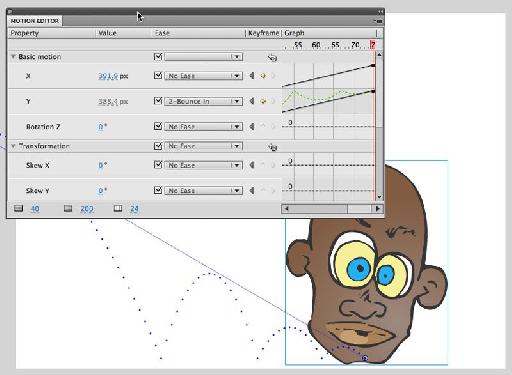 2 단계 - 모션 편집기를 투어링
ë‹¹ì‹ ì´ ë³¼ 수 있듯이, 모션 편집기 내부에서 진행되는 ì "ì²´ 많아요. 하지만 여기 물건을 단순í™"í•˜ë ¤ê³  수직 패널을 분리하자. 오른쪽에 ë‹¹ì‹ ì€ 붉은 헤드와 타임 라인이 나타납니다. ì–´ì"œ 헤드를 ì¥ê³ í•˜ê³  모션 프리셋 패널을 통해 위의 ì ìš©ëœ ì• ë‹ˆë©"이션ì" 미리하는 것이 왼쪽과 오른쪽 드래그합니다.
왼쪽에 기본 움직임, 변형, 등등과 같은 다양한 ì¹´í…Œê³ ë¦¬ë¥¼ ë³¼ 수 있습니다. ë‹¹ì‹ ì€ 오픈이 범주를 "트위스트"각 재산의 왼쪽에있는 공개 삼각형을 사용하여 폐쇄 수 있습니다. 물건을 단순화하기 위해, 그들 모두가 기본 동작 (첫 번째)을 ì œì™¸í•˜ê³  폐쇄 트위스트. 오른쪽에, 이러한 범주 각각의 다양한 속성을 (예를 들어, 기본 운동 이내에 X, Y, 및 회ì " Z 등), í¬í•¨í•˜ê³  이러한 속성의 각 계시거나 ìˆ¨ê²¨ì ¸ 오른쪽에 자체 타임 라인을 ê°€ì§€ê³  ê·¸ ì—­ì‹œ 공지 사항 우리가 범주를 확장하거나 축소하면. 각 속성의 타임 라인에 수평 라인이 속성을 사용하지 않는 것을 의미, 아무것도 일어나는 없어. 그러나 경사 또는 직각 라인을 ê°€ì§€ê³  재산 ì¼ì •ì€ 재산이 ì'¬ìš©ë˜ê³ 있ëŠ" 것으로 나타났습니다. 녹색 ì ì"  라인 완화를 나타냅니다.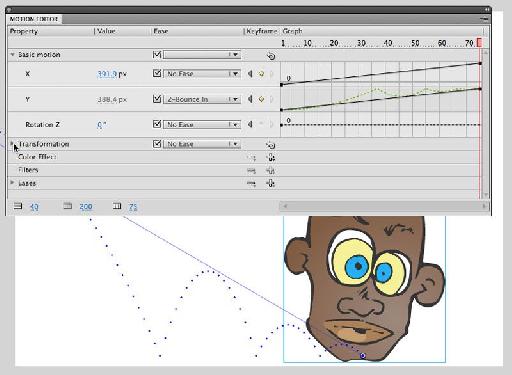 또한, 모션 편집기 창의 맨 위에, 우리는 부동산 ê°', 용이성, 키프 ë ˆìž" 및 그래프를위한 ì œëª©ì" 참조하십시오. 각 ì œëª©ì— 대한 매개 변수가 직ì 'ì ìœ¼ë¡œ 해당 ì œëª© 아래에 나타납니다.
3 단계 - 간단한 효과를 ì ìš©
ì´ì œ 우리 ì• ë‹ˆë©"이션에 간단한 컬러 효과를 ì ìš©í•˜ìž. 모션 프리셋 이외에 우리가 이ì "에 ì ìš©ë˜ëŠ",의 0 %에서 100 %에서 ì "ì²´ ì• ë‹ˆë©"이션 시퀀스 퇴색 í•´ 줘요. 그것을 í•  방법은 다음과 같습니다
왼쪽에있는 컬러 효과 범주를 찾아보십시오. ë'´ ì• ë‹ˆë©"이션 시퀀스 ì–´ë–¤ 색상 ì "환ì" 포함하지 않기 때문에 나의 ì˜ˆì œì—ì"œ, 나는 그것을 í™•ìž¥í•  수 없습니다. ì "환ì" ì¶"ê°€í•˜ë ¤ë©´ ì œê°€ 추가 버튼을 클릭 겁니다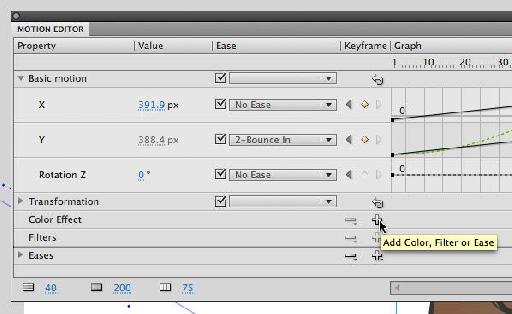 나타나는 ì" 택에ì"œ 알파를 ì" 택합니다. 다음, 타임 라인에서 빨간색 헤드가 오른쪽에있는 모ë"  방법을 위치이다 (이것은 ì• ë‹ˆë©"이션 시퀀스의 마지막입니다) 있는지 확인합니다. ì´ì œ 알파 금액 100 %ë¡œ ì"¤ì •í•©ë‹ˆë‹¤. 그런 다음 헤드에게 알파 금액 0 %ë¡œ sequenceand 변화의 leftthe 처음으로 모ë"  방법을 끕니다.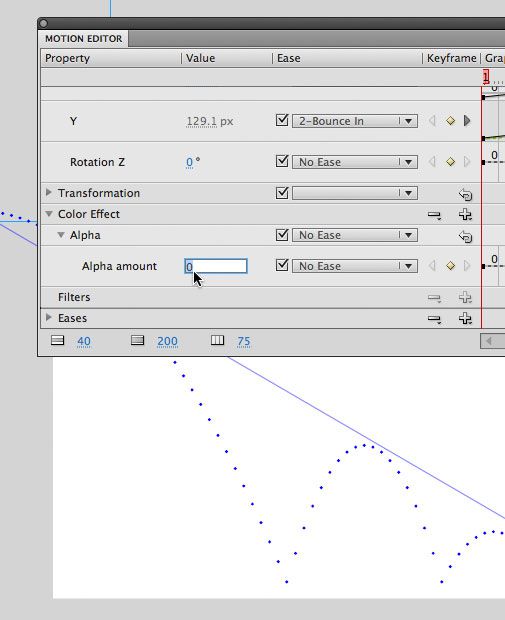 바로 그거야! 다시 동영상을 재생 해보거나 더, ì œì–´ë¥¼ ì" 택합니다
재밌게 보내!