Geting down and dirty (musically, of course) is G.W. Childs IV's speciality. So when you need some extra grit and aggression in your GarageBand compositions then he's the man to consult!
Lets face it: GarageBand, so schön wie sie ist, hat ein Stigma, mit dem es verbunden ist. Nein, seine wahre. Diejenigen von uns, dass es bisher getan haben elektronische Musik für eine lange Zeit haben diese Idee, dass GarageBand wird vor allem von älteren Herren mit Pferdeschwanz für ihre progressive Jazz-Alben verwendet. Und wenn Im falschen projizieren diese auf, um den Rest meiner Kollegen, oder ich war einfach völlig out to lunch, bis jetzt ... Nun, hey, wenigstens jemand anderes hat aufgewacht richtig?
GarageBand tatsächlich kann für jede Art von Musik verwendet werden, solange Sie nicht die fröhliche kleine Instrument Bildern Geist. Alles ist da, und hat erst seit heute.
Ein Freund von mir reacquainted mich mit dieser Tatsache vor kurzem, als er ließ mich zu hören sein sehr wütend, verzerrt, industrielle Musik, die er vollständig war in GarageBand. Hes wurden unter Verwendung elektronischer MIDI-Geräte seit Jahren, aber vorsätzlich eine der Late Adopters von Computer-Musik-Technologie einfach aufgrund der Zeit, und seine Wahrnehmung der Haushaltsführung.
Vor kurzem hat er den Sprung, und seine Leistungen waren herausragend. Und führte diese mich auf die Idee, dass es gut sein könnte, alle anderen mit der zerstörerischen Seite der GarageBand reacquaint. Ja, Sie können wirklich schaffen eine erstaunliche Kenny G Tribute-Album mit GarageBand. Aber können Sie auch quälen Kinder mit Ihren schiere Böse mit GarageBand, too!
Schritt 1 - AU
Anstatt mit einem Apple-Loop, dachte ich, es wäre schön, mein eigenes Drum-Loop mit einer AU-Plug-in, dass Ich mag ziemlich viel wie Microtonic, die erstaunlich Funktionen innerhalb GarageBand bekannten erstellen.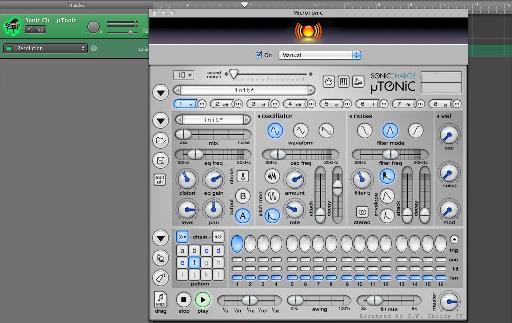 Heres ein Beispiel für die grundlegende Drum-Loop ohne Verarbeitung mit Ausnahme von ein kleines bisschen von Verzerrungen auf den Kick, Microtonic liefert bereits.
[Audio id = "10959"]
Schritt 2 - Lets fügen Sie einige Garage Bitcrush
Es ist jetzt Zeit zu sehen, was GarageBand tun können. Natürlich, theres immer Bitcrusher. Zugegeben, seine Art eine Selbstverständlichkeit. Aber können hören, was diese ergänzt.

[Audio id = "10961"]

Youll Bekanntmachung im obigen Bild, dass die Auflösung eingestellt ist ziemlich niedrig. Ein Weg, um Bitcrusher zu verstehen, ist, den Sinn hinter diesem Knopf zu verstehen. Seine viel wie eine Zeitmaschine. Je weiter Sie den Regler nach links, je älter die Bitcrusher wird Ihr Gerät Sound zu machen, in Bezug auf die Abtastrate und Auflösung. Also gingen wir einfach ab 2011 bis 1982 in Bezug auf die Qualität der Proben. Es ist viel lauter als man hören kann, und fügt ziemlich viel Schmutz!
Die Automatisierung der Bitcrusher in GarageBand gibt auch dieser Effekt ein ganz neues Leben ...

[Audio id = "10960"]

Versuchen Sie, die Automatisierung der Auflösung in den verschiedenen Teilen des Songs. Seine awesome!
Schritt 3 - Unterschätzen Sie nie Amp Simulation
Ein weiterer Irrtum, besonders dort, wo Im betrifft, ist zu denken, amp Simulatoren sind nur für Rush Coverbands nützlich. Nope, sind Verstärkersimulationen recht kühl für Schlagzeug, Gitarre, Stimme, und alles, was man durch sie hindurch laufen Sie bringen Farbe, Leben und grrrrrowl!
Erstens können hören, was der Amp-Simulator auf eigene fügt hinzu: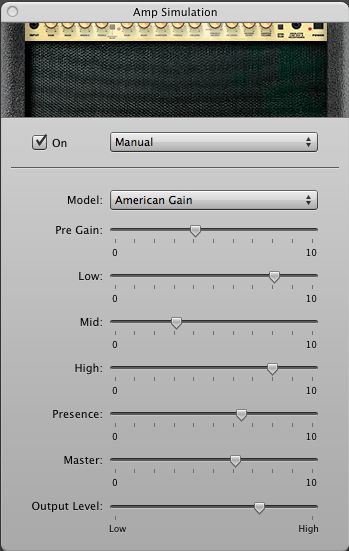 [Audio id = "10962"]
Youll feststellen, dass ich wirklich reduziert den Midrange-EQ-Einstellung. Obwohl Im läuft nur Schlagzeug gerade jetzt, wenn ich Gitarre, Synthesizer, Stimme, oder etwas anderes hinzuzufügen, Ill brauchen Platz für diejenigen in meinem Mix. Nichts nimmt viel Platz wie eigentlich midrangey Schlagzeug.
Nun laßt uns versuchen, indem in der Bitcrusher mit dem Amp Simulator. Und Ill in ein paar ziemlich steif Kompression hinzu, um meinen Trommeln Punsch!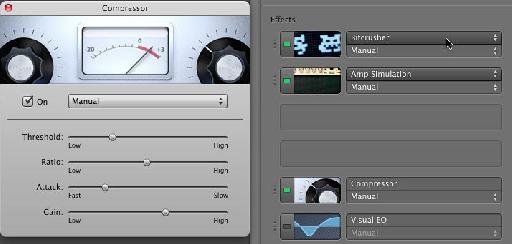 [Audio id = "10963"]
Whoa! Insgesamt mit der Kompression habe ich eine viel engere, grittier Schleife, als ich vorher hatte. Die Kompression wirklich brachte den Angriff der Trommeln, die Bitcrusher durch die Amp-Simulator erweitert. Theres viel zu mischen und in GarageBand entsprechen. Probieren Sie es aus, können Sie feststellen, das Geräusch youve gesucht ... Besonders, wenn Sie schmutzig, dunkel und traumatischen möchten. Im hingehen Bürste meinem Pferdeschwanz jetzt.