Geting down and dirty (musically, of course) is G.W. Childs IV's speciality. So when you need some extra grit and aggression in your GarageBand compositions then he's the man to consult!
Seamos realistas: GarageBand, tan hermosa como es, tiene un estigma asociado a ella. No, es verdad. Aquellos de nosotros que hemos estado haciendo música electrónica desde hace mucho tiempo que esta idea de que GarageBand se usa principalmente por mayores caballeros con una cola de caballo para sus discos de jazz progresivo. Y, si estoy equivocado en la proyección de este en el resto de mis colegas, o yo estaba completamente fuera a comer, hasta ahora ... Bueno, bueno, al menos alguien ha despertado, ¿verdad?
GarageBand en realidad puede ser utilizado para cualquier tipo de música, siempre y cuando no le importa las fotos poco alegre instrumento. Todo está ahí, y ha sido por algún tiempo.
Un amigo mío me reencontré con este hecho hace poco, cuando me dejó escuchar su muy enojado, música distorsionada, industrial que hizo completamente en GarageBand. Hes estado utilizando dispositivos MIDI electrónicos durante años, pero ha sido intencionalmente uno de los adoptantes tardíos de la tecnología informática de música, simplemente por falta de tiempo, y su percepción del sonido.
Recientemente, ha dado el salto, y sus logros eran estelares. Y esto me llevó a la idea de que podría ser bueno para volver a familiarizarse con todos los demás el lado destructivo de GarageBand. Sí, usted puede realmente crear un sorprendente Kenny G álbum tributo con GarageBand. Sin embargo, también puede atormentar a los niños con el mal puro con GarageBand, también!
Paso 1 - AU
En lugar de utilizar un bucle Apple Loops, pensé que sería bueno para crear mi propio loop de batería utilizando un plug-in AU que me gusta bastante conocido como Microtonic, que funciona sorprendentemente dentro de GarageBand.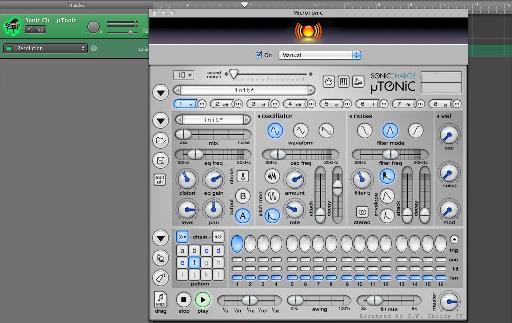 Aquí está una muestra del loop de batería básico, sin procesar, con la excepción de una leve distorsión de la patada que Microtonic ya está suministrando.
[Audio id = "10959"]
Paso 2 - Permite añadir un poco de Bitcrush Garaje
Ahora es el momento para ver qué puede hacer GarageBand. Por supuesto, siempre hay la Bitcrusher. Concede, el tipo de un hecho. Sin embargo, permite escuchar lo que esta suma.

[Audio id = "10961"]

Youll aviso en la imagen de arriba que la resolución se ajusta bastante bajo. Una manera de entender Bitcrusher, es entender el significado detrás de la perilla. Su muy parecido a una máquina del tiempo. Cuanto más se mueva la manija hacia la izquierda, mientras mayor es el Bitcrusher va a hacer el sonido de su dispositivo, en términos de frecuencia de muestreo y resolución. Por lo tanto, nos fuimos a partir de 2011, a 1982 en términos de calidad de la muestra. Es mucho más ruido a medida que se puede escuchar, y añade un poco de tierra!
La automatización de la Bitcrusher en GarageBand también le da a este efecto una nueva vida ...

[Audio id = "10960"]

Trate de automatizar la resolución de diferentes partes de la canción. Su impresionante!
Paso 3 - Nunca hay que subestimar simulación de amplificador
Otro concepto erróneo, especialmente cuando Im que se trate, es pensar en los simuladores de amplificador sólo son útiles para bandas de covers de Rush. No, los simuladores de amplificador se encuentran bastante distanciadas de los tambores, la voz de la guitarra, y todo lo que se puede ejecutar a través de ellos dan color, vida y grrrrrowl!
En primer lugar, vamos a escuchar lo que el simulador de amplificador añade por su cuenta: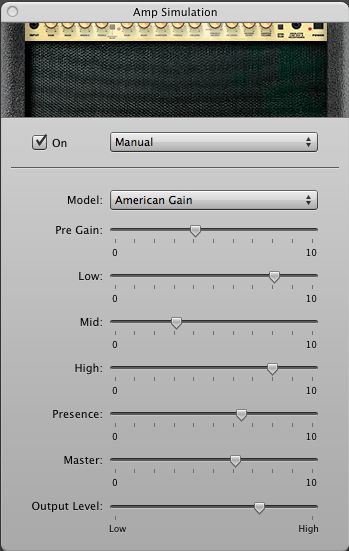 [Audio id = "10962"]
Youll cuenta de que realmente reduce el ajuste de gama media de EQ. A pesar de que estoy corriendo sólo los tambores en este momento, si añado la guitarra, sintetizador, voz, o cualquier otra cosa, enfermos necesitan espacio para aquellos que dentro de mi mezcla. Nada ocupa mucho espacio como los tambores realmente midrangey.
Ahora, vamos a probar a añadir en el Bitcrusher con el simulador de amplificador. Y, en algunos enfermos añadir compresión bastante rígida para dar mi batería un poco de ponche!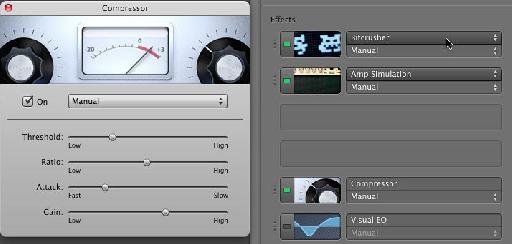 [Audio id = "10963"]
Whoa! En total, con la compresión, yo tengo una mucho más estrecha, el lazo más valiente de lo que había antes. La compresión realmente llevó a cabo el ataque de los tambores, el bitcrusher se ve aumentada por el simulador de amplificador. Theres mucho más para mezclar y combinar dentro de GarageBand. Pruébelo, es posible que el youve estado buscando el sonido ... Sobre todo, si te gusta sucio, oscuro y traumático. Me voy a ir a lavarme cola de caballo ahora.