Geting down and dirty (musically, of course) is G.W. Childs IV's speciality. So when you need some extra grit and aggression in your GarageBand compositions then he's the man to consult!
Permet de face: GarageBand, aussi belle soit-elle, a un stigmate qui lui est associé. Non, c'est vrai. Ceux d'entre nous qui ont été faites la musique électronique pendant une longue période ont cette idée que GarageBand est utilisé principalement par les plus âgés avec des queues de cheval messieurs pour leurs albums de jazz progressif. Et, si Im mal à projeter cela sur le reste de mes collègues, ou j'étais juste complètement à déjeuner, jusqu'à maintenant ... Eh bien, bon, au moins quelqu'un d'autre s'est réveillé, non?
GarageBand peut effectivement être utilisé pour tout type de musique, tant que vous n'avez pas l'esprit les images de joyeux petit instrument. Tout y est, et a été pendant quelque temps.
Un de mes amis m'a renouer avec ce fait récemment quand il m'a laissé entendre sa très en colère, déformée, de la musique industrielle qu'il ne complètement dans GarageBand. Hes été en utilisant du matériel MIDI électroniques depuis des années, mais a été délibérément l'un des adopteurs tardifs de la technologie de l'informatique musicale tout simplement à cause du temps, et sa perception du son.
Récemment, il a fait le saut, et ses réalisations ont été stellaire. Et cela me conduit à l'idée qu'il pourrait être bon de faire redécouvrir tout le monde avec le côté destructeur de GarageBand. Oui, vous ne pouvez vraiment créer un album étonnant Kenny G hommage avec GarageBand. Mais, vous pouvez aussi tourments des enfants avec votre mal pur à l'aide de GarageBand, aussi!
Étape 1 - UA
Plutôt que d'utiliser une boucle Apple Loop, j'ai pensé qu'il serait sympa de créer ma propre boucle de batterie en utilisant un plug-in de l'UA que j'aime un peu connu comme Microtonic, qui fonctionne étonnamment au sein de GarageBand.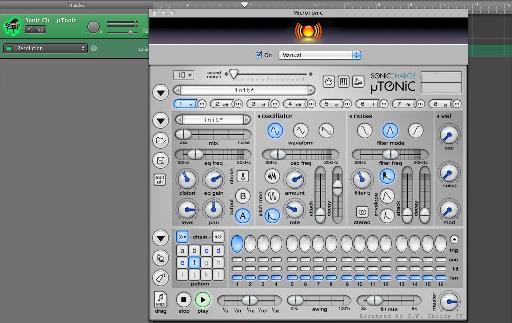 Heres un échantillon de la boucle de batterie de base, sans traitement, à l'exception d'un léger peu de distorsion sur le coup de pied qui Microtonic fournit déjà .
[Audio id = "10959"]
Étape 2 - Permet d'ajouter une certaine Bitcrush Garage
Il est maintenant temps de voir ce que GarageBand peut faire. Bien sûr, il ya toujours l'BitCrusher. Certes, son genre d'une donnée. Mais laisse entendre ce que cela ajoute.

[Audio id = "10961"]

Youll préavis dans l'image ci-dessus que la résolution est réglée assez bas. Une façon de comprendre Bitcrusher, est de comprendre le sens derrière ce bouton. C'est un peu comme une machine de temps. Plus vous déplacez le bouton vers la gauche, plus l'Bitcrusher va faire sonner votre appareil, en termes de taux d'échantillonnage et la résolution. Donc, nous sommes allés à partir de 2011, à 1982 en termes de qualité de l'échantillon. Son beaucoup plus bruyant que vous pouvez entendre, et ajoute un peu de saleté!
Automatisation de la Bitcrusher dans GarageBand donne aussi cet effet une toute nouvelle vie ...

[Audio id = "10960"]

Essayez d'automatiser la résolution dans différentes parties de la chanson. Son impressionnant!
Étape 3 - Ne sous-estimez simulation d'ampli
Une autre idée fausse, surtout lorsque Im concernés, est de penser à des simulateurs d'ampli ne sont utiles que pour les bandes couvrent Rush. Nope, simulateurs d'amplis sont assez cool pour batterie, guitare, voix, et tout ce que vous pouvez exécuter à travers eux Ils ajoutent de la couleur, la vie et grrrrrowl!
Tout d'abord, laisse entendre ce que le simulateur d'ampli ajoute sur son propre: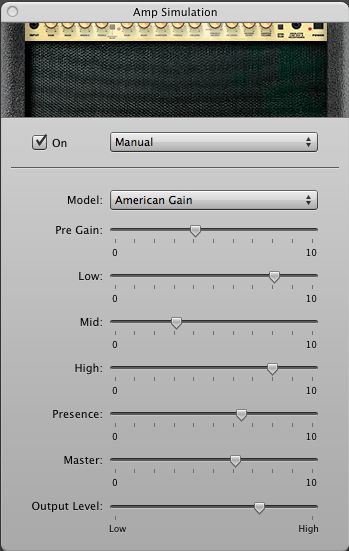 [Audio id = "10962"]
Youll remarquerez que j'ai vraiment réduit le réglage EQ médium. Même si Im ne tourne tambours dès maintenant, si je ajouter guitare, synthé, voix, ou autre chose, Ill besoin d'espace pour ceux qui au sein de mon mix. Rien prend beaucoup d'espace comme les tambours vraiment midrangey.
Maintenant, essayons d'ajouter dans le Bitcrusher avec le simulateur d'ampli. Et, Ill ajouter dans une certaine compression assez raide pour donner mon tambours du punch!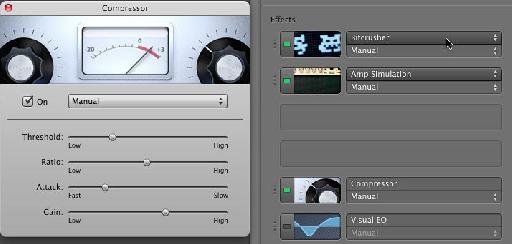 [Audio id = "10963"]
Whoa! Au total, avec la compression, j'ai un beaucoup plus serré, moins élégants que les boucles que j'avais avant. La compression a vraiment apporté à l'attaque de la batterie, le bitcrusher est encore augmentée par le simulateur d'ampli. Theres beaucoup plus de mélanger et assortir au sein de GarageBand. Essayez, vous pouvez trouver le youve été sonores recherchez ... Surtout, si vous aimez sale, sombre et traumatisante. Im va aller me brosser les queues de cheval aujourd'hui.