Geting down and dirty (musically, of course) is G.W. Childs IV's speciality. So when you need some extra grit and aggression in your GarageBand compositions then he's the man to consult!
Lascia la faccia esso: GarageBand, bella come lo è, è uno stigma ad esso associato. No, il suo vero. Quelli di noi che hanno fatto musica elettronica per molto tempo hanno questa idea che GarageBand è utilizzato principalmente da anziani signori con coda di cavallo per il loro album di jazz progressivo. E, se Im sbagliato nel progettare questo al resto dei miei colleghi, o stavo completamente fuori a pranzo, fino ad ora ... Bene, hey, almeno qualcuno si è svegliato, vero?
GarageBand in realtà può essere utilizzato per qualsiasi tipo di musica, fino a quando non vi dispiace le immagini allegro piccolo strumento. Tutto è lì, ed è stato per qualche tempo.
Un mio amico mi ha fatto riprendere contatto con questa recente, quando mi fece sentire la sua molto arrabbiato, distorta, musica industriale che ha fatto completamente in GarageBand. Hes usato elettronico dispositivi MIDI per anni, ma è volutamente stato uno degli adottanti fine della tecnologia informatica musicale semplicemente dovuto al tempo, e la sua percezione del suono.
Recentemente, ha fatto il salto, e suoi risultati sono stati stellari. E questo mi ha portato all'idea che potrebbe essere buona per riprendere in tutti gli altri con il lato distruttivo di GarageBand. Sì, è davvero possibile creare un album tributo straordinario Kenny G con GarageBand. Ma, è anche possibile tormentare i bambini con la tua malvagità pura con GarageBand, anche!
Fase 1 - AU
Piuttosto che usare un loop Apple, ho pensato che potrebbe essere bello creare il mio ciclo personale tamburo utilizzando un plug-in AU che mi piace un bel po 'conosciuto come Microtonic, che funziona sorprendentemente in GarageBand.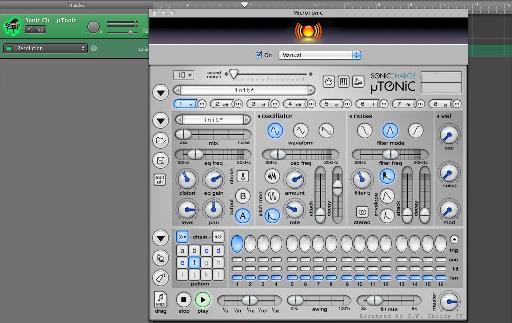 Heres un campione del loop di batteria di base senza alcuna elaborazione con l'eccezione di un po 'leggera distorsione sul calcio che Microtonic è già fornendo.
[Audio id = "10959"]
Fase 2 - Consente di aggiungere un po 'Bitcrush Garage
È giunto il momento di vedere cosa GarageBand può fare. Naturalmente, c'è sempre il Bitcrusher. Certo, il suo tipo di dato. Ma lascia ascoltare ciò che questa aggiunge.

[Audio id = "10961"]

Youll notare nell'immagine sopra che la risoluzione è impostata piuttosto basso. Un modo per capire Bitcrusher, è quello di capire il significato dietro la manopola. Il suo un po 'come una macchina del tempo. Più si allontana la manopola verso sinistra, il vecchio Bitcrusher è andare a fare il vostro suono dispositivo, in termini di frequenza di campionamento e risoluzione. Così, siamo andati dal 2011, al 1982 in termini di qualità del campione. La sua molto più rumorose, come si può sentire, e aggiunge un po 'di sporcizia!
Automatizzare il Bitcrusher in GarageBand dà anche questo effetto una nuova vita ...

[Audio id = "10960"]

Prova automatizzando la risoluzione in diverse parti del brano. La sua impressionante!
Fase 3 - Mai sottovalutare Amp Simulation
Un altro malinteso, specialmente dove Im interessati, è di pensare simulatori di amplificatori sono utili solo per la cover band Rush. No, simulatori di amplificatori sono abbastanza cool per batteria, chitarra, voce, e tutto ciò che è possibile eseguire attraverso di loro Essi aggiungono colore, la vita e grrrrrowl!
In primo luogo, consente di ascoltare ciò che il simulatore di amplificatore aggiunge da solo: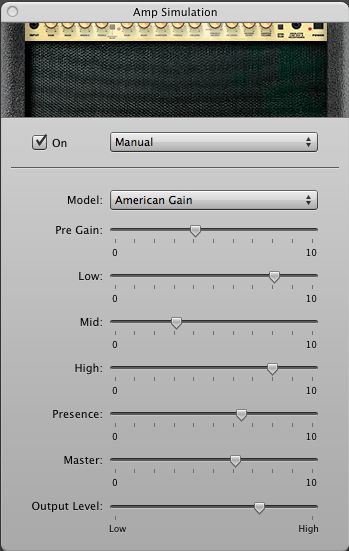 [Audio id = "10962"]
Youll notare che ho davvero ridotto l'impostazione midrange EQ. Anche se Im solo in esecuzione batteria in questo momento, se si aggiunge la chitarra, synth, voce o qualsiasi altra cosa, Ill bisogno di spazio per coloro che all'interno del mio mix. Niente prende un sacco di spazio come tamburi davvero midrangey.
Ora, consente di provare ad aggiungere in Bitcrusher con l'Amp Simulator. E, Ill aggiungere qualche compressione abbastanza rigida per dare la mia batteria del punch!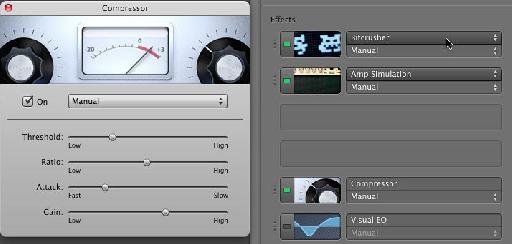 [Audio id = "10963"]
Whoa! Complessivamente, con la compressione, ho una molto più stretto, anello più grintoso di quanto avessi prima. La compressione veramente portato l'attacco dei tamburi, il Bitcrusher è ulteriormente aumentata dal simulatore di amplificatore. C'è molto più di mescolare e abbinare all'interno di GarageBand. Provatelo, è possibile trovare il youve suono state cercando ... Soprattutto, se vi piace sporco, buio e traumatico. Im intenzione di andare lavarmi coda di cavallo ora.