Geting down and dirty (musically, of course) is G.W. Childs IV's speciality. So when you need some extra grit and aggression in your GarageBand compositions then he's the man to consult!
Vamos enfrentá-lo: GarageBand, tão linda como é, tem um estigma associado com ele. Não, a sua verdade. Aqueles de nós que têm vindo a fazer música eletrônica há muito tempo têm essa idéia de que GarageBand está sendo usada principalmente pelos senhores mais velhos, com rabos de cavalo para os seus álbuns de jazz progressivo. E, se Im errado em projetar isso para o resto dos meus colegas, ou eu estava completamente fora para almoçar, até agora ... Bem, hey, pelo menos, alguém tem de acordar, certo?
GarageBand realmente pode ser usado para qualquer tipo de música, contanto que você não mente a cheery imagens pequeno instrumento. Tudo está lá, e foi por algum tempo.
Um amigo meu me reacquainted com este fato recentemente quando ele me deixou ouvir sua muito irritado, música, industrial distorcida que ele fez completamente no GarageBand. Hes vindo a utilizar equipamentos eletrônicos MIDI por anos, mas, intencionalmente sido um dos adotantes tardios da tecnologia de computação musical simplesmente devido ao tempo, e sua percepção do som.
Recentemente, ele fez o salto, e suas realizações foram estelar. E, isso levou-me à idéia de que poderia ser bom para todo mundo reacquaint com o lado destrutivo do GarageBand. Sim, você realmente pode criar um álbum de tributo incrível Kenny G com o GarageBand. Mas, você também pode atormentar as crianças com sua maldade pura utilizando GarageBand, também!
Passo 1 - AU
Ao invés de usar um loop Apple, eu pensei que poderia ser bom para criar o meu próprio loop de bateria usando um plug-in AU que eu gosto bastante conhecido como Microtonic, que funciona incrivelmente dentro GarageBand.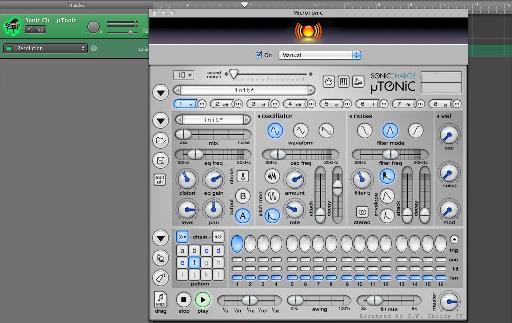 Heres uma amostra do loop de bateria básica, sem um tratamento com exceção de um pouco ligeira distorção sobre o chute que Microtonic já está fornecendo.
[Audio id = "10959"]
Passo 2 - Vamos adicionar algumas Bitcrush Garagem
Agora é hora de ver o GarageBand pode fazer. Claro, há sempre o Bitcrusher. Concedido, o seu tipo de dado. Mas vamos ouvir o que isso acrescenta.

[Audio id = "10961"]

Youll aviso na imagem acima que a resolução está muito baixa. Uma maneira de entender Bitcrusher, é compreender o significado por trás desse botão. Sua muito como uma máquina do tempo. Quanto mais longe você mover o botão para a esquerda, a mais velha a Bitcrusher vai fazer o seu som dispositivo, em termos de taxa de amostragem e resolução. Então, nós apenas fomos a partir de 2011, a 1982 em termos de qualidade da amostra. Seu muito ruidosos, como você pode ouvir, e adiciona um pouco de sujeira!
Automatizando o Bitcrusher no GarageBand também dá esse efeito uma nova vida ...

[Audio id = "10960"]

Tente automatizar a resolução em diferentes partes da canção. Sua incrível!
Passo 3 - Nunca subestime Simulação Amp
Outro equívoco, especialmente onde Im em causa, é pensar simuladores ampères são úteis somente para bandas cover do Rush. Nope, simuladores ampères são bastante legal para bateria, guitarra, voz, e qualquer coisa que você pode executar através deles Eles acrescentam vida, cor e grrrrrowl!
Primeiro, vamos ouvir o que o simulador de amplificador acrescenta por conta própria: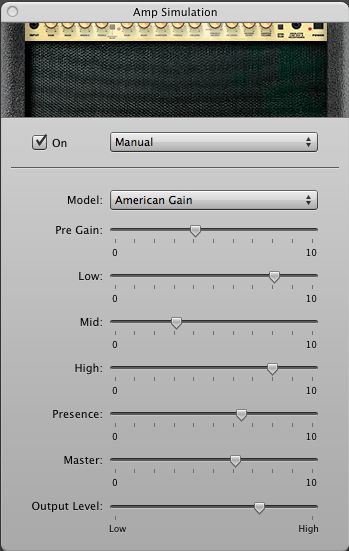 [Audio id = "10962"]
Youll perceber que eu realmente reduziu o midrange definição EQ. Embora Im apenas executando bateria agora, se eu adicionar synth, guitarra, voz, ou qualquer outra coisa, eu vou precisar de espaço para aqueles que dentro do meu mix. Nada ocupa muito espaço como tambores realmente midrangey.
Agora, vamos tentar adicionar no Bitcrusher com o Amp Simulator. E, Ill adicionar em alguma compressão bastante rígida para dar alguns socos minha bateria!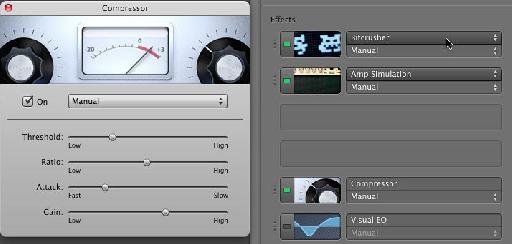 [Audio id = "10963"]
Whoa! Ao todo, com a compressão, eu tenho um laço muito mais apertado, mais corajosos do que eu tinha antes. A compressão realmente trouxe o ataque dos tambores, o bitcrusher é mais ampliado pelo simulador de amp. Theres muito mais para misturar e combinar dentro GarageBand. Experimentá-lo, você pode encontrar o youve som está procurando ... Especialmente, se você gosta de sujo, escuro, e traumática. Im indo para ir escovar meu rabo de cavalo agora.