Nobody enjoys being trapped in a cramped space. Neither does your music! G.W. Childs gives some useful pointers on how to create space in your mix in GarageBand.
Lets face it, macht GarageBand Musik Spaß. Fun in dem Sinne, dass man leicht in jedem Instrument, das Sie jemals wollte, mit zu arbeiten, und es hört sich toll an zu bringen. Es macht Spaß, auch in dem Sinne, dass sie die Dinge einfach macht!
So, können Sie daraus jetzt:
Makes music fun

Anything you bring in sounds great

Makes things easy
Nun, wenn die Dinge so gut klingen, wenn ihr so ​​einfach und macht Spaß, warum nicht alle Mixe kommen aus GarageBand klingen erstaunlich?
Ein weit verbreitetes Missverständnis, mit dem Mischen ist, dass, wenn alles in der Mischung ist voll, vibrierend, und riesige, die ganze Mischung wird gut klingen. Da alle Loops, Instrumente und Schlagzeug schon riesig in GarageBand, das oft bedeutet, dass, wenn Sie alle diese großen Elemente zusammen, dass youll diese riesige Wand aus Klang zu erhalten. Und, ja, "Wall of Sound" klingt auf dem Papier gut, aber das bedeutet oft pure Kraft ohne Definition.
Letztlich
Schritt 1 - Starten Sie mit dem Drums ...
Es ist eine gängige Praxis bei allen Ingenieuren und Produzenten zu Beginn der Arbeit mit den Trommeln zuerst. Und das mit gutem Grund: Schlagzeug und Bass bilden das Fundament des Songs!
Ein weiterer Grund für den Start mit Trommeln wäre, dass sie das einfachste Element des Songs neigen. Es ist einfach, solo ihnen, sie fühlen sich ein bisschen, und dann, wenn sie einen hervorragenden Klang solo eine andere Spur zu spielen mit ihnen.

Loops neigen dazu, die vorherrschende Mode, in der Trommeln, Songs in GarageBand, als die bevorzugte Methode der mit allen Trommeln getrennt Gegensatz angewendet werden. Lassen Sie uns untersuchen, wie man Drum-Loops größer. Compression würde normalerweise den Weg youd gehen, um Schlagzeug stand mehr, aber die Loops in GarageBand sind ziemlich komprimiert schon. Stattdessen, und da wollten um Platz zu schaffen, lässt ein wenig Luft. Ill eine kleine Menge von Hall aus der Registerkarte Bearbeiten meiner Trommeln auf meinen Kick-Snare-Drum-Loop.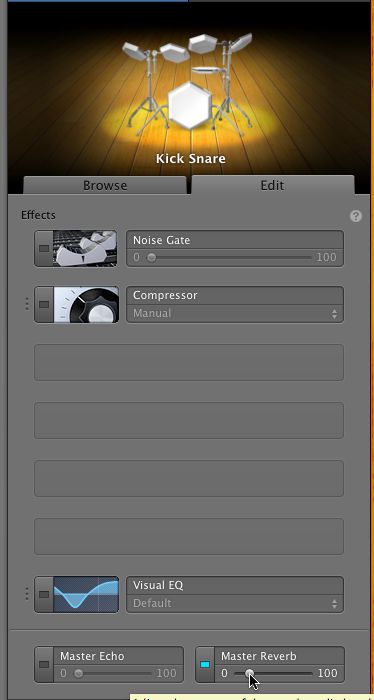 Hier ist mein Haupt-Drum-Loop vor:
[Audio id = "10012"]
...
[Audio id = "10013"]
Reverb ist für das Hinzufügen von ein wenig Dimension ... wenn sie im Lichte Mengen verwendet. Aber wenn sie richtig eingesetzt, es neigt immer dazu, Luft aus der Mischung, geben Sie ihm Dimension, öffnen Sie es ein wenig.
Schritt 2 - Stufen-und Panning
Sobald die wichtigsten Trommeln fertig sind, wobei in diesem Fall einen Kick und Snare-Schleife, seine Zeit, um mit der hallo-Hüte-Arbeit und andere höhere Frequenz Instrumente in Ihrem Mix.
Bringen Sie in jedem Element Solo-Taster von Solo-Taste. Wie hören Sie jedes Teil hinzugefügt, vergleichen Sie gegen Ihren Kick und Snare. Wenn das zusätzliche Element ist zu laut oder zu leise im Vergleich zu denen, die Lautstärkeregler auf das Niveau einstellen.

Sobald Sie den Ebenen rechts, heres etwas anderes zu denken: Wie würde die Band auf der Bühne positioniert werden? Würden die hallo-Hut in der Mitte des Drum-Kits werden? Nope. Es wäre an der Seite des Drum-Kits, wie alle hallo-Hüte werden. Mit dem Pan-Regler in GarageBand, können Sie das hallo-Hut stereophon Neupositionierung innerhalb des Sets auf, wo er sitzt nach rechts oder links.

Panning ist oft sehr stark durch neue Produzenten und Ingenieure nicht beachtet, aber wenn man darüber nachdenkt, bewegliche Sachen, die links und rechts schafft eine Offenheit in der Mitte Ihres mischen, während Sie Musik hören. Dies ermöglicht den Kick in der Mitte sitzen, Gesang, in der Mitte sitzen, aber alle anderen Elemente sind um diese wesentlichen Elemente so angeordnet, dass Sie ... Raum!
Nun, weve bekommen die hallo-Hut gesorgt, das Schlagzeug, etc. Jetzt wäre ein guter Zeitpunkt, um einen Blick auf einige Bass zu nehmen. Stay tuned, um die Drehscheibe für einige Tricks auf phattening Ihr Bass in GarageBand!