Nobody enjoys being trapped in a cramped space. Neither does your music! G.W. Childs gives some useful pointers on how to create space in your mix in GarageBand.
Deja la cara él, GarageBand se burla de música. Diversión en el sentido de que usted puede traer fácilmente en cualquier otro instrumento que el youve siempre quiso trabajar, y suena muy bien. Es divertido, también en el sentido de que hace las cosas fáciles!
Por lo tanto, vamos a desglosar esta información por ahora:
Makes music fun

Anything you bring in sounds great

Makes things easy
Bueno, si las cosas suenan tan bien, si su tan fácil y divertido, ¿por qué no todos los de las mezclas de sonido que sale de GarageBand increíble?
Un error común de mezclar es que si todo en la mezcla está lleno, vibrante, y enorme, toda la mezcla suena genial. Debido a que todos los bucles, los instrumentos, y los tambores son ya enormes en GarageBand, esta a menudo significa que cuando usted pone todos estos elementos de gran conjunto, que usted conseguirá este enorme muro de sonido. Y, sí, "wall of sound" suena bien en papel, pero esto a menudo significa el poder puro, sin definición.
En última instancia,
Paso 1 - Empiece con los tambores ...
Es una práctica común en todos los ingenieros y productores para empezar a trabajar con los primeros tambores. Y con buena razón: batería y el bajo conforman la base de su canción!
Otra razón para poner en marcha con los tambores sería que tienden a ser el elemento más simple de la canción. Su fácil solo ellos, que se sientan un poco, y luego, cuando un gran sonido, solo otra pista para jugar con ellos.

Lazos tienden a estar de moda predominantes en la que los tambores se aplican a las canciones de GarageBand, en comparación con el método preferido de tener todos los tambores separados. Vamos a examinar cómo hacer loops de batería más grande. Compresión normalmente sería la forma youd ir a hacer tambores se destacan más, pero los lazos en GarageBand son bastante comprimido ya. En su lugar, y puesto que estaban tratando de hacer espacio, vamos a añadir un poco de aire. Mal poner una pequeña cantidad de reverberación de la pestaña Editar de mis tambores en mi bucle de bombo-caja.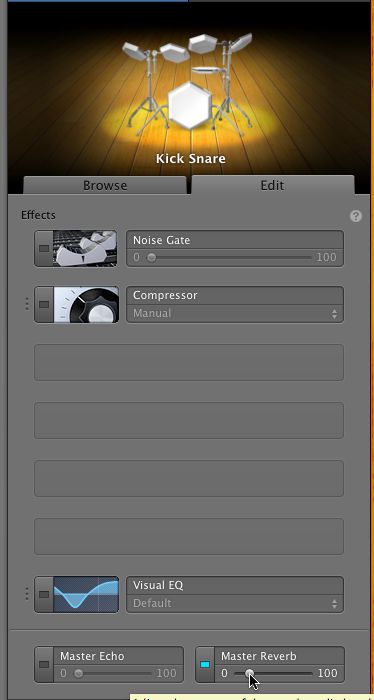 Aquí está mi loop de batería principal antes de:
[Audio id = "10012"]
...
[Audio id = "10013"]
Reverberación es para añadir un poco de dimensión ... cuando se utiliza en cantidades de luz. Pero cuando se usa correctamente, tiende siempre a la mezcla de aire, le dan dimensión, abrirlo un poco.
Paso 2 - Niveles y Desplazamiento
Una vez que la batería principal se llevan a cabo, siendo en este caso una patada y lazo trampa, es hora de trabajar con los hi-hats, y otros instrumentos de mayor frecuencia dentro de la mezcla.
Lleva en cada botón solo elemento con el botón en solitario. Al escuchar cada parte añadido, compararlo con el bombo y la caja. Si el elemento añadido es demasiado alto o demasiado bajo en comparación con aquellos, utilice el fader de volumen para ajustar el nivel.

Una vez que tenga los niveles adecuados, aquí hay algo más en qué pensar: ¿Cómo sería la banda se coloca en el escenario? ¿El hi-hat estar en el centro de la batería? Nope. Sería al lado de la batería, como todos los hi-hats. Con los mandos de pan en GarageBand, puede volver a colocar el hi-hat stereophonically dentro de su mix de donde se sienta a la derecha oa la izquierda.

Panorámica es a menudo ignorado en gran medida por los nuevos productores e ingenieros, pero cuando se piensa en ello, mover las cosas hacia la izquierda y derecha, se crea una apertura en el centro de la mezcla mientras se escucha. Esto permite que el saque se siente en el medio, la voz que se siente en el medio, pero todos los demás elementos están distribuidos alrededor de estos elementos principales para que tenga ... el espacio!
Ahora, el weve conseguido el hi-hat cuidado, los tambores, etc Ahora sería un buen momento para echar un vistazo a algunos bajos. Manténgase en sintonía con el eje de algunos trucos en phattening su bajo en GarageBand!