Nobody enjoys being trapped in a cramped space. Neither does your music! G.W. Childs gives some useful pointers on how to create space in your mix in GarageBand.
Lascia la faccia esso, GarageBand rende divertente musica. Divertimento, nel senso che si può facilmente portare in qualsiasi strumento che youve mai voluto lavorare, e sembra grande. Il suo divertimento, anche nel senso che rende le cose facili!
Quindi, consente una scomposizione ora:
Makes music fun

Anything you bring in sounds great

Makes things easy
Beh, se le cose suonano così bene, se il suo modo divertente e facile, perchè non tutte le miscele che esce suono stupefacente GarageBand?
Un errore comune con la miscelazione è che se tutto nel mix è pieno, vibrante, ed enormi, l'intero mix suonerà grande. Poiché tutti i loop, strumenti, e tamburi sono già enormi in GarageBand, questo significa spesso che quando si mettono tutti questi elementi insieme enormi, che youll ottenere questo enorme muro del suono. E, sì, "muro di suono" suona bene sulla carta, ma questo spesso significa potere puro, senza definizione.
In ultima analisi,
Fase 1 - Inizia con la batteria ...
La sua una pratica comune a tutti gli ingegneri e produttori per iniziare a lavorare con la batteria prima. E con buona ragione: basso e batteria formano il fondamento della vostra canzone!
Un altro motivo per partire con la batteria sarebbe che essi tendono ad essere l'elemento più semplice della canzone. È facile da solo loro, si sentono un po ', e poi quando suonano grande, solo un altro brano da riprodurre insieme a loro.

Loops tendono ad essere alla moda prevalente in cui vengono applicate batteria alle canzoni in GarageBand, in contrasto con il metodo preferito di avere tutti i tamburi separati. Vediamo ora come fare loop di batteria più grande. Compressione sarebbe normalmente la strada youd vanno a batteria risaltare di più, ma i loop in GarageBand sono abbastanza compressi già . Invece, e dato che stavano cercando di fare spazio, permette di aggiungere un po 'd'aria. Ill mettere una piccola quantità di riverbero nella scheda Modifica della mia batteria sul mio kick-snare loop di batteria.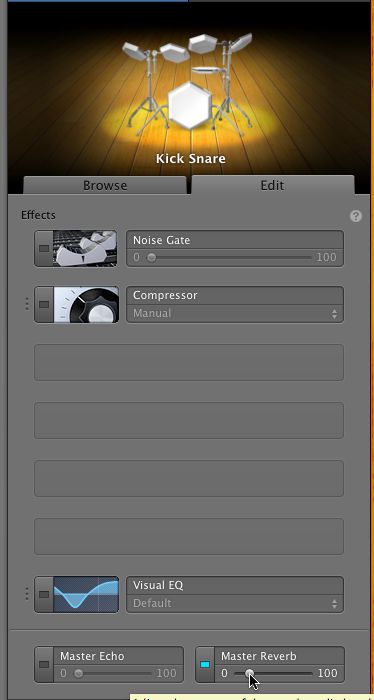 Ecco il mio loop di batteria principale prima:
[Audio id = "10012"]
...
[Audio id = "10013"]
Riverbero è per l'aggiunta di un po 'di dimensione ... se usato in quantità di luce. Ma se usato correttamente, si tende sempre ad aria fuori il mix, dare dimensione, aprirlo un po '.
Fase 2 - Livelli e panning
Una volta che la batteria principale è fatto, in questo caso, essendo un calcio e loop rullante, il suo tempo a lavorare con l'hi-hats, e altri strumenti di frequenza superiore nel vostro mix.
Portare in ogni pulsante elemento personale di pulsante solo. Come si sente ogni parte aggiunta, si confronta contro la tua cassa e rullante. Se l'elemento aggiunto è troppo alto o troppo morbido rispetto a quelli, utilizzare i fader del volume per regolare il livello.

Una volta che avete i giusti livelli, heres qualcosa d'altro a cui pensare: come sarebbe la fascia da posizionare sul palco? Sarebbe l'hi-hat essere al centro del drum kit? Nope. Sarebbe al lato della batteria come tutti i charleston. Utilizzando le manopole padella in GarageBand, è possibile riposizionare il charleston stereophonically all'interno del vostro mix a dove si siede a destra, oa sinistra.

Panning è spesso molto trascurato dai nuovi produttori e ingegneri, ma se ci pensate, le cose in movimento a sinistra ea destra crea un'apertura nel mezzo del vostro mix durante l'ascolto. Questo permette al calcio di sedere nel mezzo, voce di sedersi in mezzo, ma tutti gli altri elementi sono distanziati attorno a questi elementi principali in modo da avere ... spazio!
Ora, weve ottenuto il charleston curati, i tamburi, ecc Ora sarebbe il momento giusto per dare un'occhiata a qualche basso. Restate sintonizzati per The Hub per alcuni trucchi su phattening il tuo basso in GarageBand!