GarageBand is based on the same powerful engine as its larger sibling, Logic Pro. Alongside the powerful features are some peculiarities, such as the differences when trimming MIDI & audio regions...
GarageBand es posiblemente el más popular estación de audio digital en el mundo y se distribuyen gratuitamente con cada Mac. Aunque es muy poderosa por derecho propio, puede ser visto como una versión simplificada de Logic Pro. Esta simplificación puede llevar a confusión a algunos usuarios cuando se trata de entender su comportamiento. En este tutorial se pretende aclarar las formas en que GarageBand controla el recorte de las regiones.
Audio MIDI vs
Regiones de audio (rectángulos) pueden ser recortados mediante el puntero de redimensionamiento arrastrando el borde de uno de los extremos como se esperaba, pero esto no siempre es el caso de las regiones MIDI. Regiones MIDI lo general sólo puede ser ajustado desde el borde derecho, (también llamado el final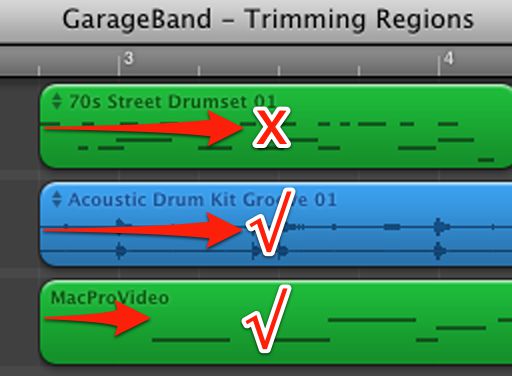 Regiones MIDI se pueden recortar hasta el punto de que las notas existentes.
MIDI Loops vs grabaciones MIDI
MIDI bucles (disponible en el navegador de bucles) generalmente no tienen espacio vacío en la región antes de la primera nota que no puede ser recortado desde el borde izquierdo en absoluto. Grabaciones MIDI suelen tener un espacio en blanco antes de la primera nota (en la que fueron demasiado cobarde para empezar a jugar inmediatamente!) Y por lo tanto se puede recortar hasta el comienzo de la primera nota.
The Grid
Red GarageBands configuración en el menú desplegable para el área Organizar se encuentra en el extremo derecho de la línea de tiempo, y para mantener todo simple vida se ajusta a la cuadrícula: el cabezal de reproducción, y el movimiento y recortar regiones. La única excepción es cuando se recorta el espacio vacío de una región hasta la primera nota que ha grabado, donde los límites de las regiones se ajusta a la posición de la nota no la red: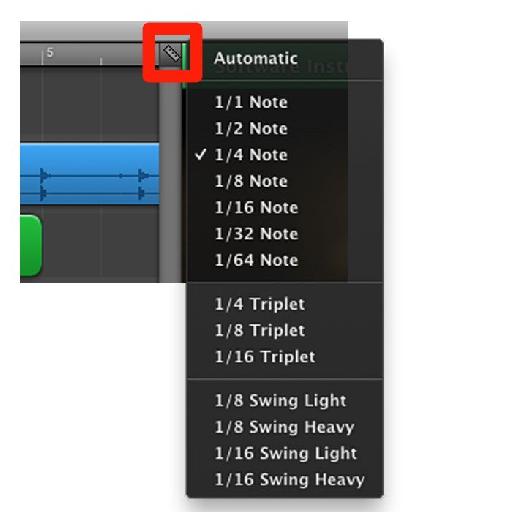 Presione aquí para cambiar la configuración de la cuadrícula.
División
¿Qué pasa si quiere recortar las notas de la parte delantera de la grabación? Tal vez usted ha tenido un comienzo difícil para que la línea de plomo? La solución (a no ser capaz de recortar con el puntero del tamaño) es colocar la cabeza lectora en la posición de edición y seleccione Edición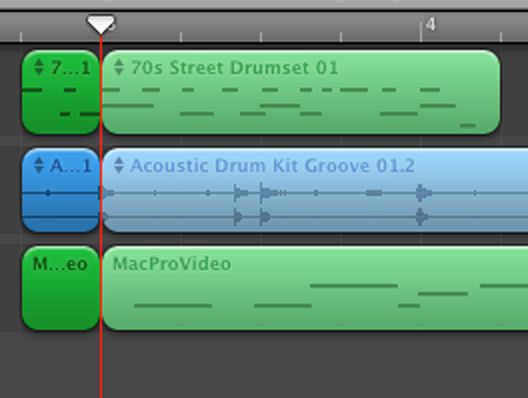 Dividir las regiones y borrar lo que ya está seleccionado.
El editor de pistas
Posible confusión más espera en el editor de pistas. Haga doble clic en una región de audio que se abre en el editor de pistas y se puede recortar la región, moviendo el puntero hasta el octavo más bajo de la región (en cada extremo), donde se convertirá en el puntero de redimensionamiento. La apertura de una región MIDI en el editor de pistas (que muestra el Editor de teclado) no permite el recorte de los extremos, sin embargo! Es importante darse cuenta de que el papel de Piano Roll El editor de pistas es todo lo que se refiere MIDI es permitir la edición de notas individuales sólo!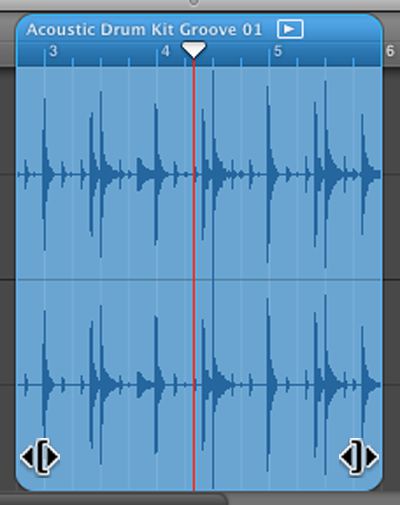 Regiones de audio en el editor de pistas se puede recortar de cualquiera de las regiones endMIDI no se puede!
La división en el Piano Roll
La punta de la división se ha descrito anteriormente sólo funciona en el área Organizar. Puede aparecer a trabajar en el editor de pistas / Piano Roll. Sin embargo, si el último clic con el ratón estaba en cualquier objeto en el editor de pistas, que se convierte en el espacio de trabajo activo y la función Split no estará disponible. Para dividir con el editor de pistas abiertas, haga clic de nuevo en el área de los arreglos necesarios para hacer que el área activa. Usted puede decirle al Piano Roll se activa si el botón de teclado es de color verde brillante (ver imagen abajo) y ahora se puede separar a la región. Si el botón está gris, el editor de pistas no está activa y no se puede separar a la región.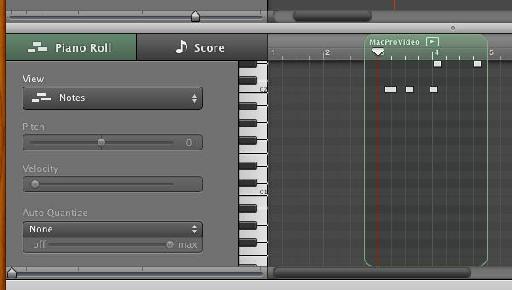 En este caso, la región se divide en la cabeza lectora.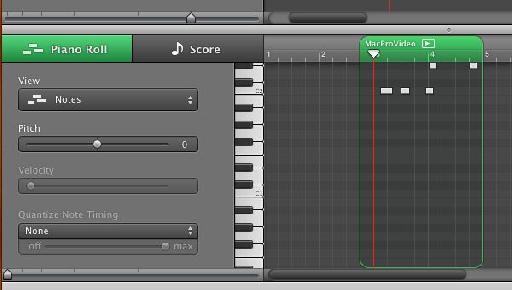 Sin embargo, en este ejemplo, no lo hará.
Hambre de aprender más consejos, trucos y técnicas para ayudarle a dominar GarageBand? No busque más, el '11 GarageBand 101 - Core GarageBand '11 .