GarageBand is based on the same powerful engine as its larger sibling, Logic Pro. Alongside the powerful features are some peculiarities, such as the differences when trimming MIDI & audio regions...
GarageBand è forse il più popolare workstation audio digitale al mondo e si è dato via libera con ogni Mac.. Anche se molto potente di per sé, può essere visto come una versione semplificata di Logic Pro. Questa semplificazione può portare a confusione per alcuni utenti quando si cerca di capire il suo comportamento. Questo tutorial si propone di chiarire i modi in cui GarageBand controlla il taglio delle regioni.
Audio MIDI vs
Regioni audio (rettangoli) possono essere tagliati utilizzando il puntatore di ridimensionamento trascinando il bordo su entrambi i lati come previsto, ma questo non è sempre il caso con le regioni MIDI. Regioni MIDI di solito può solo essere tagliato dal bordo destro, (chiamato anche il finale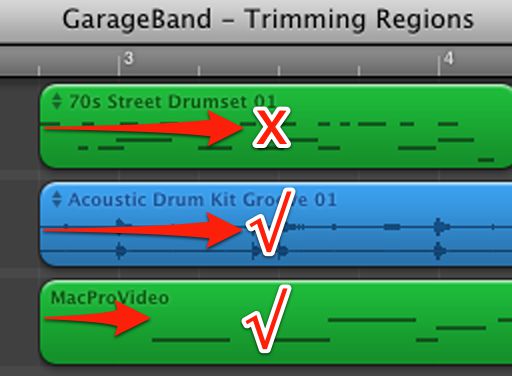 Regioni MIDI può essere tagliata fino al punto che le note esistenti.
MIDI loop vs registrazioni MIDI
MIDI loop (disponibile nel browser dei loop) di solito non hanno spazio vuoto nella regione prima della prima nota quindi non può essere tagliato dal bordo sinistro a tutti. Registrazioni MIDI di solito hanno un pò di spazio vuoto prima della prima nota (dove si erano troppo pollo per iniziare a giocare subito!) E quindi può essere tagliata fino all'inizio della prima nota.
La Griglia
Griglia GarageBands impostazione menu a discesa per Disponi zona si trova all'estrema destra della timeline, e di tenere tutto semplice vita si aggancia alla rete: l'indicatore di riproduzione, e in movimento e rifilatura regioni. L'unica eccezione è quando taglio il vuoto da una regione fino alla prima nota che avete registrato, dove il limite della regione scatta in posizione non nota la griglia: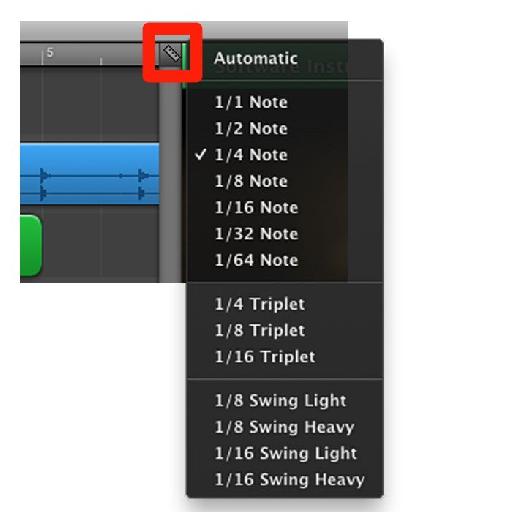 Clicca qui per modificare l'impostazione della griglia.
Suddivisione
Che cosa succede se si vuole tagliare le note dal fronte della registrazione? Forse hai fatto un inizio imbarazzante a quella linea di piombo? La soluzione (per non essere in grado di tagliare utilizzando il puntatore di ridimensionamento) è quello di mettere l'indicatore di riproduzione nella posizione modificare e scegliere Modifica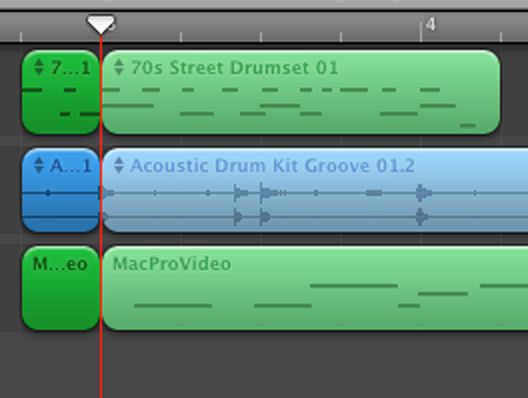 Split regioni ed eliminare ciò che è già selezionato.
The Track Editor
Ulteriore potenziale confusione aspetta nel Track Editor. Facendo doppio clic su una regione audio si apre nel Track Editor e si può tagliare la regione spostando il puntatore al più basso ottavo della regione (alle estremità ), dove si cambierà nel puntatore di ridimensionamento. Apertura di una regione MIDI nel Track Editor (che mostra il Piano Roll) non permette di tagliare da entrambi i lati, però! E 'importante rendersi conto che il ruolo del Piano Roll del Track Editor di quanto MIDI è interessato è quello di permettere la modifica di singole note solo!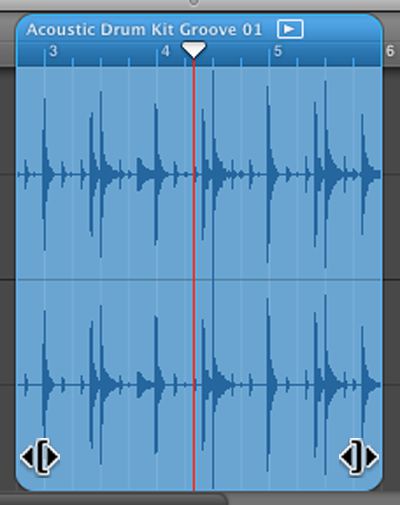 Regioni audio nel Track Editor può essere tagliato da entrambe le regioni endMIDI non si può!
Dividere in Piano Roll
La punta Split descritto sopra funziona solo nella zona Arrange. Può apparire a lavorare nel rotolo traccia Editor / Piano. Tuttavia, se l'ultimo click con il mouse su qualsiasi oggetto è stato nel Track Editor, che diventa lo spazio di lavoro attivo e la funzione Split non saranno disponibili. Per dividere con Track Editor aperta, fare clic di nuovo nella zona Arrange per fare che l'area attiva. Si può dire al Piano Roll è attiva se il pulsante Piano Roll è verde brillante (vedi immagine sotto) e ora è possibile dividere la regione. Se il pulsante è grigio, il Track Editor non è attivo e non è possibile dividere la regione.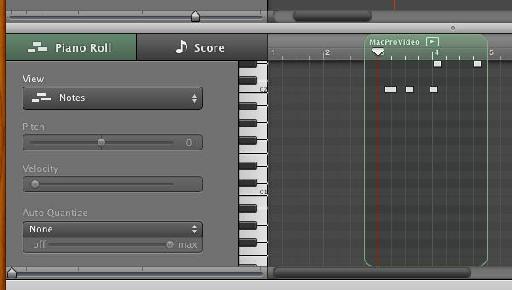 Qui, la regione si divide in riproduzione.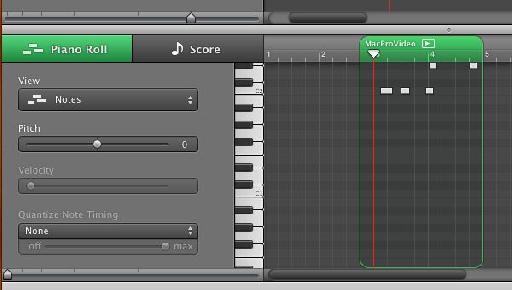 Ma in questo esempio, non lo farà .
Hungry per saperne di più consigli, trucchi e tecniche per aiutarvi a maestro di GarageBand? Non guardare oltre il '11 GarageBand 101 - core GarageBand '11 .