If, like me, you've imported lots of video clips into iMovie then the idea of sorting through them all to find usable footage can seem overwhelming. However, thanks to a number of useful built-in tool
If, like me, you've imported lots of video clips into iMovie then the idea of sorting through them all to find usable footage can seem overwhelming. However, thanks to a number of useful built-in tools, iMovie makes organizing and finding your clips a breeze. With a little time spent house keeping after you've imported some footage you can save yourself hours of hassle later! In the first of this two-part series we'll explore how to organize and keep track of your clips and events.
By default clips are placed into folders called "Events". An Event is where iMovie stores your original footage and organizes & displays them as clips. Let's take a closer look...
Events
In the Event Library you can view clips per Event, all Events, your last imported clips or videos in your iPhoto Library. The hard drive icon (top right of Library) displays iMovie Libraries on connected hard drives too.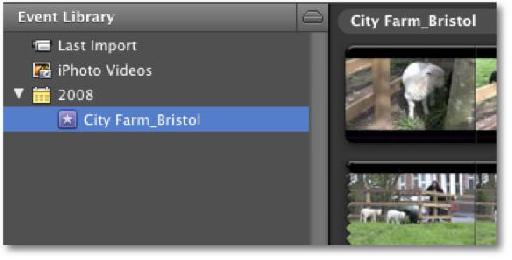 You can merge Events by Shift-clicking to select multiple Events and then choosing: File > Merge Events.
To split an Event into two, select a clip & right-click on the selected clip and choose Split Event before Clip. You can rename the Event by double-clicking it's name in the Event Library and typing in the text field.
Skimming & Playing clips
As you move the mouse over a clip you'll notice that the Viewer window displays the video output of the clip. Move your mouse fast or slow over the clip to skim and see it's contents. This is great way to quickly find a part of a clip without needing to rely on traditional Fast Forward, Rewind, Pause and Play buttons!
To play a clip either select it and press the space bar or move the mouse cursor to the desired play position and double click.
Try right-clicking on a clip to see some more advanced Playback options, including Play Selection and Loop Selection and Play Full Screen.


Selection Techniques
By default, when you click on a clip, only 4 seconds of that clip is selected. This is indicated by a yellow selection area around the clip. You can drag the handles on the edge of the yellow box to include more or less of the clip if you wish, or you can change the default 4 second selection in iMovie > Preferences...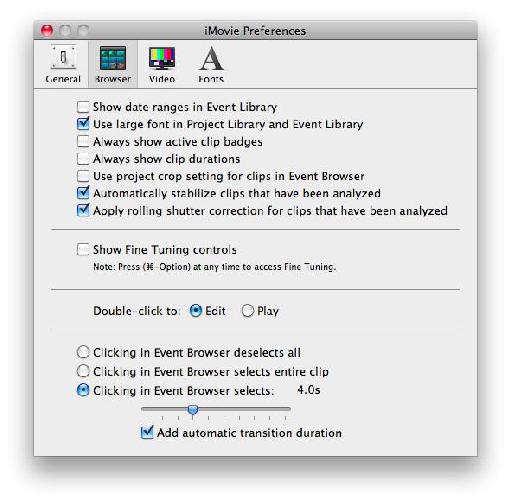 Dragging across clip(s) will also allow you to "free form" select that portion.

If you wish to quickly select the whole clip, hold down the Shift key (or Option key) and click on a clip.
To select multiple clips, hold down the Command key and click on the clips you wish to select.
Creating Favorites and Rejects
When skimming through your clips you will often find parts of clips that you want to mark as good shots and others that you wish to get rid of - or mark as 'bad shots'. iMovie provides the Favorite and Reject tool for this very purpose.
To mark a favorite clip or part of a clip, select it by dragging a yellow selection box over the desired part. Then click on the Green star button with a + sign.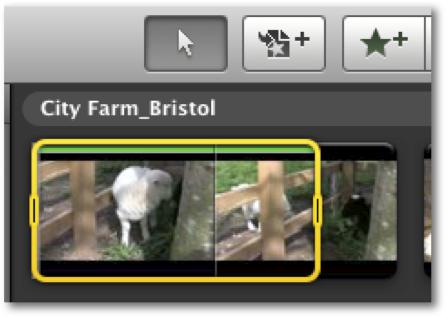 The selection now has a green horizontal bar at the top. Do the same for other clips too.
To reject a clip, create a selection and click on the Red cross button with a + sign. A red bar appears above the clip.
To make finding your clips easier you can choose to view only your favorites, only your rejected, all clips or your favorites and unmarked clips in the Event area. Click on the Show pop-up menu at the bottom of iMovie to select the view mode.


If you choose to view Rejected Only clips the Event area provides an extra buttons in the top right of the Event area. You can choose to Move the Rejected to Trash button. The clips will not be deleted permanently from your Mac. You will find them in the Mac's Trash.

By splitting and merging Events and marking your clips you now have access to some very useful (and visual) ways to find and sort through your video clips in iMovie '11.
Drop a comment below if you have any questions or requests for future Quick Tips and Full Tutorials. Thanks & look out for Part 2 coming soon...